Schneeböda 2700 m
8856 ft.
---
Other in

12 hike reports

, 3 photo(s). Last visited :

25 Oct 19


Geo-Tags: CH-GR
Photos (3)
---
By Publication date · Last favs · By Popularity · Last Comment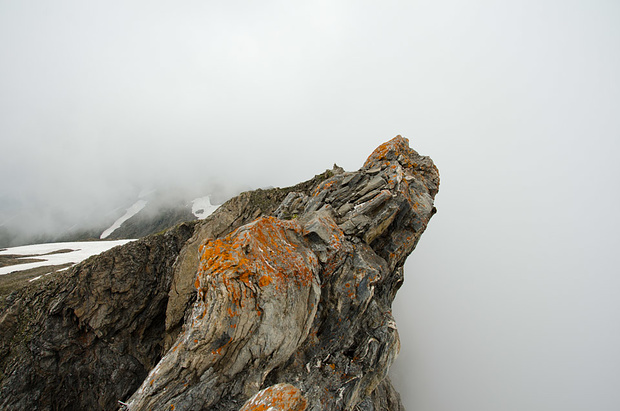 Der höchste Punkt des Bös Fess (2881 m). Der Steinmann links des höchsten Punktes steht auf dem weniger als hundert Meter entfernten Chli / Guet Fess (2873 m). Links aussen die Schneeböda. © HBT
---
Reports (12)
---

Schlüechtli hoch3 oder Tällistock zum ersten
Nachmittag 1 Bärglibüel dient einfach zur Abweschlung und Ergänzung. Der Punkt 1644 im Calörtscher Wald darf man gut und gerne als Gipfelpunkt ansehen, hat auf der Karte leider keinen eigenen Namen. weiter geht über die N-Flanke via Heidbüel auf den Lägerbüel und dann den N-Grat aufs Schlüechtli (Schlüechtlihoch1)....
Published by 31 October 2019, 19h42 (Photos:23)

Skitour Piz Fess und Oberhorn NO-Flanke
Von Tenna aus versteckt sich der Piz Fess hinter dem Gipfel des Oberhorns. Der eigentliche Hauptgipfel des Piz Fess wird in aller Regel nicht bestiegen, schon gar nicht im Winter, denn die letzten Meter zum Gipfel sind technisch schwierige Kletterei und von einer tiefen Scharte vom Wintergipfel getrennt. Der Aufstieg beginnt mit...
Published by 16 April 2019, 07h25 (Photos:39 | Comments:3 | Geodata:1)

Piz Riein (Traverse Lumnezia - Safiental)
Auch die heutige Tour basiert auf einer Empfehlung von polder. Schade bloss, dass das Wetter heute nicht mitspielt - die Wolken hängen viel hartnäckiger als erwartet an den Bergen und zeitweise gesellt sich auch noch Nieselregen dazu. Beim Start in Riein gehe ich davon aus, dass sich die Wolken bald auflösen. Auf der Alp da...
Published by 30 July 2018, 14h21 (Photos:7 | Comments:2)

Bös Fess, 2881 m
Neblige Tour auf den höchsten Zacken der Signina-Gruppe Von Tenna (1643 m) auf dem rotweiss markierten Wanderweg (T3) zum Chli Fess (2873 m). In den Südhängen des Nolla weicht der markierte Wanderweg mit Höhenverlust in flacheres Gelände aus, was nicht in der LK eingezeichnet ist. Jedoch führt ein gutes Weglein (in der LK...
Published by 14 July 2018, 17h49 (Photos:18 | Comments:6)

Ent-Fesselt r(i)ein ins Pulververgnügen!
Das erste Mal seit 4 Jahren keine latente Schneeknappheit in unseren traditionellen Sportferien in Tenna und kein schlechter Schneedeckenaufbau, der uns auf Schlüechtli und Co. fesselte resp. ent-piz-fesselte. Ganz im Gegenteil: Sonntag bis Mittwoch perfekte Schneeverhältnisse bei (sehr) tiefen Temperaturen und seit gefühlten...
Published by 17 February 2018, 21h45 (Photos:28)

Piz Fess (Chli Fess), Oberhorn, Piz Riein
The path from Tenna onto the Piz Fess is marked white-red-white. The markings are rather sparse, and often only there where the path is obvious anyway... Still, in good visibility, it's hard to go wrong.We had not expected many other hikers on the mountain. The ascent of 1250m is considerable and there is a crispy layer of snow...
Published by 20 October 2016, 19h42 (Photos:69 | Geodata:1)

Ganz oben: Unterhorn und Konsorten
Drei Sportwochen lang haben sich Unter- und Oberhorn als klassische - aber unnahbare - Tenner Gipfelsilhouette in Szene gesetzt. Nun wollte ich mal im Sommer einen Augenschein nehmen, dies insbesondere am Unterhorn, wo der Clubführer einen BG--Zugang von Norden oder alternativ die Überwindung des Gipfelwändchens von Westen...
Published by 8 August 2016, 22h15 (Photos:24 | Comments:2)

Piz Riein, 2752m & Piz Fess, 2874m
Rauf in die Höhe bei diesem fantastischen CH-Sommer-Wetter mit den heissen Temperaturen (> 30Grad) in den tiefen Regionen... Eine schöne Tour auf den Piz Fess - und im Vorbeimarsch noch die Besteigung des Piz Riein, ein nicht allzuviel begangener Gipfel im Safiental. Start in Tenna direkt bis Oberhütten, Pt. 1865 über...
Published by 6 July 2015, 09h54 (Photos:36)

Piz Fess 2874m - Oberhorn 2796m
Bei meinem letzten Besuch in Tenna im Februar 2012 anlässlich einer Schneeschuhtour, beschloss ich mir diese wunderschöne Gegend auch einmal ohne Schnee anzuschauen. Ganz ohne ging es dann doch nicht. Nach langer Anreise mit dem etwas verspäteten ÖV, konnte ich um 09:20 endlich losmarschieren. In immer angenehmer Steigung...
Published by 25 September 2013, 11h55 (Photos:27 | Comments:5)

Oberhorn 2796m und (Vorgipfel) Unterhorn 2557m
Spontan machten wir am Sonntag Abend noch für eine Vormittagstour für den Montag ab. Diesmal solls eine Tour im Safiental sein. Eigentlich fiel unsere Wahl auf den Piz Fess aber der dicke Nebel machte uns einen Strich durch die Rechnung uns so entschieden wir uns im Gelände zu den zwei alternativ Gipfel die sich als echte...
Published by 14 April 2013, 21h19 (Photos:4)