Savoleyres 2372 m
7780 ft.
---
Peak in

7 hike reports

, 2 photo(s). Last visited :

8 Sep 18


Geo-Tags: CH-VS
Photos (2)
---
By Publication date · Last favs · By Popularity · Last Comment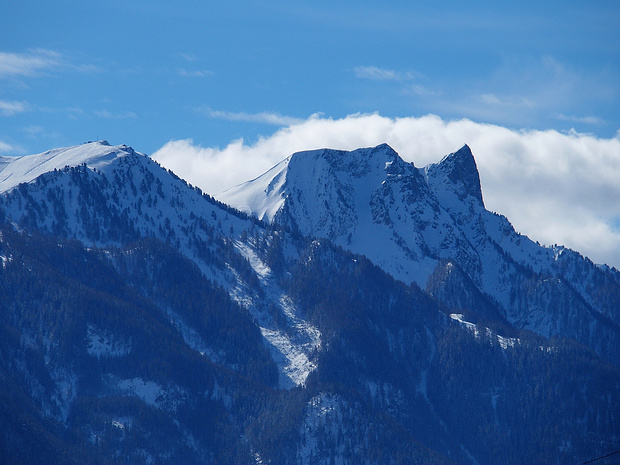 Zoom zum Pierre Avoi. Links die Lift-Bergstation "Savoleyres", die man von Verbier und La Tzoumaz aus erreicht. © johnny68
---
Reports (7)
---

Pierre Avoi (2'473 m.s.m.)
Altre foto e info su: www.ariafina.ch Ottime previsioni meteo un po'in tutta la Svizzera perciò andiamo in Vallese per cambiare aria e vedere qualcosa di nuovo. Dopo poco più di tre ore di trasferta raggiungiamo il paese di La Tzoumaz, parcheggiamo oltre l'abitato a quota 1'720m lungo la strada di montagna che...
Published by 25 September 2018, 20h03 (Photos:1 | Geodata:1)
Unterwallis

WT2

F

28 Dec 17

Savoleyres from La Tsoumaz
While in La Tsoumaz, with Sam and Rachel (they are on Snoshoes) we start in front of the house and hike up to the top of the area. Starting from La Gouille de l' Ours we find soon a good track through the forest, pass the clearing around p. 1714 and p.1973m. We cross into the skiing area and the rack follows a bit the summer...
Published by 13 May 2018, 18h56 (Photos:5)

Touren um Ovronnaz 3; kein "Bilderbuch-Wetter" mehr - doch mit Weit- und Tiefblick: Pierre Avoi
Der dritte Tag um Ovronnaz beginnt wiederum verheissungsvoll; beinahe wolkenlos - das wird sich jedoch allzu rasch ändern … Immerhin starten wir in La Tsoumaz, Le Taillay, zwar im Schatten und kühlen Temperaturen, doch mit schönem Blick zu unserem Aufenthaltsort und den Gipfeln der beiden vergangenen Tage. Nach wenigen...
Published by 14 November 2013, 15h46 (Photos:30)
Pierre Avoi 2'473m, Savoleyres 2'372m
Eine wunderschöne Tour auf zwei gänzlich gegensätzliche Gipfel: ein "wilder Geselle" der erste, eine ganz zahme grüne Kuppe der zweite. Vom Parkplatz auf dem Croix de Coeur, den man von Verbier auf einer schönen Bergstrasse erreicht, bin ich auf dem breiten Weg westwärts bis zur Seilbahnbergstation gewandert (T1); weiter...
Published by 25 July 2013, 11h36
| | | |
| --- | --- | --- |
| Unterwallis | T4- | 11 Jun 13 |

Pierre à voir oder Pierre Avoi
tja, die schreibweise ändert mit der annäherunmg des gipfels. siehe bilder. die schwierigkeit bewegt sich maximal zwischen T3 und T4. dort wo es schwierig wäre (gipfelkopf des pierre avoi) ist eine leiter montiert. der namelose punkt 2402 kann man gut und gerne als giopfel bezeichnen. six de la treutse hat zwei...
Published by 21 May 2015, 08h06 (Photos:30)

Pierre Avoi m.2473
Oggi il tempo minaccia temporali...dobbiamo fare qualcosa di semplice,ma sopratutto di veloce...trovandoci a Verbier,pensiamo subito di salire la particolare montagna del posto..il Pierre Avoi,una notevole torre di roccia da un lato,e unversantepiùaccessbile dall'altro.Abbiamo deciso di salire già in quota con la funivia,dovesse...
Published by 27 October 2012, 12h07 (Photos:17)
Col des Planches - Pierre Avoi par la Tête des Econduits et la Crevasse
Départ de Chemin-Dessus en direction du Col des Planches, puis variante vers le nord par Chez Larze puis un chemin qui passe légèrement au nord de la Tête des Econduits. Par un petit crochet hors sentier dans la forêt, on atteint le sommet (1448m), un peu pris dans la végétation, sauf vers le sud. On retrouve rapidement le...
Published by 23 April 2015, 21h03 (Geodata:1)