Säuling 2047 m
6714 ft.
---
Peak in

36 hike reports

, 647 photo(s). Last visited :

12 Sep 21


Geo-Tags: D, A
Routes (1)
---
Photos (647)
---
By Publication date · Last favs · By Popularity · Last Comment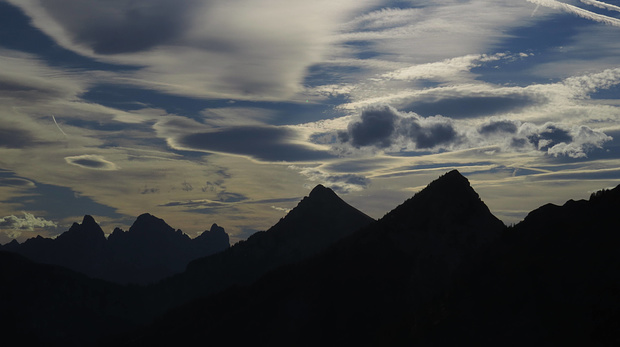 Föhnwolken über unserem ersten Gipfel von heute / nubi di favonio sopra la nostra prima cima di oggi © Winterbaer
---
Reports (36)
---
Ammergauer Alpen

T3+

VI+

12 Sep 21

Säuling via "Guat g'flickt in Reutte" - "guat g'sucht"
Anders als die Tannheimer Berge gegenüber ist der Säuling als Kletterberg weniger bekannt. Der isoliert stehende Gipfel macht zwar aus dem Ostallgäu ordentlich was her und auch der Fels ist je weiter oben auch desto besser und hier überwiegend sehr gut. Bis zum guten Fels in der West- und Südwestwand des Gipfels sind es aber...
Published by 17 September 2021, 19h04 (Photos:15)
Ammergauer Alpen

T6-

III

19 Sep 20

mission accomplished
"I believe that my personal nation should commit myself to achieving the goal, before this decade is out, of landing me on every summit of the Ammergauer Alps and returning me safely to the Earth." "I choose to climb every summit of the Ammergauer Alps in this decade and do the other things, not because they are easy,...
Published by 26 September 2020, 12h49 (Photos:22 | Comments:8 | Geodata:1)
Ammergauer Alpen

T4-

I

F

9 Aug 19

Säuling
Diese Woche habe ich Glück mit dem Wetter: es ist am freien Tag sonnig und nicht so unerträglich heiß wie einige Male in den letzten Wochen. Als Tourenziel habe ich mir den Säuling ausgesucht, der Dank der oft nordseitigen Exposition einen halbwegs kühlen Anstieg erwarten lässt. Dem ist aber nicht so, ein Abmarsch um...
Published by 10 August 2019, 11h28 (Photos:32 | Comments:2)
Ammergauer Alpen

T5-

II

1 Nov 18

Säuling (2047 m) - Brunstgrat und Lähngera
Der Säuling in den Ammergauer Alpen zählt aufgrund seiner pyramidenartigen Silhouette zu den Wahrzeichen der Region zwischen Füssen und Reutte. Neben den zwei bekannten und überaus beliebten Normalwegen, gibt es noch ein paar weitere, deutlich seltener begangene Anstiege. Zum einen die ruhige Variante über den Brunstgrat und...
Published by 7 November 2018, 22h07 (Photos:40 | Comments:3)
Ammergauer Alpen

T5+

IV

12 Jul 18

Säuling Ost- und Westgrat – märchenhafte Ausblicke
Die Suche nach einer Gratüberschreitung hat mich zum Säuling geführt. Dies trifft sich wirklich hervorragend, da ich noch nie auf dem Säuling war und ihm schon seit längerer Zeit mal einen Besuch abstatten wollte.   Da die Tour bereits von frehel hier und quacamozza dort detailliert beschrieben wurde, und ich dem...
Published by 13 July 2018, 09h25 (Photos:33)
Ammergauer Alpen

II

D+

25 Mar 18

Säuling Skibefahrung
Säuling Skibefahrung - ein spezielles Erlebnis hoch über dem Ostallgäu. Nach einigen schneearmen Wintern schien mir am 25. März 2018 die richtige Zeit und die richtigen Bedingungen gekommen, um meinen Hausberg, dem Säuling, einen Besuch mit Skiern abzustatten. Die tiefverschneite Gamswiese, vom ganzen Ostallgäuer...
Published by 26 March 2018, 18h43 (Photos:11 | Comments:1)
Ammergauer Alpen

T5+

IV

15 Oct 17

Säuling-Ostgrat und Apostelgrat
Das Wochenende am Säuling - oh je, da ist man bei gutem Wetter bestimmt nicht allein. Warum also sich ins Getümmel stürzen, wenn's woanders auch schön ist? Nach meiner doch enttäuschenden Säuling-Tour vom Juni wollte ich diesen markanten Berg am Ende des Jahres nicht negativ in Erinnerung behalten. Babsi und Stefan kannten...
Published by 24 October 2017, 10h11 (Photos:35)
| | | |
| --- | --- | --- |
| Ammergauer Alpen | T3 | 14 Oct 17 |

Säuling - Rundtour via Neuschwanstein
Der Säuling ist ein hoffnungslos überlaufener Berg, obwohl erstaunlicherweise die typischen Menschenmagnete fehlen: Keine Seilbahn, nicht wenige Höhenmeter und als Hütte dient nur auf halber Strecke das Säulinghaus. Vielleicht liegt es - natürlich neben der Traumaussicht - an der geographischen Lage, denn der Säuling steht...
Published by 16 October 2017, 10h58 (Photos:39 | Comments:2)
Ammergauer Alpen

T4-

I

8 Jul 17

Majestät über Traumschlössern: Säuling (2047m)
Wir starteten um 08:30 Uhr am Parkplatz unterhalb des Schlosses Hohenschwangau (813 m, für ein Tagesticket wird eine Gebühr von 6 € fällig) und suchten dort den Einstieg in den Wanderweg, der aufgrund von Bauarbeiten nicht eindeutig zu finden war. So sind wir letztlich auf der Fahrstraße zur Bushaltestelle an der...
Published by 10 July 2017, 12h54 (Photos:12)
Ammergauer Alpen

T5

II

PD+

3 Jun 17

Säuling-Brunstgrat und Gamssteig
Der Aufstieg auf den Säuling über den Brunstgrat und den Kleinen Säuling ist eine anspruchsvolle Wanderung mit einzelnen leichten Kletterpassagen. Im Gegensatz zum Normalweg und zum Apostelgrat geht es auf dieser Route meist recht ruhig zu. Der Brunstgrat wurde Anfang der Saison bereits von Nik und yuki (Tourenbericht...
Published by 7 June 2017, 08h56 (Photos:19)