Rund Eggen 2123 m
6963 ft.
---
Peak in

10 hike reports

, 3 photo(s). Last visited :

5 Sep 18


Geo-Tags: CH-SZ, Ortstockgruppe
Photos (3)
---
By Publication date · Last favs · By Popularity · Last Comment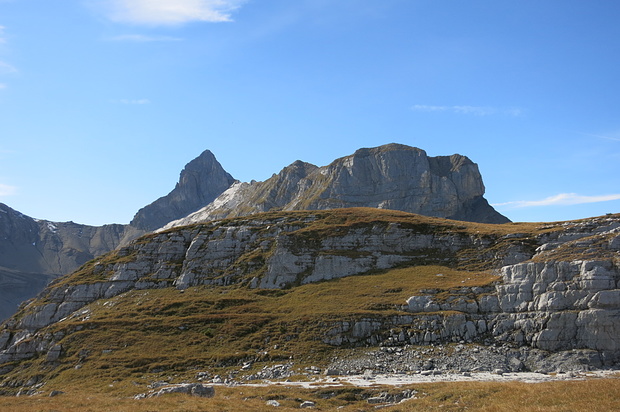 Dieser Gupf nennt sich Rund Eggen und hat ausser einem schönen Blick auf Bös und Guet Fulen wenig zu bieten. © Bergamotte
---
Reports (10)
---

Am Rande des Quintnerkalk: Gumen - Bützi - Bärentritt
Der Ausblick ist prächtig, als wir beim Berghaus Gumen starten: Tödi, Ortsstock, Höch Turm. Mit blauem Himmel und einzelnen Wolken. Der Weg steigt nur leicht an, sodass wir uns gemütlich einlaufen können. Schöne Silberdisteln und blaue Fransenenziane fallen gleich ins Auge. Rechts über uns erblicken wir die Charlotte Bridge...
Published by 9 September 2018, 09h10 (Photos:44 | Comments:2 | Geodata:1)

Ortstock 2717m.ü.M
An einem heissen Sommertag im 2018 wollten wir ab Braunwald den Ortstock besteigen, zum Glück wurde es mit jedem Höhenmeter ein wenig kühler und so zogen wir los auf der klassischen Route via Bärentritt. Der erste Teil ist steil aber schön angelegt durch ein Waldstück bevor man beim Einstieg in den Bärentritt ist. Diese...
Published by 28 July 2018, 08h37 (Photos:7)

Charenrunde um den Rund Eggen
Auf der Suche nach einem Hauch von alpin ohne allzu heftigen Auf- und Abstieg (lemon's Fuss ist immer noch nicht ganz so, wie er sein sollte) stiessen wir auf die Charetalp. Für eine Überschreitung Muotathal - Braunwald machten uns die suboptimalen ÖV-Verbindungen leider einen Strich durch die Rechnung. Mit Adhäsions-,...
Published by 13 September 2015, 18h47 (Photos:16)

Ortstock (2717m)
Der Ortstock zählt zu den ganz grossen Wanderklassikern im Glarnerland. Das erstaunt kaum, denn trotz seiner stattlichen Höhe lässt er sich ab Gumen oder Glattalp mit vernünftigen Aufwand erreichen. Die Normalrouten sind für jeden geübten Bergwanderer gut zu begehen, vorausgesetzt es liegt kein Schnee mehr unterhalb der...
Published by 12 October 2014, 18h12 (Photos:22 | Geodata:1)

Ortstock (2717 m) from Braunwald via Bärentritt
Ortstock (2717 m) from Braunwald via Bärentritt Start in Braunwald in the morning at 8:30. The hike goes like a computer game: Level 1: Braunwald - Ober Stafel Level 2: Ober Stafel - Bärentritt - Lauchboden Level 3: Lauchboden - P.2402 Furggele Level 4: P.2402 Furggele - Ortstock summit The descent was the same as the...
Published by 3 January 2016, 21h21 (Photos:25 | Geodata:1)

De Braunwald au Muotatal par le col de Furggele
 English version here Alors que la fin d'une saison de rando estivale souvent frustrante et globalement décevante s'approche, voici enfin une journée parfaite, que ce soit sur le plan de la météo, des paysages ou de la lumière. Cette randonnée de col classique, avec une montée au-dessus du Linthal puis une...
Published by 7 October 2012, 18h45 (Photos:18)

Ortstock via Bärentritt (Versuch)
Da eine zweitägige Hochtour aufgrund der Wetterprognosen abgesagt werden musste, musste schnell nach einer Alternative gesucht werden. Wir entschieden uns für den Ortstock ab Braunwald. Mit der ersten Verbindung fahren wir von Zürich nach Linthal (Braunwaldbahn). Mit dem Generalabonnement erreicht man das autofreie Dorf ohne...
Published by 1 July 2012, 20h36 (Photos:16 | Comments:3 | Geodata:1)

Ortstock 2717m
Der Ortstock ist ein wunderschöner imposanter und einfach zu besteigender Berg oberhalb Braunwald. Die einzelnen Routen sind schon mehrmals auf Hikr beschrieben, daher fasse ich mich mit diesem Eintrag kurz. Mein Kollege Fabio und ich wählten die Route über den Bärentritt, Furggele mit Braunwald als Ausgangspunkt. Runter...
Published by 11 September 2011, 19h33 (Photos:22)

Glattalp Ortstock Charetalp Rundtour
In letzter Sekunde haben wirs noch auf die Bahn geschafft nach dem wir von Zürich angereist sind. In der Glattalphütte angekommen, haben wir einen wunderschönen Sonnenuntergang genossen und fein gespiesen. Nach einer ruhigen Nacht gings dann dem Glattalpsee entlang und dann hoch zur Furggele wo es vor dem Gipfelsturm noch...
Published by 7 October 2011, 15h46 (Photos:5)

Ortstock 2717 m
Mit ÖV und tschiin76 gings nach Linthal und weiter nach Braunwald. Dort nahmen wir den Sessellift nach Gumen als Aufstiegshilfe. Von dort auf dem Wanderweg über Bützi, Rund Eggen, durch Karstgestein nach Bärentritt. Weiter über Lauchboden zum Furggele und dann der Gipfelansturm. Oben angekommen waren ein...
Published by 25 May 2010, 23h10 (Photos:7)