Ruine Manegg 624 m
2047 ft.
---
Ruin in

11 hike reports

, 1 photo(s). Last visited :

29 Apr 18


Geo-Tags: CH-ZH
Photos (1)
---
By Publication date · Last favs · By Popularity · Last Comment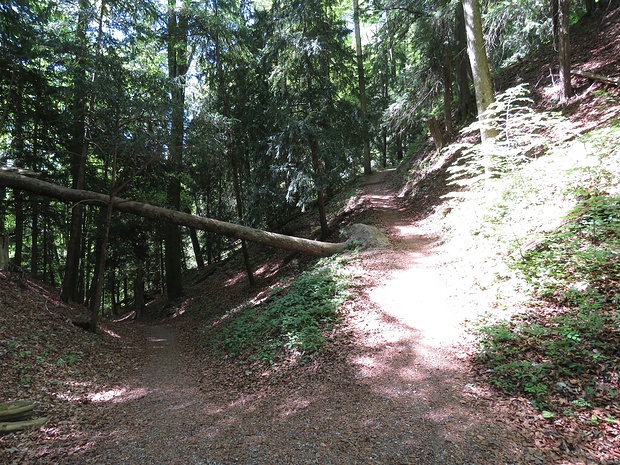 Der Weg rechts führt zum Bristenstäfeli. Links geht es Richtung Ankenweid bzw. zur Felsenkammerhütte, wobei die Abzweigung zur Hütte gemäss Karte nicht weit sein kann. Wo der Verbindungsweg zur Felsenkammerhütte genau ist, bleibt mir allerdings verborgen. © carpintero
---
Reports (11)
---

Fallätsche
Wie bei der letzten Tour im Gebiet der Fallätsche starten wir im Albisgütli und wandern auf bekannten Trampelpfaden von der Bernegg zur Höckleregg und weiter zum Brunnen bei der Ruine Manegg. Da das Ziel die Felsenkammerhütte ist, nehmen wir beim Brunnen den unteren Weg (Bild). Viel zu spät merke ich, dass wir zu weit...
Published by 4 May 2018, 19h33 (Photos:8 | Geodata:1)

Fallätsche
Die Berichte von Uto869, speziell der Bericht Falletsche: Übersicht über Routen und Trampelpfade, und das Projekt https://stijnvermeeren.be/uetliberg sowie der Bericht An exploration of the Fallätsche traverse von Stijn sollen nicht unerwähnt bleiben.   Gleich wie beim Besuch von letzter Woche gelange ich vom...
Published by 27 April 2018, 07h19 (Photos:16 | Geodata:1)

Totholz-Wurzelhöhlen-Tour
Uetliberg: Manegg, Fallätsche, Baldern, Mittelleimbach Heute fuhr ich mit der Sihltalbahn bis Manegg und stieg die Frymannstrasse hoch zu den Burgwächtern. So nenne ich die grossen Föhren, die weiter oben in der Nähe der Burgstelle Manegg auf einem Grat stehen. Man sieht sie von weitem, wenn man mit dem Zug Richtung Sihltal...
Published by 15 January 2017, 20h07 (Photos:19 | Comments:2)

Trampelpfade am Üetliberg: Auffahrtstüürli vor der Haustür
Am Auffahrtstag bin ich auf einer schönen, empfehlenswerten Kombination von Routen von der Stadt auf den Grat gewandert und gekraxelt. In Stichworten (alles auf der untenstehenden Karte gut zu sehen): Saalsporthalle - Islerstrasse - Waidmattweg - Meierholzstrasse - Gänzilooweg - vorbei an der Abzweigung Höcklerstrasse - weiter...
Published by 17 May 2016, 19h14 (Photos:14 | Comments:3)

Trampelpfade am Üetliberg: Winterwanderung mit Kraxeleinlage
In gut drei Stunden zu Fuss aus der pulsierenden Stadt in die totale Einsamkeit und wieder zurück: Heute bin ich aus der Gegend Sihlcity/Saalsporthalle via Allmend, Gänziloh, Höckler, Leimbach, Rütschibachtobel zur Fallätsche gewandert, dann hoch via Glecksteinpfad (Trampelpfad Nr. 34) und durch den Erosionstrichter auf...
Published by 13 February 2016, 08h25 (Photos:14)

Trampelpfade am Üetliberg (36): Höckler - Staatswald - Teehütte - Gratstrasse (Staatswaldpfad)
Der Staatswaldpfad ist der nördliche Nachbar des Von-Meiss-Pfades. Er führt vom "Höckler" (Kreuzung Frymannstrasse/Medikerweg) via Teehütte zum Grat. Der eigentliche Trampelpfadabschnitt ist eher kurz: Er beginnt auf einer Höhe von ca. 530m ü. M. und endet bereits auf 700m ü. M. Zuvor und danach benützt man Wege....
Published by 27 December 2015, 20h53 (Photos:22)

Trampelpfade am Üetliberg (35): Höcklerterrasse - Teehütte - Grat (Von-Meiss-Pfad)
Der Von-Meiss-Pfad gehört nicht zu den "grossen" Trampelpfaden, die sich durch eine besonders direkte Linie zwischen der Stadt und dem Berg oder durch spezielle Kraxelpartien auszeichnen. Aber immerhin startet er an einem Ort, der eine interessante Geschichte hat: der Höcklerterrasse (siehe dazu auch die Website...
Published by 20 December 2015, 09h43 (Photos:20)

Pfädliwandern am Uetliberg
Pfädliwandern am Uetliberg Beim Bahnhof Leimbach durch die Unterführung und der Strasse entlang bis zum Einstieg in den Rütschlibachweg. Die Abzweigung ist etwas versteckt und kommt unerwartet, ich habe sie beinahe verpasst. Kurz dem Bach entlang und bei der großen Brücke hinauf zur Maneggpromenade. Nach dem...
Published by 25 April 2015, 18h58 (Photos:20 | Geodata:1)

Trampelpfade am Üetliberg (14): Leimbach - Manegg - Gratstrasse (Maneggpfad)
Das Begehen des Maneggpfades ist aus zwei Gründen reizvoll: Er ermöglicht einerseits eine Besichtigung der Ruine Manegg und andererseits die Entdeckung eines schönen, geradezu exemplarischen Trampelpfadabschnitts. Wer einmal wissen will, was Wege und Trampelpfade unterscheidet und wie es ist, sich auf solchen Pfade zu...
Published by 5 October 2014, 13h29 (Photos:13 | Comments:2)

An exploration of the Fallätsche traverse
I first heard about the Fallätsche (alternatively spelled Falletsche) from a colleague at work, who recommended it to me as "a patch of Alpine hiking within the city of Zürich". The route of the "Fallätsche traverse" has been described on Hikr many times, including a six years old report in English by 360. Update...
Published by 31 March 2014, 21h22 (Photos:28 | Comments:4)