Rot Nollen 2309 m
7574 ft.
---
Peak in

17 hike reports

, 6 photo(s). Last visited :

14 Oct 17


Geo-Tags: Östliche Melchtaler Alpen, CH-BE, CH-NW
Photos (6)
---
By Publication date · Last favs · By Popularity · Last Comment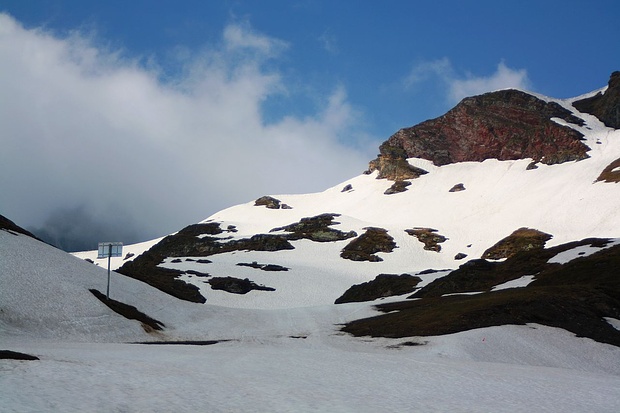 Im Aufstieg zum Jochpass. Rechts ist der Rot Nollen (2309m) der dank seinem roten Gestein so heisst. © Sputnik
---
Reports (17)
---
Obwalden

T6-

II

AD

14 Oct 17

Vom Jochpass zum Rotsandnollen 2700m
Etwas Wehmut liegt in der Luft, denn ich begehe an diesem prächtigen Samstag die letzten mir noch unbekannten Gipfel rund ums Melchtal. Die Gegend ist mir in den letzten zwei Jahren richtig ans Herz gewachsen. Denn vor allem auf der wilden Ostseite findet sich eine ganze Reihe anspruchsvoller, wenig begangener Gipfel wie zum...
Published by 18 October 2017, 19h29 (Photos:31 | Comments:3 | Geodata:1)
Nidwalden

T4-

AD-

20 Aug 17

Graustock 2662 m. - Graustock Klettersteig
Dopo più di sei settimana lontana dalle montagne finalmente oggi ho incalzato di nuovo gli scarponi! Un amico mi ha proposto la Klettersteig Graustock. Da Engelber, dopo aver parcheggiato la macchina nell'ampio parcheggio ancora vuoto, abbiamo preso d'dapprima l'ovovia che porta al Titlis, scendendo alla fermata intermedia...
Published by 20 August 2017, 22h27 (Photos:36 | Comments:2)

Graustock (2662 m)
Kürzlich bei einer Wanderung hat mich der Graustock so schön angelacht. Heute will ich ihm auf den Pelz rücken. Zeitig am Morgen fahre ich mit Roller, Bahn und Gondel bis Trübsee, danach zu Fuss rüber zur Jochpassbahn. Mit dem ersten Sessel lasse ich mich auf den Jochpass liften. Ein bisschen frisch, zügig und...
Published by 30 July 2016, 14h06 (Photos:51 | Geodata:1)
Obwalden

T4-

I

AD

12 Sep 15

kurz luftig, anspruchsvoll - und doch beglückend: KS Graustock - mit herrlichen Ausblicken
Ein herrlicher Spätsommertag mit blauem Himmel und angenehmen Temperaturen ist uns beschieden, wie wir uns aufmachen, uns wagen, den vorher und nachher von verschiedenen Seiten doch als nicht ganz trivial geschilderten KS ob Engelberg zu begehen … Nach längeren Fahrten mit den hiesigen Aufstiegshilfen, einem kurzen...
Published by 23 September 2015, 22h23 (Photos:70)

"Back in Switzerland-Tour" auf den Graustock
Was ist bloss mit dem budget5 passiert? Nach einem ärgerlichen Fersenbeinbruch im Herbst und einer abenteuerlichen Reise durch Südamerika hat er es nun zurück in die Schweizer Alpen geschafft. Berg-Berichte aus der südlichen Hemisphäre werden folgen. Seit Oktober 2013 war ich nicht mehr in den Schweizer Bergen unterwegs....
Published by 22 June 2014, 23h03 (Photos:10 | Comments:4)

Graustock Klettersteig
With the SBB "Vier Seen Wanderung Sommer-Hit" special offer, you get a train to Engelberg, cable car/ski lift to Jochpass, cable car down from Melchsee-Frutt, Postauto from Stöckalp to Sarnen and a train back home, all at 50% off. That means only 28.80 CHF from Zürich HB (with Halbtax) for the whole shebang. Pretty good...
Published by 12 August 2013, 21h46 (Photos:54)

Graustock 2662m
Von Engelberg nach Melchsee-Frutt Aufstieg Klettersteig, Abstieg SW-Rücken R.1381 Nach fast dreiwöchiger Sommer Pause wegen diversen Anlässen wie z.B. Gurtenfestival war heute Start zu neuen Touren. Heute wollte ich endlich mal auf den Graustock. Dieser Gipfel steht schon seit Jahren auf meiner Pendenzenliste. Gleichzeitig...
Published by 26 July 2013, 13h05 (Photos:47)
Nidwalden

T6

AD-

III

6 Jul 13

Engelberg – Stans Extrem
Diesmal hat es geklappt! Von Engelberg auf den Jochpass, über alle Gipfel entlang des Grates bis aufs Stanserhorn und wieder runter nach Stans. Ein langer Tag mit über 40 Kilometern, 5000m Aufstieg und 5500m Abstieg. Intensive 22 Stunden mit Klettern entlang luftiger Felskanten, Kraxeln auf wilden Graten und Wandern durch...
Published by 11 July 2013, 22h58 (Photos:55 | Comments:17 | Geodata:1)
Klettersteig Graustock (2661m)
Heute wollten wir mal wieder einen Klettersteig erkunden. Der im Führer erwähnte 70m-Pfeiler sorgte zwar für etwas Bauchgrimmen, aber anschauen wollten wir uns das Ganze von Nahem. Viele Höhenmeter sind heute nicht das Ziel. Folglich lassen wir uns bequem mit Gondel- und Sesselbahn zum Jochpass transportieren. Einige Meter...
Published by 22 December 2011, 20h02 (Geodata:1)
Obwalden

T2

AD-

13 Aug 11

Graustock
Dieses Mal sollte es eine wunderbare Genusstour werden und so machten wir uns auf den Weg nach Engelberg. In Engelberg nahmen wir in der Gondelbahn Richtung Trüebsee platz. Von der Bergstation zur Talstation des Jochpasses sind es nur wenige Gehminuten. In der Talstation des Jochpasses angekommen haben wir uns nochmal...
Published by 11 May 2013, 13h54 (Photos:23 | Geodata:1)