Rossalpelifurggel 1902 m
6239 ft.
---
Pass in

21 hike reports

, 6 photo(s). Last visited :

22 Oct 20


Geo-Tags: CH-GL, CH-SZ, Oberseegruppe
Photos (6)
---
By Publication date · Last favs · By Popularity · Last Comment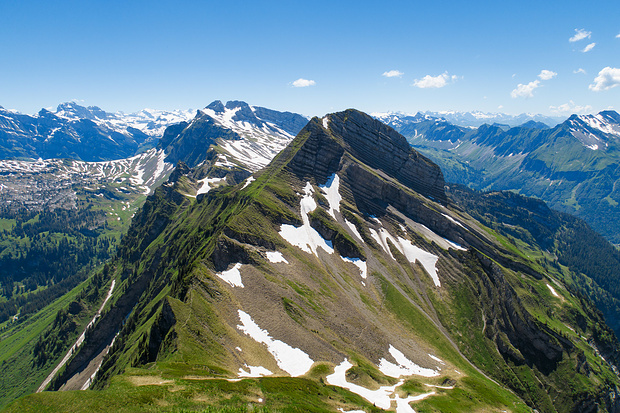 Zindlenspitz vom Rossalpelispitz aus. Zu erkennen ist auch das kleine Schneefeld bei der Traverse, das sich noch über den Weg legt. Dessen Steilheit konnten wir leider nicht richtig einschätzen. © Chrichen
---
Reports (21)
---

Nach Rossalplispitz und Zindlenspitz zum Himmelchopf
Heute fuhren Susanne die Hunde und ich ins Wägital, um eine Wanderung zu unternehmen. Nachdem wir das Auto parkiert hatten, mussten wir auf der Strasse Richtung Hinterbruch ca. 200 Meter gehen bevor wir zu einer Wandertafel kamen. Ab da folgten wir dem markierten Wanderweg bis zur Hochfläsch Hütte, um dort kurz einzukehren,...
Published by 25 October 2020, 10h55 (Photos:39)

Grosse Runde um den Obersee
Ziel der Tour: Eine Runde um den Obersee, möglichst entlang der Wasserscheide zu Klöntaler See und Wägitalersee. Wegbeschreibung: Die Anreise nach Näfels erfolgt via SBB, Start ist kurz nach 7:00 Uhr. Es geht zunächst auf dem Kreuzweg und Äschen zum Obersee, wo ausgiebig getrunken und 2.5 Liter Wasser abgefüllt...
Published by 30 June 2020, 17h21 (Photos:62 | Comments:6 | Geodata:1)

Zindlenspitz - Rossalpelispitz
Anreise mit PW zum Wägitalersee Pt 923 Route: Pt. 923 - Aberliboden - Zindlen - Zindlenspitz - Rossalpelispitz - Rossalpeli - Hohfläschen - Hohfläschenhütte - Pt. 923 Ganze Route schneefrei.
Published by 28 May 2020, 09h15 (Photos:32)

Zindlenspitz (2097 m) revisited
Auf dem Zindlenspitz war ich vor Jahrzehnten einmal mit meinem Freund Andi. Jetzt habe ich ihn wieder als Gipfelziel ausgewählt für eine Tour an einem schönen Spätsommertag. Einerseits möchte ich die Physis trainieren, andererseits auch die Psyche, weswegen ich den Weiterweg über Rossalpelispitz und Brünnelistock gewählt...
Published by 15 September 2019, 12h00 (Photos:19 | Geodata:1)
Wägitaler Five
Inspiriert vom Bericht durch 3614adrianwollten wir das selbe heute auch angehen. Abgesehen von der Passage zwischen Plattenberg und Brünnelistock habe ich alle Grate schon begangen. Die Wegfindung war also kein Problem. Start um 8:30 beim See, die Sonne brannte bis zur Bockmattlihütte. Anschliessend kamen Wolken auf was das...
Published by 6 July 2019, 17h55 (Comments:2)

Lachenstock, Zindlenspitz, & Rossälplispitz
The plan was to hike to Lachenstock (2026 m), and eventually go to Zindlenspitz afterwards. In the end I added Rossälplispitz to the hike as well. Lachenstock isn't much of a mountain peak, but it's simply one of the highest points on the ridge between Zindlenspitz and Rädertenstock. I had not been there before, so I wanted to...
Published by 12 August 2018, 21h11 (Photos:23 | Geodata:1)

Die eine Hälfte des Obersee
Ich wollte an diesem Samstag eine grosse Tour machen mit über 4300hm. Geplant war eine Rundtour um den Obersee. Das heisst auf den Tierberg aufsteigen und von dort alles über den Grat bis nach hinten zum Ochsenkopf. Von dort möglichst wenig Höhenverlust rüber zum Twirren-Dejenstock rüber zum Schijen und von dort zur...
Published by 17 July 2018, 15h17 (Photos:38 | Comments:8)

Zindlenspitz, 2097m mit Abstecher auf Rossälplispitz, 2075m
Endlich wieder eine Bergtour ohne grossen Schneekontakt... Die Schneegrenze liegt je nach Gebiet immer noch tief bei ca. 2000müM. Und endliche finden wir Zeit für eine tolle Bergtour: den Zindlenspitz, haben wir doch diesen Berg das letzte Mal im Oktober im 2010 bestiegen. Heute ist rund um dem Wäggitalersee was los -...
Published by 5 June 2018, 21h35 (Photos:28)

Vom Lachenstock bis zum Brünnelistock
Eigentlich sollte es eine leichte Tour werden heute, denn die Unihockeysaison startet gleich mit einem Paukenschlag. Vom Mittwoch bis Sontag jeden Tag Training oder Spiele (Testspiel, Cup, Benefiz). Doch aufs Wandern kann ich seit zwei Jahren nicht mehr verzichten, deshalb sollte es eine lockere Tour werden. Was mich gleich zum...
Published by 27 May 2018, 00h07 (Photos:34 | Comments:2)

Route One-Forty-Four
In HIKR-Kreisen ist PStraub's Route 144 fast so berühmt wie die US-Route 50. Diese verbindet den Atlantik mit dem Pazifik, jene immerhin den Obersee mit dem Wägitalersee. Diese dürfte trotz dem fortschreitenden Zerfall der US-Infrastruktur noch durchgehend asphaltiert sein, jene weist nur noch an ganz wenigen Stellen Wegspuren...
Published by 21 May 2018, 17h44 (Photos:26)