Rossalpelifurggel 1902 m
6239 ft.
---
Pass in

20 hike reports

, 5 photo(s). Last visited :

13 Sep 19
Photos (5)
---
By Publication date · Last favs · By Popularity · Last Comment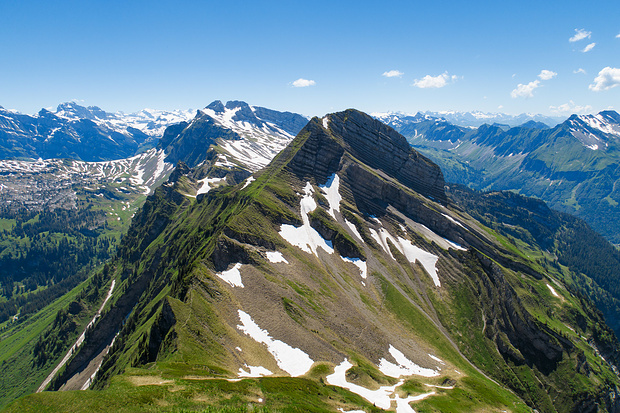 Zindlenspitz vom Rossalpelispitz aus. Zu erkennen ist auch das kleine Schneefeld bei der Traverse, das sich noch über den Weg legt. Dessen Steilheit konnten wir leider nicht richtig einschätzen. © Chrichen
---
Reports (20)
---

Zindlenspitz (2097 m) revisited
Auf dem Zindlenspitz war ich vor Jahrzehnten einmal mit meinem Freund Andi. Jetzt habe ich ihn wieder als Gipfelziel ausgewählt für eine Tour an einem schönen Spätsommertag. Einerseits möchte ich die Physis trainieren, andererseits auch die Psyche, weswegen ich den Weiterweg über Rossalpelispitz und Brünnelistock gewählt...
Published by 15 September 2019, 12h00 (Photos:19 | Geodata:1)
Wägitaler Five
Inspiriert vom Bericht durch 3614adrianwollten wir das selbe heute auch angehen. Abgesehen von der Passage zwischen Plattenberg und Brünnelistock habe ich alle Grate schon begangen. Die Wegfindung war also kein Problem. Start um 8:30 beim See, die Sonne brannte bis zur Bockmattlihütte. Anschliessend kamen Wolken auf was das...
Published by 6 July 2019, 17h55 (Comments:2)

Lachenstock, Zindlenspitz, & Rossälplispitz
The plan was to hike to Lachenstock (2026 m), and eventually go to Zindlenspitz afterwards. In the end I added Rossälplispitz to the hike as well. Lachenstock isn't much of a mountain peak, but it's simply one of the highest points on the ridge between Zindlenspitz and Rädertenstock. I had not been there before, so I wanted to...
Published by 12 August 2018, 21h11 (Photos:23 | Geodata:1)

Die eine Hälfte des Obersee
Ich wollte an diesem Samstag eine grosse Tour machen mit über 4300hm. Geplant war eine Rundtour um den Obersee. Das heisst auf den Tierberg aufsteigen und von dort alles über den Grat bis nach hinten zum Ochsenkopf. Von dort möglichst wenig Höhenverlust rüber zum Twirren-Dejenstock rüber zum Schijen und von dort zur...
Published by 17 July 2018, 15h17 (Photos:38 | Comments:8)

Zindlenspitz, 2097m mit Abstecher auf Rossälplispitz, 2075m
Endlich wieder eine Bergtour ohne grossen Schneekontakt... Die Schneegrenze liegt je nach Gebiet immer noch tief bei ca. 2000müM. Und endliche finden wir Zeit für eine tolle Bergtour: den Zindlenspitz, haben wir doch diesen Berg das letzte Mal im Oktober im 2010 bestiegen. Heute ist rund um dem Wäggitalersee was los -...
Published by 5 June 2018, 21h35 (Photos:28)

Vom Lachenstock bis zum Brünnelistock
Eigentlich sollte es eine leichte Tour werden heute, denn die Unihockeysaison startet gleich mit einem Paukenschlag. Vom Mittwoch bis Sontag jeden Tag Training oder Spiele (Testspiel, Cup, Benefiz). Doch aufs Wandern kann ich seit zwei Jahren nicht mehr verzichten, deshalb sollte es eine lockere Tour werden. Was mich gleich zum...
Published by 27 May 2018, 00h07 (Photos:34 | Comments:2)

Route One-Forty-Four
In HIKR-Kreisen ist PStraub's Route 144 fast so berühmt wie die US-Route 50. Diese verbindet den Atlantik mit dem Pazifik, jene immerhin den Obersee mit dem Wägitalersee. Diese dürfte trotz dem fortschreitenden Zerfall der US-Infrastruktur noch durchgehend asphaltiert sein, jene weist nur noch an ganz wenigen Stellen Wegspuren...
Published by 21 May 2018, 17h44 (Photos:26)
Gipfel Trio im Kanton Schwyz
Vom Parkplatz Ziggen 922m um 9:30Uhr gestartet gen Hohfläschenhütte um kurz darauf bei 1600m dem Wegweise in den Aufschwung zum Rossalpelifurggel zu folgen. Ein mässig steiler Aufstieg im Schatten der Nordflanke des Zindlenspitz (T3+), hier und da etwas rutschig (Nässe, Matsch, Schnee) aber ohne grössere Probleme zu meistern....
Published by 5 November 2017, 12h31 (Photos:10 | Comments:2 | Geodata:1)
Wägital: Zindlenspitz
Beim Start gegen 12 Uhr mittags war der Himmel leicht mit milchigen Wolken bedeckt, die sich im Laufe des Tages dann auflockerten. Von Innerthal Post ging es zum Einstieg P.931 (ausgeschildert) Richtung Zindlenspitz, über Aberli und Zindlen. Der Weg war an manchen Stellen nur leicht matschig, damit also entspannt zu bewandern....
Published by 26 October 2017, 22h15 (Photos:10)
Zindlenspitz 2097m
Für die erste 2017er-Tour im Wägital ohne Ski habe ich den Zindlenspitz ausgewählt, davon ausgehend, dass wahrscheinlich nur noch wenig Schnee liegt. Das hat sich bewahrheitet, man hat wirklich das Gefühl, dass nun der Frühling Einzug hält. Wobei natürlich an den sonnenabgewandten Expositionen schon noch weiss überwiegt....
Published by 21 May 2017, 16h14 (Photos:17)