Röven 1848 m
6061 ft.
---
Other in

21 hike reports

, 1 photo(s). Last visited :

16 Oct 18
Photos (1)
---
By Publication date · Last favs · By Popularity · Last Comment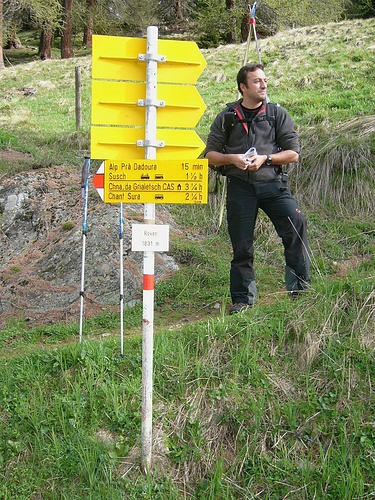 Röven (1848m) an der Flüela Passstrasse. Hier hat der Frühling begonnen und wir müssen die Ski zum Winter hochtragen. © Sputnik
---
Reports (21)
---
| | | |
| --- | --- | --- |
| Basse Engadine | T4 | 16 Oct 18 |

Piz Murtera (3043 m) - hike from Röven
Piz Murtera (3043 m) is a mountain peak northwest of Susch. It lies between the valleys Val Fless and Val Sagliains. My route followed the SSW ridge for the ascent, and the west flank for the descent. I started this hike at the Flüela pass road in Röven, following the wrw marked trail up to Alp Fless Dadoura. Next, I...
Published by 18 October 2018, 10h38 (Photos:32 | Geodata:1)
Basse Engadine

T4+

I

7 Oct 18

Piz Chasté und Piz Murtera 3044 m
Der Piz Murtera ist vermutlich aufgrund seiner Lage zwischen den zwei Prominenzen Piz Linard und Flüela Wisshorn ein nicht allzu oft begangener 3000er am Flüelapass. Gerade die schöne Sicht auf die bekannteren Nachbarn sowie die leichte Erreichbarkeit von der Flüelapassstrasse machen ihn meiner Meinung nach aber zu einem...
Published by 25 May 2019, 21h12 (Photos:6 | Geodata:1)
| | | |
| --- | --- | --- |
| Basse Engadine | T3 | 27 Aug 15 |

Kesch-Trek variiert und erweitert . Tag 2: Grialetschhütte-Schwarzhorn-Jöriseen-Susch
Am morgen habe ich das Reissen und mag das Losgehen kaum erwarten. Heute will ich endlich einmal den viel gelobtenJöriseen einen besuch abstatten und auf dem Weg dahin das Schwarzhorn gleich noch mitnehmen. Da mir am Abend empfohlen wurde, nicht den direkten Weg zur Fuorcla Radönt zu wählen, nehme ich den kleinen Umweg über...
Published by 29 October 2015, 12h00 (Photos:27 | Geodata:1)
| | | |
| --- | --- | --- |
| Basse Engadine | T3 | 9 Jul 15 |

Von Susch nach Cinuos-chel über Cna da Grialetsch und Cna digl Kesch
Nachdem sich der gestrige Mittwoch aufgrund des nicht berauschenden Wetters als Museumstag angeboten hatte und ich die Gelegenheit zum Besuch des Segantinimuseums in St. Moritz genutzt habe - zum Preis von sFr. 10.- werden doch einige eindrückliche Bilder dieses Künstlers gezeigt und unter der Kuppel darf man auch das...
Published by 26 July 2015, 17h13 (Photos:33)

"Sommer"-ferien 2014 Teil 1: Jöriseen
Unsere diesjährigen Sommerferien wollten wir mal wieder in der Schweiz verbringen, genauer im Graubünden. Einige mögliche Wanderungen haben wir uns vorher rausgesucht, ansonsten war noch nichts geplant. Ein Paket 25'000er Landeskarten, Zelt und Schlafsack im Gepäck für grösstmögliche Flexibilität.... 08.08.2014 Mit...
Published by 20 August 2014, 23h31 (Photos:19)
Basse Engadine

T6-

PD

II

4 Sep 13

Nomansland?
Seit mir vor Jahren auf einer Wanderung im Unterengadin das erste Mal die Plattenhörner ins Auge gestochen sind, haben sie mich nicht mehr losgelassen. Sie werden manchmal als "Nomansland" bezeichnet und wie dieser Übernahme schon impliziert wohl ziemlich selten von Menschen aufgesucht, da sie einerseits nicht ganz einfach zu...
Published by 7 September 2013, 21h14 (Photos:23 | Comments:4 | Geodata:1)
Prättigau

T6-

PD

II

4 Sep 13

Geröllfestival am Vorderen Plattenhorn Westgipfel (3217m)
Das Geheimnis um die Plattenhörner wurde auf hikr bereits mit dem 360'schen Tourenbericht gelüftet. Unter dem etwas kryptischen Titel Nomansland? hat er eine in allen Belangen fantastische Bergfahrt beschrieben. Die Plattenhörner sind eine gut versteckte, zwei Kilometer lange Felsmauer zwischen Prättigau und Engadin. Im...
Published by 10 September 2013, 21h28 (Photos:16 | Comments:5)
Vom Julierpass über sechs Pässe nach Klosters Platz gewandert
Als ich im 2013 vom Geschäft eine Auszeit nehmen konnte habe ich mir für die Monate August und September drei Hüttentouren zusammen gestellt. Die eine ging ins Wallis die andere nach Graubünden und die letzte ins Berneroberland. Die letztere konnte ich dann wegen dem schlechten Wetter nicht mehr machen. In diesem Bericht...
Published by 13 December 2015, 13h33 (Photos:90)
| | | |
| --- | --- | --- |
| Basse Engadine | T4 | 16 Aug 13 |
Piz Murtera 3044 m - im Banne des Piz Linard hoch über dem Unterengadin
Der Piz Murtera ist nur durch das Val Sagliains nicht einmal 4 km vom mächtigen Piz Linard getrennt. Trotz dieses prominenten Nachbarn bietet er ein für kaum möglich gehaltenes umfassendes Gipfelpanorama und ist von der Flüelapassstrasse ziemlich schnell erreicht. Der Blick vom Gipfel reicht vom Südtirol über die...
Published by 16 August 2013, 20h35 (Photos:20)
| | | |
| --- | --- | --- |
| Basse Engadine | T2 | 10 Aug 13 |

Wandern und Zelten in Graubünden bei traumhaften Wetterbedingungen
Tag 1, 10.o8.2o13> Monbiel (ca. 1310 m) - Baretschrüti - P. 1334 (am Fluss Landquart) +++ T 1. Aufgrund des starken Verkehrs, vor allem entlang des Bodensees auf der Bundesstraße zwischen Lindau und Bregenz :-( und der vorherigen zahlreichen Staus in Deutschland sind wir später als erwartet in Klosters-Monbiel...
Published by 11 November 2013, 10h43 (Photos:81)