Pizzatsch 2882 m
9453 ft.
---
Peak in

5 hike reports

, 18 photo(s). Last visited :

13 Oct 19


Geo-Tags: CH-GR
Photos (18)
---
By Publication date · Last favs · By Popularity · Last Comment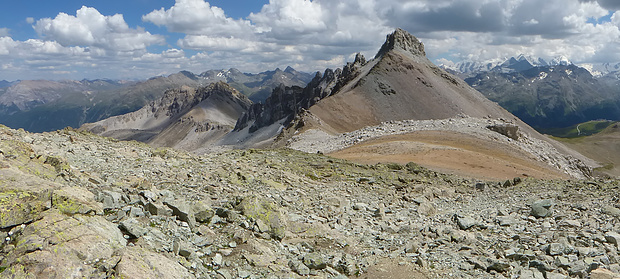 Wieder zurück am Sattel auf 2985m. Jetzt mit bessere beleuchtung (Sonnestand) weil es so schön ist. © Marcel und Desiree
---
Reports (5)
---
Oberengadin

T4

I

13 Oct 19

Piz Padella (2855 m) & Pizzatsch (2882 m)
Piz Padella (2855 m) is a mountain peak west of Samedan. A white-red-white (wrw) marked trail goes to the summit. I started the hike at 8:35 AM in Samedan. I followed the signs in direction Margunin and Piz Padella. The trail goes fairly steep uphill through the forest. At Margunin there is a great view to surrounding...
Published by 13 October 2019, 18h17 (Photos:32 | Geodata:1)

Piz Ot, Piz Padella, Pizzatsch
Von Samedan dem Wanderweg entlang, via Alp Munt nach Sass Alv. Es geht zügig voran und bald erreiche ich über ein Weglein unschwer den Ostgipfel des Piz Padella (2856m), wo sich auch Kreuz und Buch befinden. Interessant ist die Überschreitung zum Pizzatsch, dem höheren Westgipfel (2884m). Der Verbindungsgrat besteht aus oft...
Published by 13 July 2011, 12h13 (Photos:4)
Oberengadin

T3

I

29 Jun 10

Piz Padella (2857 m.ü.M.) - Pizzatsch (2884 m.ü.M.)
Ein herrlich schöner Frühsommertag im Engadin... Ideal für eine Tour hochüber dem Oberengadin mit Super-Blick auf die Seen und die einheimischen Gletscher. Ab Bahnhof Samedan (1721 m.ü.M.) geht's quer durchs Dorf in Richtung Kirche San Peter (1795 m.ü.M.). Nun folgen wir dem steilen Wanderweg im...
Published by 5 August 2010, 23h32 (Photos:9)

Piz Padella
Winterwanderung bis fast auf 3000 m in der eiskalten und glasklaren Engadiner Luft mit wunderschönen Aus- und Tiefblicken. Von Samedan auf gutem Weg zur Alp Muntasch und dann ungefähr entlang dem Sommerweg auf den Piz Padella. Es hat sehr wenig Schnee (maximal 20cm, und nur Becherkristalle). Vom Piz Padella etwas schwieriger,...
Published by 3 June 2006, 16h54 (Photos:3)
Oberengadin

T5

III

15 Sep 00

Las Trais Fluors
Übersteigung der drei imposanten Nadeln der Trais Fluors - eine alpine Klettertour. Die "Drei Blumen" sind von weither sichtbar und beherrschen das Oberengadin. Sie können in mittelschwerer Kletterei in gutem Dolomitfels überstiegen werden. Sicherungen sind keine vorhanden. Von Celerina erst mit dem Bähnchen hoch, dann...
Published by 6 December 2006, 09h42 (Photos:1)