Piz da la Margna Nordostgrat - P.2980m 2980 m
9774 ft.
---
Pass in

8 hike reports

, 3 photo(s). Last visited :

1 Aug 19


Geo-Tags: CH-GR
Photos (3)
---
By Publication date · Last favs · By Popularity · Last Comment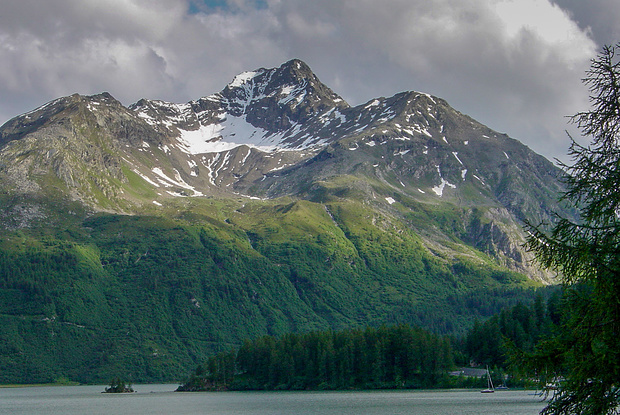 La Margna in all its glory. The regular route follows the trail above the lake, disappears out of the frame, and attends the north-east ridge from behind, at P.2980. I once took a shorter way directly through Murtairac (the valley half filled with snow between the north-east and north-west ridge), to reach the lowest gap on the north-east ridge left of P.2980. Another time, when the conditions were just right, we climbed through the 'canale nord' - the couloir that leads straight to the summit. © detlefpalm
---
Reports (8)
---
Oberengadin

T4+

F

II

1 Aug 19

Piz da la Margna (creste SSE) - 3159m
Giro di ricognizione nella verde Engadina per il prossimo inverno... Dopo aver cambiato idea una ventina di volte, sono giunta alla conclusione che il famoso canale potrebbe anche essere fattibile: Canale nord della Margna non ti temo! O forse sì? Saliti dalla non proprio stabile cresta SSE e scesi dalla normale... e anche...
Published by 2 August 2019, 19h14 (Photos:39 | Comments:11)

Piz da la Margna, 3159 m
Von Plan Curtinac bei schönstem Sonnenschein zur Alp Starnam. Weiter dem Bergweg südwärts folgend über Cavörga unter die Ostflanke des Piz da la Margna. Nun auf steilem Pfad zum Ostgrat. Weiter dem Ostgrat folgend auf den Gipfel. Heute, mit Schneeauflage und teilweiser Vereisung, war Vorsicht geboten. Leider zogen von Süden...
Published by 8 September 2018, 22h08 (Photos:17)
Oberengadin

T4

I

18 Jul 18

Piz da la Margna
Giornata di meteo fantastica da passare all' aria aperta , cerco una camminata tranquilla e tanto panorama , il Piz da la Margna è andato oltre e la mia fermata in vetta è stata lunghissima . Prima di salire al Pizzo ho allungato un po' il giro risalendo per errore tutto il vallone di sfasciumi della via normale fino a un punto...
Published by 19 July 2018, 10h03 (Photos:32 | Geodata:1)
Oberengadin

T5

I

14 Aug 14

Piz da la Margna (3159m) von Maloja ueber Normalroute
Der Piz da la Margna (3159m) im Oberengadin stand schon laenger auf meiner Wunschliste, da ich so viel ueber seine gute Aussicht gelesen habe; eine Route ist z.B. von engadiner hier Piz da la Margna (3159 m.ü.M.) beschrieben. Wegen der unklaren Verhaeltnisse im noerdlichen Talkessel Mutairac habe ich mich allerdings fuer die...
Published by 1 September 2014, 09h11 (Photos:21 | Geodata:1)

Piz da la Margna canale nord
Bella escursione con neve ben rigelata in una giornata stupenda in compagnia di Andrea con gli sci. Dopo un pò di divagare alla ricerca di un parcheggio libero parcheggiamo a Salicina. Saliamo seguendo le tracce che ancora si vedono dei passaggi precedenti. All'inbocco del canale andrea toglie gli sci e saliamo coi ramponi...
Published by 19 April 2014, 19h01 (Photos:3 | Geodata:1)
Oberengadin

T4+

F

28 Sep 13

Piz da la Margna 3159 m.
Il Piz della Margna è una di quelle Montagne che quando varchi il Passo del Maloja non la puoi non notare alla sua destra, una montagna tra il Gruppo del Bernina e la Masino-Bregaglia. Quando pensiamo a cosa fare questo fine settimana ci riviene in mente la Crasta da Laj Sgrishus e ciò che avevamo notato da lassù. Poche sono...
Published by 29 September 2013, 21h09 (Photos:33 | Comments:8)
Oberengadin

T4+

F

I

4 Sep 13

PIZ DA LA MARGNA (3159 m.), panorama grandioso sull'Engadina
ivanbutti Con Beppe, Gabri e Suni, vista la giornataottima che si prospetta decidiamo, dopo poco più di un anno, di ritentare il Piz da la Margna. Con noi c'è questa volta anche Lella. Prima di posteggiare di fianco al lago di Sils, proseguiamo con l'auto fin poco prima di Plaun da Lej, per verificare lo stato di innevamento del...
Published by 5 September 2013, 23h15 (Photos:73 | Comments:15)

Piz de la Margna
Some consider La Margna the 'Guardian of the Engadin', even though there are many summits around the Engadin lakes that are considerably higher. Located at the end of the Engadin valley (when seen from the St. Moritz side), it is La Margna's bulk that makes it standing right in your face. And whatever route you take, it always...
Published by 6 March 2019, 11h56 (Photos:11)