Piz da Sterls / Tristelhorn 3114 m
10214 ft.
---
Peak in

12 hike reports

, 218 photo(s). Last visited :

1 Aug 17


Geo-Tags: CH-GR, CH-SG
Photos (218)
---
By Publication date · Last favs · By Popularity · Last Comment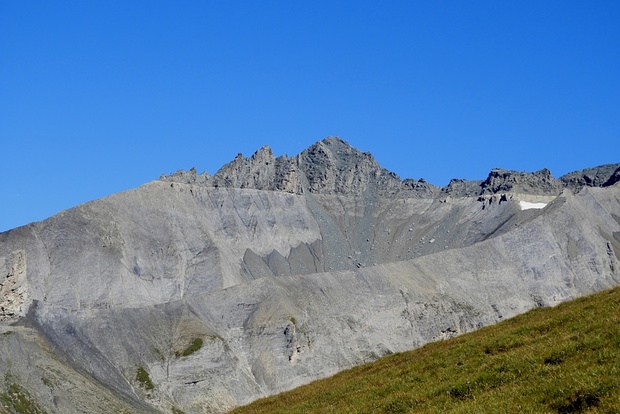 Nach einem ziemlich steilen Aufstieg zum Punkt 2446 wird man mit diesem schönen Anblick belohnt © Flylu
---
Reports (12)
---
Glaserhorn, Tristelhorn
Schon lange wollte ich auf dem von mir noch letzten unbestiegenen Gipfel der Region Flims, das Glaserhorn stehen. Am Nationalfeiertag bei schönstem Wetter lief ich von Bargis auf dem Wanderweg nach Lavadignas Miez. Dort folgte ich teilweise auf Wegspuren ins obere Val Lavadignas. Auf ca. 2400m überquerte ich den Turnigla-Bach...
Published by 3 August 2017, 07h33 (Photos:21)

Piz da Sterls 3114 m - bike & hike
A wonderful hike in perfect weather - just check the pics if you have any doubt! Start in Fidaz at 8:00 (Fidaz Waldrand). I brought my mountain bike along, but I mostly walked the bike unless the terrain was flat. Left the bike at elevation 1890 m where the road ends. I continued up the red/white marked hiking trail to P.2106,...
Published by 11 July 2015, 12h22 (Photos:28 | Geodata:1)
Calanda

PD-

AD+

14 Mar 14

Mit den Freiherren von Belmont auf Ski
Vor rund 600 Jahren begann der Zerfall der Burg Belmont - nun ist wohl auch meine "traditionelle" Skitour Richtung Tristelhorn mit Biwak auf dem Plateau der Ruine Belmont Vergangenheit: Ohne mir viele Gedanken zu machen, wollte ich die schöne Sulztour mal wieder wiederholen - und stiess allenthalben auf Wildschutzverbote: Sowohl...
Published by 14 March 2014, 19h38 (Photos:17)

In Geröll und Schutt - Tristelhorn Südgrat
Warum zum Tristelhorn über den Südgrat? Das muss man sich wirklich fragen, wenn man in den Führer schaut, so wie ich es tat. Gleich zu Anfang stand: "... lang und etwas eintönig". Dann kommen auch noch die Begriffe "Schutt" und "Geröll" reichlich oft in der Beschreibung vor. Trotzdem, aus dem Baselbiet war das Bargistal recht...
Published by 24 August 2012, 22h40 (Photos:11)
St.Gallen

T5

II

18 Aug 12
Tristes Biwak? Im Gegenteil!
Schon lange mal wollte ich wieder ein gipfelnahes Biwak machen - das einmalige Wetter lieferte dazu den fast schon ultimativen Antrieb. So wurde mir nach gar nicht so zähen Verhandlungen ein Slot von Sa.-Vormittag - So.- früher Nachmittag zugestanden. Dieses Bildist mir schon vor einiger Zeit als perfekter Biwakplatz knapp...
Published by 20 August 2012, 12h08 (Comments:3)
St.Gallen

T5

AD-

F

3 Sep 11
Tristelhorn Bike and Hike, das Tamina Express
Mit meinem Birthday Baechistock als inspiration habe ich die wilde Seite St. Gallens entdeckt in der gewaeltige Flanke der Ringelspitzgruppe. Eine lange, anspruchsvolle Bike und Hike mit vielen hoehen Meter und genau so viele schoene Momenten. Abfahrt um 7.30 vom Bad Ragaz Bahnhof und auf der westlichen Talseite durch Valens...
Published by 4 September 2011, 21h19 (Photos:21 | Comments:3)

Südaufstieg Tristelhorn mit Überschreitung zum Piz Sax
Das Tristelhorn habe ich schon aus allen Perspektiven angeschaut, nur oben war ich noch nie. Das soll sich jetzt ändern. Da ich die Südseite des Ringelgebirges besser kenne, entschliesse ich mich für den Aufstieg ab Fidaz. Der Vorteil dieser Variante ist, das man relativ lange im Schatten aufsteigen kann. Um 07.15 starte ich...
Published by 3 September 2011, 23h07 (Photos:22)
Surselva

III

ED

12 Feb 11

Tristelhorn (3114m) - sott mögli sii...
Weder in der Literatur noch im Internet finden sich Hinweise darauf, dass das Tristelhorn im Winter als Skitour begangen wird. Und dies obwohl mir das Kartenstudium eine steile, interessante und exotische Spezial-Skitour weismachen will. Aber ob es wirklich geht? Trotz einiger Fotos auf hikr.org, die einen gut machbaren...
Published by 15 February 2011, 07h56 (Photos:19 | Comments:5)
St.Gallen

T5

F

I

14 Jul 10

Tristelhorn, Piz Sax
Eigentlich gibt es den Berichten von Delta und Alpin Rise nichts mehr hizuzufügen. Ich fand die Tour wunderschön, aber doch sehr anstrengend. Es hat am Abend zuvor anscheinend stark geregnet und der Begriff "Mus" trifft wahrscheinlich die Qualität des Schieferschutts am besten. Ich bin um 5:30 bei klarem...
Published by 15 July 2010, 15h11 (Photos:15 | Comments:2)
Piz da Sterls / Tristelhorn (3114m) und Piz Sax (2795m) aus dem Calfeisen
Ganz im Süden des Kanton St. Gallens liegt gut versteckt das Calfeisental. Das abgelegene, einst von Walsern besiedelte Hochtal wird im Süden von der gewaltigen, fast 2000m hohen Mauer des Ringelspitzmassiv begrenzt. Die Steilabstürze weisen das typisch schiefrig-brüchige Gestein auf, darum ist man in den zahlreichen Routen...
Published by 14 July 2010, 23h38 (Photos:16)