Piz Platta 3392 m
11126 ft.
---
Peak in

48 hike reports

, 751 photo(s). Last visited :

31 Jul 22


Geo-Tags: CH-GR
Photos (751)
---
By Publication date · Last favs · By Popularity · Last Comment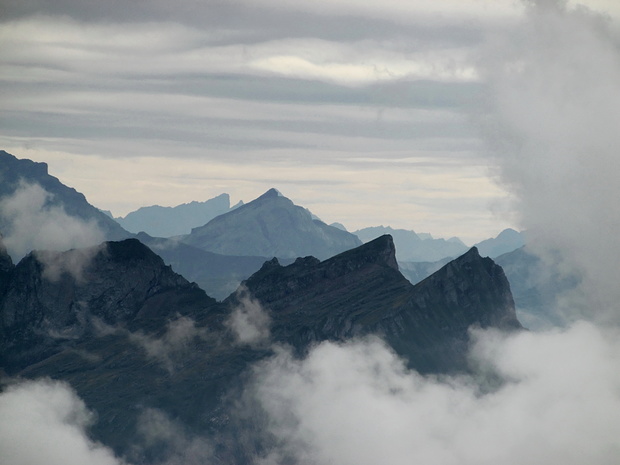 Stimmungsvolle Aufnahme und die Frage, was ich da alles geknipst habe ;-) Edit 23.08.2017. Der Pizzo Cengalo im Bergell, wo sich der verheerende Bergsturz ereignet hat, steht hinten neben dem Pizzo Badile. Der Felsberger Calanda und Piz Platta sind aus dieser Perspektive fast deckungsgleich. © alpstein
---
Reports (48)
---

Piz Platta
Dal parcheggio tornare indietro verso Cresta e poco dopo, sulla destra, parte il sentiero che sale in direzione di Bandseen. Si sale tra pascoli e prati per poi incanalarsi in una valletta che porta all'incrocio a Buel, qui si prosegue sul sentiero sempre verso Bandseen. Appena scollinato, prima dei laghetti, bisogna uscire dal...
Published by 1 August 2022, 23h13 (Photos:84 | Comments:1 | Geodata:1)
Oberhalbstein

T4

I

24 Sep 21

Piz Platta
Da ich auf dieser Website kaum Einträge fand für den Piz Platta ab Mulegns, möchte ich mal einen Eintrag schreiben. Ausserdem beschreibe ich den Normalaufstieg auf den Gipfel für andere 60-jährige die keine besonderen Herausforderungen mehr brauchen ;-) Ab Mulegns bis Tga, im Gebiet Faller, ist es ideal mit Velo oder E-Bike....
Published by 25 September 2021, 08h13 (Photos:3 | Comments:2)

Piz Platta (3392 m) ab Cresta
Start in Cresta (Avers) um 7:15. Meine Route auf den Piz Platta ging via Oberer Bandsee, Fuorcla Bercla, Tälihorn, und die Traverse in der Piz Platta Südwestwand. Die Traverse sieht aus der Distanz sehr eindrücklich aus, ist aber recht einfach. Nach 4 Stunden Aufstieg habe ich den Gipfel erreicht. Es waren heute insgesamt etwa...
Published by 13 September 2020, 21h30 (Photos:27 | Comments:3 | Geodata:1)
Oberhalbstein

T6-

II

23 Jul 20
Piz Platta over vadret da Piz Platta
As a part of our multi day trekking through the Bivio area, we climbed Piz Platta from the east. we camped at platta itself. The first part is an easy hike T2-T3, but the approach to the Vadret is tricky with lots of very loose rock and sand (therefore T6) followed by an exposed climb (I) alongside the stream to reach the lake...
Published by 4 October 2020, 14h42 (Geodata:1)
Avers

T6-

PD+

II

14 Oct 19

Nach 1200 Alpengipfeln über 3000m Höhe: Piz Platta (16 Jahre zuvor Verzicht wegen Regen)
Im Oktober 2003 hatte ich den Piz Platta von Avers aus besteigen wollen, jedoch regnete es nach einigen Touren auf der italienischen Seite dieses Gebietes am dafür geplanten Tag u. ich reiste deshalb ab. Am 14.10.19 - inzwischen hatte ich den 1200. Alpengipfel mit mehr als 3000m Höhe bestiegen (der Gipfel meiner Liste mit...
Published by 16 October 2019, 17h07 (Photos:57)

Piz Platta 3392m - Tälihorn 3164m
vista la meteo spaziale di settembre e gli impegni nel week end, improvvisiamo una gita da fare in mattinata presto. Tante scelte, dal Todi a qualche vetta in Ticino, poi salta fuori il Platta, senz'altro molto più bello in veste invernale ma perchè no andiamo a dargli un occhiata da vicino. Giunti a Cresta alle 21:00,...
Published by 21 September 2019, 16h58 (Photos:10)

Piz Platta 3392 m - Tälihorn 3164 m (direkt rauf / normal wieder runter)
Der Piz Platta liegt rein konditionell eigentlich außerhalb meiner Reichweite. Ich meide Touren mit Anstiegen > 1300 Hm. Nach 9 Tagen in den Bergen bis letzte Woche, wollte ich aber die Akklimatisierung und den Muskelaufbau mitnehmen und ich wagte mich an diese (für mich) Mammuttour. Aufgebrochen bin ich in Cresta um 5.40...
Published by 10 August 2019, 17h01 (Photos:75)

Piz Platta 3392 m / Tälihorn 3164 m
Der Piz Platta zwischen dem Oberhalbstein und dem Avers ist einer der höchsten Gipfel der Region. Mit seinen 3392 m überragt er seine Nachbarn erheblich, demzufolge ist auch die Aussicht bei klarem Wetter genial. Der Zustieg ist lange und vor allem überwindet man viele Höhenmeter. Aus dem Avers ist der Anstieg von Cresta über...
Published by 31 July 2019, 12h59 (Photos:49)
Oberhalbstein

T6

PD-

II

27 Sep 18

Piz Platta "direkt" von Westen
Nachdem ich letztes Jahr auf dem 2-tägigen Normalwg von Osten auf den Piz Platta gestiegen war, und dann oben leider in den Woclken steckte nutzte ich den super Wetterbericht um diesjahr von Westen aufzusteigen. Der Plan war auf "direktem" Weg, wie in manchen Tourenführern beschrieben durch den Geröllkessel westlich vom...
Published by 30 September 2018, 14h32 (Photos:6)

Piz Platta (3392) via Tälihorn
Der Piz Platta ist der höchste Gipfel der Oberhalbsteiner Alpen und mit seiner Schartenhöhe von über 1000 m eine auffällige Landmarke im Engadin. Der einfachste Aufstieg führt durch die Südwestflanke. Der Gletscher ist mittlerweile so stark zurückgeschmolzen, dass man den Gipfel ohne Eisausrüstung erreichen kann. Über...
Published by 3 November 2019, 13h57 (Photos:14 | Geodata:1)