Passo Bonello 1108 m
3634 ft.
---
Pass in

60 hike reports

, 9 photo(s). Last visited :

5 Sep 21


Geo-Tags: Gruppo Monte Generoso, CH-TI, I
Photos (9)
---
By Publication date · Last favs · By Popularity · Last Comment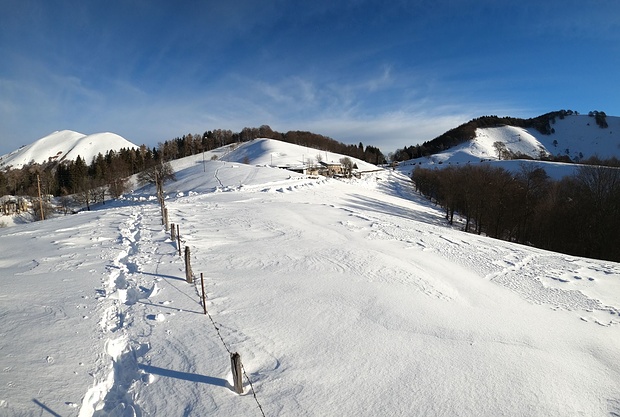 Continuo ancora per 150 m, poi indosso le ciaspole e punto al fantastico crinale che sale in direzione di La Colman. © siso
---
Reports (60)
---
Sottoceneri

T2

PD

5 Sep 21

Sasso Gordona: bike and hike
Indecisione su cosa fare il weekend, arrampicare, camminare, riposare un po'..alla fine tra tutte le idee ecco che spunta un piccolo progetto che da un po' di tempo era nell'aria. Bike and Hike e così vada per un Sasso Gordona by fair means. Domenica mattina partiamo da casa poco dopo le 8 e superata la prima sailtella verso...
Published by 10 September 2021, 18h30 (Photos:15)

M.Generoso Cima Piancaccia Pizzo della Croce Giro ad anello da Muggio
Lungo giro ad anello in Valle di Muggio. Da Muggio si scende di qualche metro prima di salire verso Pianspessa e passando da Armirone arriviamo alla stazione di Bellavista ,salita in vetta al Generoso. Dopo la sosta scendiamo dal tratto attrezzato e saliamo alla Cima Baraghetto e alla Cima Piancaccia. Dalla Piancaccia scendiamo...
Published by 8 July 2021, 06h18 (Photos:28 | Comments:2 | Geodata:1)

Generoso, Crocione e Sasso Gordona tutt d'un fiàa
Da molto tempo mi frullava in mente l'idea di unire in un'unica passeggiata le tre montagne più vicine a noi: monte Generoso, monte Crocione e Sasso Gordona. Inizialmente il piano era di concatenarle a partire dalla Svizzera ma le attuali restrizioni ci hanno fatto virare su un'anello a partenza italiana. Le previsioni per...
Published by 27 May 2021, 17h50 (Photos:15 | Comments:2)
| | | |
| --- | --- | --- |
| Sottoceneri | T3+ | 17 Apr 21 |

Quartetto di cime tra Sasso Gordona e Generoso
Commento di michea82 Deborah mi ha davvero sorpreso in questa "micheata". E non sono stato io a "fargliela fare". Lei stessa ha puntato in alto. Con motivazione ed entusiasmo. Sinteticamente abbiamo percorso un itinerario di rara bellezza e valore storico toccando numerose cime (a mio avviso 4 montagne, ma secondo la mappa si...
Published by 21 April 2021, 10h55 (Photos:91 | Comments:22 | Geodata:1)

La Colman (1136 m) - EMTB
Piacevole escursione ad anello su sterrate e sentieri noti della Valle di Muggio, in una giornata con temperature da piena estate. Inizio dell'escursione: ore 13.15 Fine dell'escursione: ore 15.40 Temperatura alla partenza: 20,0°C Isoterma di 0°C, ore 12.00: 2800 m Pressione atmosferica, ore...
Published by 3 April 2021, 14h00 (Photos:28 | Comments:3 | Geodata:1)
Sottoceneri

T3+

I

14 Mar 21
Grenzwandern über dem Comer See: Sasso Gordona-Colmegnone-Monte Bisbino
Diese lange Rundtour führte uns über drei Gipfel entlang der Grenze Tessin-Lombardei. Der höchste, der felsige Sasso Gordona, ist über einen kurzen, alpinen Steig zu erreichen. Von der Colmegnone hat man einen hervorragenden Ausblick auf den südlichen Comer See. Der Monte Bisbino mit dem Sendemast ist der südlichste Gipfel...
Published by 26 March 2021, 18h55 (Photos:24 | Geodata:1)

Poncione di Cabbio ( 1263) Giro ad anello dalla Val d'Intelvi
Bella escursione fra la Val d'Intelvi e la Val di Muggio. Giro ad anello partendo dal Pian delle Alpi in direzione del Rifugio Prabello, arrivato al rifugio seguo una traccia verso il Sasso Gordona e arrivo fino alla prima catena la traccia prosegue ma essendo da solo per sicurezza decido di tornare sui miei passi, ritornato al...
Published by 14 January 2021, 06h41 (Photos:32 | Comments:4 | Geodata:1)
Sottoceneri

T1

WT2

10 Jan 21

Poncione di Cabbio (1263 m)
Fantastica escursione con le racchette da neve sulle magnifiche alture della Valle di Muggio. Inizio dell'escursione: ore 8.15 Fine dell'escursione: ore 13.00 Temperatura alla partenza: -4,5°C Isoterma di 0°C, ore 9.00: 300 m Pressione atmosferica, ore 9.00: 1020 hPa Temperatura al rientro:...
Published by 11 January 2021, 18h20 (Photos:32 | Comments:3 | Geodata:1)

Sasso Gordona (+ Linea Cadorna)
Da dentro il paese di Almanno bisogna salire seguendo le indicazioni per Treviglio e Colma Murelli, poi al successivo bivio per la Colma di Binate. Si prosegue fino all'ex Rifugio Binate, poi si torna indietro fino alla Colma di Binate. Da qui si sale la facile cresta per vedere la piccola cappella, ma per raggiungere la Colma...
Published by 9 October 2020, 20h19 (Photos:84 | Geodata:1)

Una giornata al Sasso Gordona
Insieme ad Elena trascorro una bella giornata (un po' troppo calda a dir la verità) sulle pendici del Sasso Gordona. Da Cabbio ci portiamo ad Uggine e da lì saliamo verso il Prabello. Dopo aver raggiunto il Sasso Gordona scendiamo dall'altro versante e torniamo al rifugio percorrendo il sentiero a mezzacosta sulle pendici della...
Published by 6 September 2020, 23h36 (Photos:2)