Pala da Porcs 2514 m
8246 ft.
---
Pass in

7 hike reports

, 7 photo(s). Last visited :

24 Aug 19


Geo-Tags: CH-GR
Photos (7)
---
By Publication date · Last favs · By Popularity · Last Comment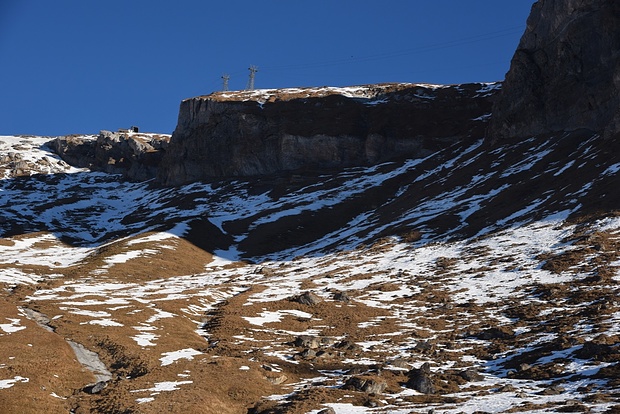 Im Aufstieg nach Naraus; wir peilen die Pala da Porcs an (im Schatten, rechte Bildhälfte); ...noch ohne Steigeisen...; ein Zwischenziel am Horizont; der Fil da Cassons © RainiJacky
---
Reports (7)
---

Fil de Cassons (2694 m) - bike & hike from Flims
Cassonsgrat/Fil de Cassons is the highest area of Crap da Flem aka Flimserstein. The aerial cablecar to Cassons stopped operating a few years back, so now you either have to hike from Naraus or Bargis to get up there. I started off with the mountain bike around 10:15 AM in Flims, heading up towards Fidaz and then Bargis. At the...
Published by 25 August 2019, 09h21 (Photos:38 | Geodata:1)

Trinserhorn/Piz Dolf 3028, Überschreitung
Lange Rundtour im UNESCO Welterbe Sardonagebiet... Die diversen Berggipfel im Sardonagebiet sind bei uns seit Jahren auf der "to do" Liste. Endlich ist's soweit: heute "erkämpfen" wir und das Trinserhorn in einem Tag. Seit die LSB Cassons den Betrieb eingestellt hat müssen wir mit einem längeren Anmarsch-, bwz. Aufstiegsweg...
Published by 25 June 2017, 20h42 (Photos:56 | Comments:1)

Pinut - Flimserstein (2694) - Am Südrand des UNESCO-Welterbes
Das eigentliche Ziel der heutigen Wanderung war das südliche Ende des UNESCO-Weltnaturerbes "Tektonikarena Sardona". Da dieses wenige hundert Meter vom Ausstieg des Pinut-Klettersteiges (siehe hier oder hier) entfernt liegt, war die Aufstiegsroute gesetzt. Mit Bahn und Bus via Flims nach Fidaz-Pinut. Anscheinend reisen nicht...
Published by 9 June 2017, 08h42 (Photos:24)
Surselva

T4-

WT4

1 Jan 17

Fil de Cassons 2694m, Überschreitung
Überschreitung des Fil de Cassons ab Flims - Cassons Grat - Bargis - Flims Der heutige Tag reizt, früh aus den Federn zu kommen und einen unvergesslichen Start ins 2017 zu erleben. Mit Grödel, Schneeschuhen und Pickel ausgerüstet starten wir bei Dunkelheit in Flims Dorf und steigen unter den Sesselbahnen Flims-Foppa-Naraus...
Published by 2 January 2017, 21h17 (Photos:35)

bei Nebel über den Flimserstein...
Unter der stillgelegten "Cassons-Seilbahn" auf den Fil de Cassons Seit die historische Seilbahn Naraus-Cassonsgrat nicht mehr im Betrieb ist (stillgelegt am 25.10.15) ist es legitim unter einer Seilbahn hoch auf die Alp aufzusteigen. Da es einige Jahre her ist, wo wir das letzte Mal über den Flimserstein gewandert sind, war es...
Published by 23 October 2016, 14h13 (Photos:17)

Rundtour zum Cassonsgrat (il Fil 2694 m) ab/bis Flims an einem Traumtag im November
Bei meiner Tour zum Piz Tschep zwei Monate zuvor hatte der gegenüberliegende mächtige Flimserstein mit seinen jähen Abstürzen bereits mein Interesse geweckt. Dass es noch in derselben Saison möglich sein würde, ihn näher zu erkunden, damit hatte ich eigentlich nicht mehr gerechnet. Dass zur Zeit so gut wie sämtliche...
Published by 11 November 2015, 10h34 (Photos:75)

Cassons auf einem alten unbekannten Weg
Von Naraus Richtung Südosten durch steile Grashänge zum obersten Ende des Uaul Preuls ca.1720 ( Bis hierher auch von Foppa über Preuls möglich). Bei der obersten, kleinen, alleinstehenden Fichte sieht man an den Steinen gelbe Markierungen und langsam eine Wegspur. Ab hier den gelben Markierungen folgen (auch...
Published by 11 September 2010, 18h33 (Photos:4)