P. 2013 2013 m
6603 ft.
---
Pass in

20 hike reports

, 2 photo(s). Last visited :

5 Jul 19


Geo-Tags: CH-NW, CH-OW, Pilatusgebiet
Photos (2)
---
By Publication date · Last favs · By Popularity · Last Comment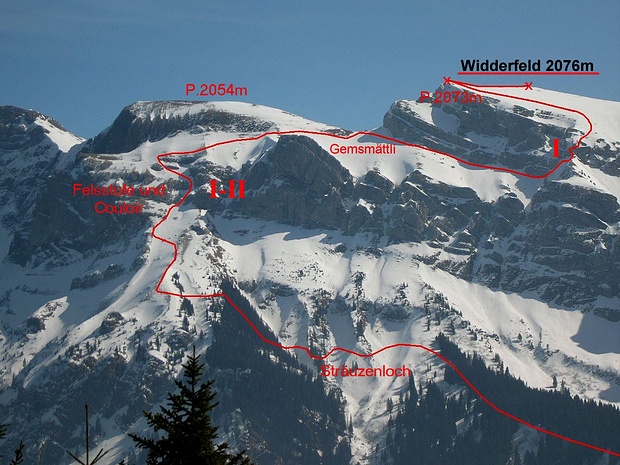 Meine Route durch die Nordwände auf den Widderfeld (2076m). Foto aufgenommen 3 Wochen vor meiner Tour auf dem vom Widderfeld gegenüberliegenden Studberg (1602m). © Sputnik
---
Reports (20)
---

Pilatuskette: Gfellen - Pilatus
Die Überschreitung der Pilatuskette stand schon einige Jahre auf meiner Projektliste. Da der Wetterbericht für den Freitag ganz gutes Wetter versprach, reiste ich zu Beginn meiner Wanderferien bereits am Vortag nach Luzern. Früh am Morgen ging es mit Bahn und Bus von Luzern über Entlebuch nach Gfellen (1016 m). Bereits um 7...
Published by 21 July 2019, 20h19 (Photos:56)

in zwei Tagen von Wyssachen, Kappelhüsli, auf Pilatus, Esel
Eigentlich haben wir alle Abschnitte unserer Weitwandertour (zum Teil häufig) abgeschritten - nur das Homättili kannten wir bis anhin noch nicht … Doch der Reiz, eine Tour von zuhause aus auf den höchsten Punkt des Pilatus' durchzuführen, stellte seit geraumer Zeit ein Projekt von Ursula dar - heute, bei der...
Published by 13 May 2019, 22h40 (Photos:51 | Comments:4 | Geodata:2)

Indian Summer auf der Pilatuskette
Start um 9.30 Uhr auf Pilatus-Kulm mit Sicht auf's sich auflösende Nebelmeer über dem Vierwaldstättersee. Auf breitem Trassee und Geländer-gesichert steigen wir im Felsenweg zum Tomlishorn (2128m) hoch. Von hier lässt sich die ganze Tour gegen Westen hin über Widderfeld, Mittaggüpfi, Stäfeliflue und Blaue Tosse schön...
Published by 28 October 2018, 11h50 (Photos:48 | Geodata:1)

Pilatus : Traversée E-W de la chaine, de Stansstad à Entlebuch [trailrun]
Sur la carte c'est une jolie traversée de crête de la chaine du Pilatus, un mini massif dominant Lucerne et le Lac de 4cantons, promettant vues panoramiques sur la ville, le lac et les Alpes d'Uri. Et pour les amateurs de trail un long parcours ondulant sans difficulté entre forêt et alpages - toujours sur la carte bien...
Published by 18 September 2018, 10h30 (Photos:7 | Geodata:1)

Pilatuskette (Gfellen - Kulm)
Den Pilatusdarf ich auchHausberg nennen. Vom Balkon meiner Wohnung sehe ich direkt zur Pilatus Kulm. Jedes Jahr gehe ich darum mindestens einmal auf den Pilatus. Dies habe ich derweilen über jeden möglichen Weg gemacht, wandernd und kletternd. Jeden? Naja, da gab es noch einen Weg, den von ganz hinten :-D Genau... die...
Published by 2 July 2017, 07h47 (Photos:37 | Geodata:1)

Tomlishorn (2128m) - Pilatus-Überschreitung von Alpnachstad nach Horw
das Tomlishorn leider nicht über den hier zuletzt gern begangenen und häufig beschriebenen SW-Grat. :-( Die hohen Temperaturen und der lange Aufstieg von Alpnachstad hatten mir bis zum Einstieg bei Tumli doch schon so zugesetzt, dass ich schon froh sein musste, es jetzt wenigstens über den Normalweg noch bis zum...
Published by 11 August 2017, 22h59 (Photos:63 | Comments:2)

Tomlishorn SW-Grat und Widderfeld
Bei angenehmen morgendlichen Temperaturen laufen wir los vom Parkplatz Schybach, Den Sagenwald mit seinen vielen Heidelbeersträuchern empor, erreichen wir bald darauf die verlassene Alp Schy. Durch den darauffolgenden Schywald erreichen wir nach 300 Hm. den Birchboden und folgen weiter dem markierten Bergweg bis zur Alp Tumli,...
Published by 1 June 2017, 21h11 (Photos:54 | Comments:4)

Tomlishorn über SW-Grat & Widderfeld via Stollenloch
Fünf Jahre, nachdem ich mit meinem ältesten Sohn das Tomlishorn & Widderfeld bestiegen habe, machen wir uns wieder auf den Weg zu diesen zwei tollen Pilatus-Gipfeln. Dieses Mal als Übungstour für ein fernes Wunschziel, meines Sohnes: Einmal einen richtig grossen Berg zu besteigen :-) Wir starten in Schybach und...
Published by 26 May 2017, 10h59 (Photos:37 | Comments:2 | Geodata:1)

Tomlishorn SW ridge + Widderfeld Stollenloch
I got together a group of four hikers for a scramble on the Tomlishorn south west ridge (also sometimes known as "Tomlishorn south ridge" or "Tomligrat"). Representing Hikr, after she responded to my post in the "Treffpunkt" community, was Domino. In 2009, ironknee had to write "der Südwestgrat des Tomlishorn ist auf hikr noch...
Published by 2 April 2017, 12h22 (Photos:63 | Geodata:1)

Tomlishorn - von Süden
Da immer noch kein Schnee gefallen ist, wollten wir heute eine sonnige Wanderung unternehmen. Die Wahl viel auf das Tomlishorn, das ich vor etwa 2 1/2 Jahren auf gleicher Route besteigen konnte. Routenverlauf: Der Routenverlauf kann oben (Wegpunkte) eingesehen werden. Wir hatten jedoch aufgrund einiger gefrorener...
Published by 19 December 2016, 18h05 (Photos:11 | Geodata:2)