P. 1582 1582 m
5189 ft.
---
Other in

14 hike reports

, 3 photo(s). Last visited :

20 Nov 21


Geo-Tags: CH-LU
Photos (3)
---
By Publication date · Last favs · By Popularity · Last Comment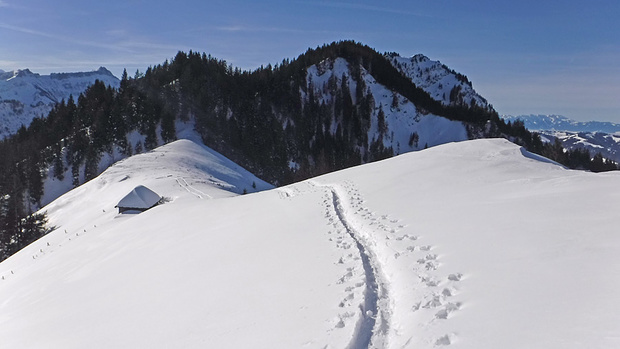 Ab der Gsteigegg versuchte ich noch zur Beichle vorzudringen. In meinem Schneeschuhführer des SAC las ich vom Hochtouren-Ähnlichen übertritt ab der Gsteigegg. Ab P.1582 war dann aber Wildschutzzone, in welches ich nicht weiter vordringen wollte. © ᴅinu
---
Reports (14)
---

Beichle
Bei dieser Tour handelt es sich um eine technisch leichte Wanderung, welche einem jedoch vom allem zu Beginn (von Klusstalden bis Gsteigegg) durch einige steile Passagen etwas körperliche Fitness und Kondition abverlangt.   Die Passage über den Grat von Gsteigegg via Beichle bis nach Beichlegfäl hat mir sehr gut...
Published by 21 November 2021, 14h27 (Photos:5)

teils viel Schnee an der Gsteigegg
Zu Beginn des Aufstiegs - wie auch bei der Rückkehr - sind wir ab dem kleinen Parkplatz westlich der Waldemme bei Flühli Schintmoos im Rohrigmoos entlang grüner Wiesen und unter blauem Himmel unterwegs. Bald im Wäldchen nahe des Hellschwandbaches steigen wir auf dem BWW meist moderat an zum Hüttchen auf der Lichtung...
Published by 24 January 2022, 20h56 (Photos:27 | Geodata:1)

Rundtour über der Waldemme: Gsteigegg - Äschlismatterbödeli
Die uns noch nicht lange bekannte Gsteigegg wollen wir heute überschreiten - und bis zum Äschlismatterbödeli vordringen - in ungenauer Kenntnis, welche Schneemengen uns oben erwarten werden. Bei schönstem Frühlingswetter starten wir nach der Busfahrt von Flühli, Schintmoos nach Klusstalden hier auf dem Weg zur...
Published by 29 April 2020, 12h49 (Photos:39 | Geodata:1)

Gsteigegg
Endlich hat es geklappt, die Schneeverhältnisse waren bereits vor meiner Haustüre Ideal und es stand dem Vorhaben "Gsteigegg ab Schüpfheim" nicht's mehr im Weg. gestartet bin ich ab Änetämme. Über die Waldlichtung steige ich direkt auf, hinauf zum Weiler Chätterech, Ausser einer Snowboardspur und Wildspuren finde ich...
Published by 7 February 2019, 19h53 (Photos:23 | Comments:1 | Geodata:1)

Beichle - Tour mit 3 Jahreszeiten
Heute will ich wieder mal eine grössere Tour unternehmen. Die Beichle ab Schüpfheim war schon länger auf dem Programm. Weil die Wetterprognose für Nachmittag Regen ankündigte, fuhr mich Hibiskus-Frau nach Chlusbode. So sparte ich eine knappe Stunde Wanderzeit. Auf Hikr ist die Überschreitung Beichle in diversen Varianten...
Published by 13 May 2017, 12h52 (Photos:29 | Comments:2)

Beichle, traversée de Schüpfheim à Escholzmatt
English version here Après l'automne vient l'été (indien), c'est bien connu, et celui-ci ne montre aucun signe de faiblesse. Il faut profiter tant que cela dure et, pour ce premier week-end de novembre, je veux vraiment tirer pleinement parti du soleil et de la douceur annoncés. Je pourrais reprendre mon Chemin panorama...
Published by 10 November 2015, 20h11 (Photos:9)
Beichle
This report has been lying around since the 21st of December. What should have been the first day of winter, turned out to be one of the last days of summer. Sunshine, hardly any snow, and even the forecasted strong wind was nowhere to be found. A great day for a solo hike across the Entlebuch summit Beichle. --- I've hardly...
Published by 10 February 2015, 21h28 (Photos:21 | Geodata:1)

Sommer-Traverse vom Äschlismatterbödili zu Bösarni und Beichle
Nachdem wir in derselben Runde vor knapp 1 ½ Jahren diese Traverse bei winterlichen Verhältnissen - mit Steigeisen - unternommen hatten, fügten wir heute unsere erstmalige sommerliche Begehung des Gratabschnittes zwischen Bösarni und Beichle hinzu. Wenig oberhalb Flühli Schintmoos parkieren wir wiederum auf...
Published by 4 August 2014, 20h24 (Photos:38)
Gratwanderung Beichle (1770m) von Nordosten nach Südwesten
Immer, wenn ich mit dem Zug am Beichle vorbeifahre, denke ich mir, das wäre doch eine schöne Gratwanderung. Und so kam die Idee mittels Karte zu einer Tour. Aus Richtung Schüpfheim einmal über den Grat inklusive Bösarni und Beichle Richtung Marbach. Mit dem ÖV zur Haltestelle Klusstalden (Bus von Schüpfheim aus Richtung...
Published by 22 May 2014, 22h47

Beichle (1770m) - Überschreitung
Die Beichle ist ja eigentlich kein sooo schöner Berg, dass man ihn gleich 2x im selben Jahr besuchen muss. Bei mir hat es sich aber so ergeben weil sich unser Tourenleiter für diese Auschweichtour entschieden hat - als Ersatz für den verschneiten Pfannenstock. Im Juni waren wir von der Holzegg, also von Westen, gestartet....
Published by 6 October 2013, 21h02 (Photos:17)