P.3710m 3710 m
12169 ft.
---
Other in

4 hike reports

, 3 photo(s). Last visited :

11 Aug 20


Geo-Tags: CH-VS
Photos (3)
---
By Publication date · Last favs · By Popularity · Last Comment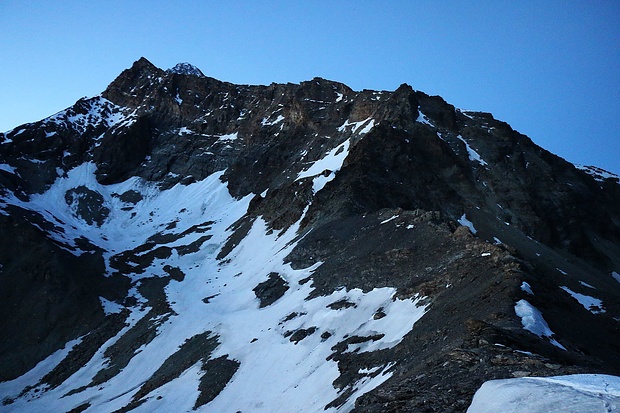 Aussicht von der Arêtes de Lire Rose (3074m): Ganz oben ist der Gipfel der La Ruinette (3875,0m) zu sehen. Unterhalb des Grates ist der Col de Lire Rose (3115m) in dem Alex schon am schlafen ist und ich auch bald mein Biwak einrichten werde. © Sputnik
---
Reports (4)
---
Oberwallis

PD

II

11 Aug 20

La Ruinette solo from Mauvoisin
Hello everyone! My planning and the accomplishment of this tour I based on morphine's report, which is a very accurate completion of the well-known guide books' descriptions (as up to Silbernagel and SAC e.g.). I am herein only describing deviations and the experiences I made accordingly. Also I am sharing pictures with you....
Published by 16 August 2020, 22h02 (Photos:15)
Unterwallis

PD+

II

PD

19 Jul 19

La Ruinette - "der letzte Berg vorm Matterhorn"
1865 hatte Edward Whymper (wie so oft) einen Lauf: Grand Cornier, Grandes Jorasses und Aiguille Verte im Juni, dann am 06.07.1965 die La Ruinette, nur acht Tage später am Matterhorn endete es tragisch. Damals wie heute geht die La Ruinette zwischen den Prestige-Zielen und als "letzter Berg (Whympers) vorm Matterhorn" wie auch...
Published by 5 August 2019, 21h24 (Photos:19)
Unterwallis

PD

III

PD

23 Aug 16

La Ruinette
J'ai fait la première partie en VTT jusqu'au lac de Tsofeiret, 2550m. J'ai suivi l'itinéraire jusqu'au col de la lire Rose, 3100m. Puis l'arrête rocheuse jusqu'au grd cairn, 3450m. j'ai remonté le glacier jusqu'au pont 3700m et l'arrête finale puis le sommet, 3875m. Long mais très beau
Published by 26 August 2016, 23h58 (Photos:11)
Unterwallis

T5

PD

II

13 Aug 16

Kaiserwetter für ihre Majestät - La Ruinette
Das mit "Ruinchen" benamste "Berglein" hat es auf Hikr.org zu gewisser Bekanntheit gebracht. Dies ganz zu Recht, denn der Berg ist der höchste Dreitausender weit und breit, bietet eine sehr abwechslungsreiche Aufstiegsroute über einen spaltenarmen Gletscherrest und einen gutgriffigen Gipfelgrat. Somit kann mit...
Published by 6 October 2016, 16h38 (Photos:24)