P.2852m 2852 m
9355 ft.
---
Pass in

5 hike reports

, 6 photo(s). Last visited :

14 Jul 19


Geo-Tags: CH-GR
Photos (6)
---
By Publication date · Last favs · By Popularity · Last Comment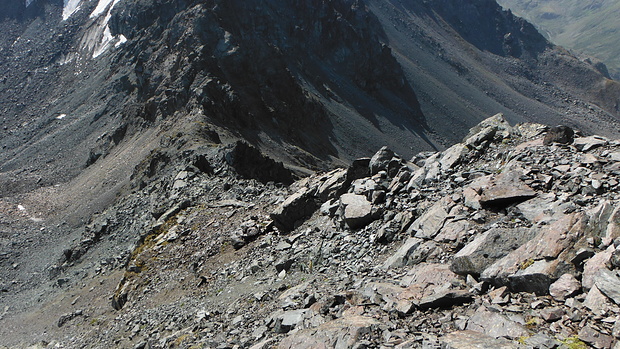 The south ridge. I started my descent on the south ridge, but after a short distance I left the ridge and surfed down in the scree. © Roald
---
Reports (5)
---

Chlein Schwarzhorn 2967 m
Kleinod am Flüelapass würde ich diese Tour überschreiben. Das Chlein Schwarzhorn liegt etwas im Schatten seines bekannten grossen Bruder's, das Flüela Schwarzhorn. 179 m liegt der Gipfel vom Chlein Schwarzhorn tiefer. Die Aussicht ist nur gegen Süden etwas versperrt, ansonsten bietet das Chlein Schwarzhorn eine ganz tolle...
Published by 14 July 2019, 19h59 (Photos:19)

Chlein Schwarzhorn 2967m
Als ich gestern so auf der Landkarte herum scrollte blieb ich wieder einmal im Flüelagebiet hängen. Siehe da, das Chlein Schwarzhorn. Hübsch, selten besucht und seit einiger Zeit auf meiner Pendenzliste. Mit knapp 650 Höhenmeter Aufstieg auch genau das richtige für den Nationalfeiertag. Schlussendlich will Bergmuzz am 1....
Published by 2 August 2017, 21h41 (Photos:43)
Prättigau

T2

II

12 Jul 17

Schwarzhorn klein und gross mit Zugabe
Irgendwie ist man ja doch manchmal ein wenig verrückt und pflegt allerlei Fetische. Ich habe da auch so einen, nennt sich Bündner-Schutt-Liebe. Weiss der Geier woher ich diesen haben, aber im Schutt wühlen finde ich anregend. Also nicht falsch verstehen, nur bis ich im Schutt bin. Dann fluche ich.   Doch zunächst...
Published by 20 July 2017, 16h27 (Photos:5)
Chlein Schwarzhorn 2968 m - Kleine Perle am Flüelapass
Das Chlein Schwarzhorn steht am Flüelapass zwar im Schatten des prominenteren 3146 m hohenSchwarzhorns, ist aber ein eigenständiger Berg und so "chlein" ist er nun auch wieder nicht, denn läge er knapp 100 km weiter nordöstlich, wäre er der höchste Berg Deutschlands. Während das Flüela Schwarzhorn einer der am meisten...
Published by 17 August 2013, 17h31 (Photos:20)

Chlein Schwarzhorn 2968m
Es gibt Gründe, dass gewisse Berge nicht oft bestiegen werden. Wenn kein Weg hinaufführt. Wenn kein Name auf der Karte steht, oder dieser nicht extrem attraktiv ist. Wenn ein grösserer, imposanterer Berg gleich danaben steht. Wenn der Aufstieg einfach extrem mühsam ist. Oder wenn im Hikr.org steht "nur...
Published by 14 August 2010, 17h29 (Photos:2 | Comments:2)