P.1739m 1739 m
5704 ft.
---
Pass in

13 hike reports

, 6 photo(s). Last visited :

30 Sep 20


Geo-Tags: CH-GL, Oberseegruppe
Photos (6)
---
By Publication date · Last favs · By Popularity · Last Comment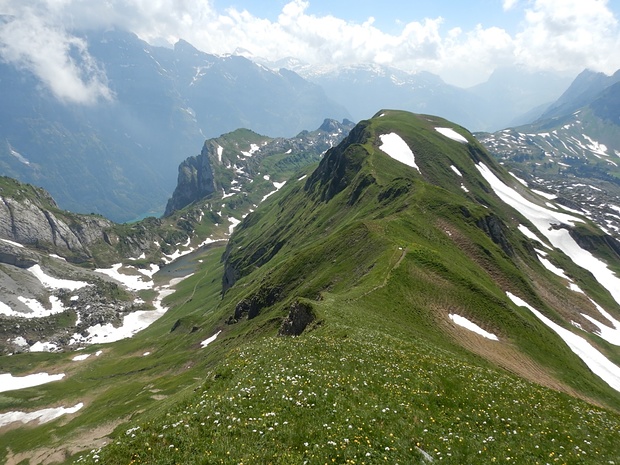 Und so entschloss ich mich zu einem Abstieg auf dem Südwestrücken, Richtung Breitchamm. © Nik Brückner
---
Reports (13)
---

Schijen (2259 m) mit Steinadler fly-by
Der Plan war eigentlich auf den Chli Gumen zu gehen, aber da der Neuschnee mehrheitlich geschmolzen war, habe ich mich stattdessen für Schijen entschieden. Dort oben war ich lange nicht mehr. Das Highlight der Tour war ein Steinadler fly-by während meiner Mittagspause auf dem Gipfel. Der Adler flog auf Augenhöhe vorbei, in nur...
Published by 30 September 2020, 21h08 (Photos:16 | Geodata:1)

Im Nebel durchs Täli auf den Wiggis, und über den langen Grat zum Schijen
Vom Wiggis, hoch über Glarus, zieht sich ein drei Kilometer langer Grat nach Westen bis zum Schijen, der das Klöntal nordseitig begrenzt. Dieser Grat ist ein Highlight der Gegend: senkrecht nach rechts, stotzig nach links, mit zahlreichen T6-Stellen gespickt, und gekrönt mit einer fantastischen Aussicht hinunter zum...
Published by 18 July 2019, 16h02 (Photos:107)

Dejenstock & Mättlistock - hike from Klöntalersee
Dejenstock (2021 m) & Mättlistock (1910 m) are two mountain peaks just north of Klöntalersee. They both offer a great view of surrounding mountains and of the lake. Start of the hike at 7:45 AM at Klöntalersee. I followed the wrw marked trail up to Obere Scheiterböden. From there I continued on an unofficial path...
Published by 16 September 2018, 22h35 (Photos:21 | Comments:1 | Geodata:1)

Dejenstock 2021m
Seit meiner Wanderung auf den Mättlistock vor einigen Jahren, hatte ich den Dejenstock auf meiner Pendenzenliste. Vor der angekündigten Hitzewelle schien mir der heutige Tag ideal um dem Dejenstock einen Besuch abzustatten. Von der Bushaltestelle Rhodannenberg anfänglich etwa 900m entlang der Seestrasse bis zur markierten...
Published by 5 July 2017, 13h23 (Photos:24)

Dejenstock via Südflanke
Ich parkiere den Wagen etwas unterhalb des Hotels Rhodannenberg. Vom Parkplatz aus wandere ich auf dem Bergweg zu den Hütten von Ober Herberig. Den Pfad, den Delta im Bericht Dejenstock Süd - Mättlistock Traverse erwähnt, kann ich nicht entdecken. Vom obersten Weidespickel oberhalb der Hütten steige ich deshalb gradlinig...
Published by 5 June 2017, 17h29 (Photos:32 | Geodata:1)

Winter hike to Schijen (2259 m) and Chli Gumen (2247 m)
Definitely a winter hike when considering the date, but not really winter conditions. Except maybe at Klöntalersee, where the grass was frosted over. Further up it was pure sunshine, and not very much snow, except in the shady areas. I started out at Klöntalersee, following the white-red-white trail up to P.1739 (hikr...
Published by 22 December 2016, 21h49 (Photos:31 | Geodata:1)

Rundtour von Rhodannenberg zum Mättlistock und via Breitchamm zum Schijen
Eigentlich wollte ich eine Tour in der Nähe der Schächentaler Windgällen machen, da aber in diesem Gebiet Nebelbänke prophezeit wurden, wollte ich dieses Risiko auf null Sicht nicht eingehen. So entschied ich mich für eine Rundtour die ich schon einmal vor neun Jahren gemacht habe, jedoch ohne die Besteigung vom Mättlistock...
Published by 2 July 2016, 13h27 (Photos:66 | Comments:12)

Eine Schneeschuhtour zum Mättlistock die es dann doch nicht wurde
Ich war vor neun Jahren das letztemal auf einer Wanderung in dieser Gegend, da bin ich aber in Richtung Gumen gewandert. Heute soll's eine Schneeschuhtour zum Mättlistock werden. Das war zumindest meine Idee. Das Auto parkierten wir in der Nähe des Restaurants Rhodannenberg und gingen ca. zehn Minuten der Seestrasse entlang...
Published by 27 March 2016, 14h44 (Photos:39 | Comments:2)

Mättlistock und die beiden Gumen-Gipfel
Da der Herbst weiterhin feinstes Bergwetter bereit hielt, sollte die Freizeit erneut mit Bergsteigen gestaltet werden. Der Klöntalersee ist von meinem Wohnort gar nicht so schlecht zu erreichen und bietet mit der ihn südlich begrenzenden Gipfelkette einen idealen Ausgangspunkt für sonnige Herbsttouren. Damit das...
Published by 15 November 2015, 15h36 (Photos:26 | Comments:2)

Dejenstock (2021m)
Die endlich etwas kühleren Temperaturen motivierten uns, wieder mal unsere Haxen zu bewegen, nachdem wir diese während der Hitzeperiode mehrheitlich hatten baumeln lassen. Da eine Wetterverbesserung im Tagesverlauf angesagt war, spekulierten wir natürlich auf ein belohnendes Bad im über 20° warmen Klöntaler See.  ...
Published by 13 July 2015, 22h24 (Photos:15)