Obersee / Ober See 2475 m
8118 ft.
---
Lake in

2 hike reports

, 9 photo(s). Last visited :

1 Aug 18


Geo-Tags: CH-GL
Photos (9)
---
By Publication date · Last favs · By Popularity · Last Comment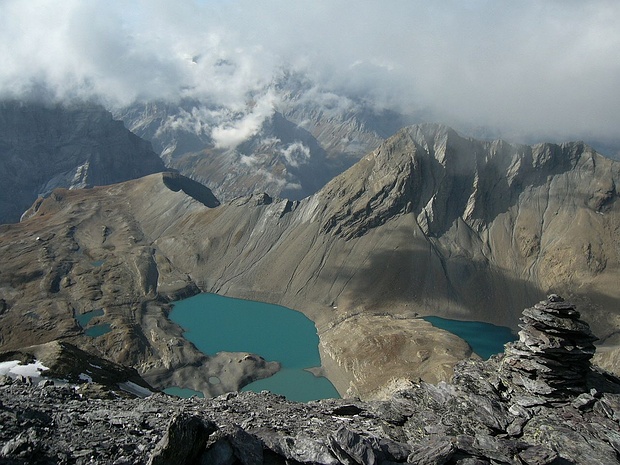 Tiefblick vom Ruchi auf den Muttsee (2446m) und den Ober See (2475m). Darüber sind der Nüschenstock (2893m) und der Rüchi (2849,8m). Links ist ganz klein die Muttseehütte zu erkennen. © Sputnik
---
Reports (2)
---

... und hoch zum Ruchi - zwei Mutige zum Hausstock
Nach zeitigem Frühstück in der Muttseehütte laufen wir in der Morgendämmerung - mit Mond überm Kistenstöckli und bereits wolkenlosem Himmel los, kürzen zur Wegspur am westlichen Ufer des nur spärlich gefüllten Muttsees im Auf und Ab, über Restschneefelder und ruppigeres Aufstiegsgelände auf Hüenderbüel ab....
Published by 24 January 2019, 16h37 (Photos:59 | Comments:2)

Hike to Ruchi (3107 m) from Ober Baumgarten via Muttseehütte
Starting point: By car to the visitor's parking lot in Tierfehd, close to the cable car station. The cable car is mostly used by the workers at the hydro-power dam, but it is also open for "tourists" during normal hours. Ober Baumgarten 1860 m - Muttseehütte 2501 m -> (T3, hiking time 1 h 30 min) I...
Published by 10 November 2014, 22h44 (Photos:22 | Geodata:1)