Obergalans 1889 m
6196 ft.
---
Hut in

8 hike reports

, 3 photo(s). Last visited :

18 Jan 19
Photos (3)
---
By Publication date · Last favs · By Popularity · Last Comment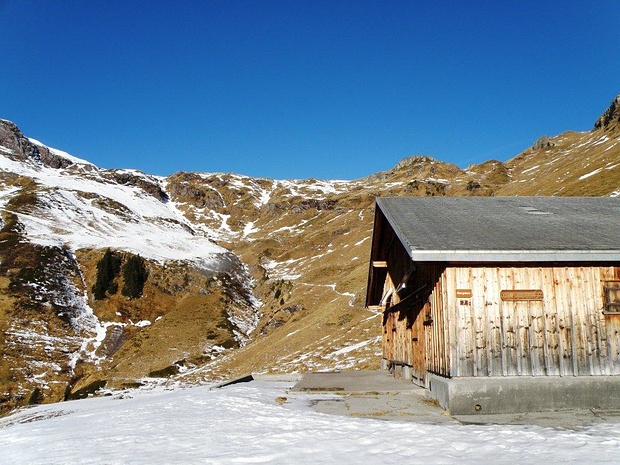 In Obergalans machte ich eine kurze Rast, in dieser Zeit kam dann der Wanderer hinzu. Ab hier machten wir die Tour gemeinsam © Flylu
---
Reports (8)
---

Going Mad!
(Gross- bzw. Schwieger-)Vater sei dank, konnten wir heute die erste gemeinsame Skitour der Saison 2018/19 unter die Felle nehmen - dies bei besten Verhältnissen (zumindest oberhalb 1000müM). Und weil man immer noch bis ganz unten abfahren kann, gingen wir wieder einmal mad bzw. auf die Vorder Mad (sowie den Langrain), um danach...
Published by 18 January 2019, 20h24 (Photos:10)

Madfurggl south in full powder
Blue sky without a single cloud and -16C° in Weissentannen at 9.30 in the morning. We saw many people leaving for the Garmil but nobody thought of doing the Madfurggl. Being south exposed we enjoyed the sun for mos of the day. We broke trail all the way up, in light powder until 1800 m and in snow slightly worked by the wind for...
Published by 19 January 2017, 19h54 (Photos:3)

Hüenerchopf 2171müM ab Weisstannen
Heute möchte ich den Hüenerchopf von Weisstannen her als neue Variante besteigen, da ich im März 2011 und November 2012 von Vermol her aufgestiegen bin. Beim Steinbocklehrpfad in Weisstannen haben Fly und ich unsere Tour zum Hüenerchopf gestartet. Wir folgten dem Wanderweg nach Madfurggel. Beim Punkt 1245 kann man den...
Published by 23 December 2016, 16h24 (Photos:34)

Mad Chicken: Ein abwechslungsreicher Weg nach Weisstannen
Der Hüenerchopf ist ein ganz grosser Klassiker unter den weitgehend lawinensicheren Wintertouren im Sarganserland. Der Ausgangspunkt Vermol wartet mit einem grossen Parkplatz auf, aber einen Busbetrieb gibt es leider seit 2013 nicht mehr (war freilich nur Sommerbetrieb). Doch das Kartenstudium zeigt, dass es einen interessanten...
Published by 14 February 2016, 20h04 (Photos:10 | Comments:2)

Going Mad!
Auf dem Madchopf war ich zwar letztlich gar nicht, aber ganz nah und auch auf der Hochebene Vorder Mad. Der Titel passt wegen des phönomenalen Powders - von 2271 bis 500m, den Gipfelhang des Langrain sogar doppelt! Start in Weisstannen, das inzwischen dank perfekter Anschlüsse sehr rasch erreichbar geworden ist. Schnee hat's...
Published by 22 January 2016, 20h22 (Photos:12)

Vom Rotrüfner zum Wannenchopf - lohnende Runde hoch über Weisstannen
Wanderungen in den weiten Alpgebieten oberhalb Weisstannen werden fast unweigerlich etwas "ausführlich"; also lang, weit und mit einigen Höhenmetern. Aber die Gegend ist so wunderbar, dass sich jeder Schritt lohnt und selbst die relativ weite Anreise vertretbar ist.   Mit dem Auto bis nach Logs, ca. 1.5 km hinter dem...
Published by 2 November 2015, 18h56 (Photos:19 | Geodata:1)

Bivakabenteuer, vom Wissmilenpass nach Weisstannen (2. Tag)
Es dämmert schon kurz nach vier Uhr morgens und schon erwacht auch das Schneeschuh und gibt seine Geräusche von sich. Als wir um 5.30 Uhr aus unseren warmen Schlafsäcken schälen, zeigt das Thermometer nur noch gerade 3 Grad an. Wir kochen Wasser für den Tee und für das Energiemüsli. Wir essen im Stehen, da es uns zu kalt...
Published by 11 July 2013, 22h46 (Photos:60 | Comments:2)

Wannenchopf (2205) - diesmal ohne Nebel
Ein schöner Sonntag mit viel Föhn. Deshalb entschloss ich mich, den Wannenchopf nochmals in Angriff zu nehmen. Etwas oberhalb von Weisstannen parkiere ich mein Auto und steige auf dem gleichen Weg wie letztesmal auf. Über die Alp Unter Galans geht der Weg bis Pt. 1691. Von dort steige ich über die Weiden immer höher in...
Published by 15 November 2010, 10h12 (Photos:10)