Ober Sand 1937 m
6353 ft.
---
Other in

12 hike reports

, 12 photo(s). Last visited :

8 Aug 20


Geo-Tags: CH-GL
Photos (12)
---
By Publication date · Last favs · By Popularity · Last Comment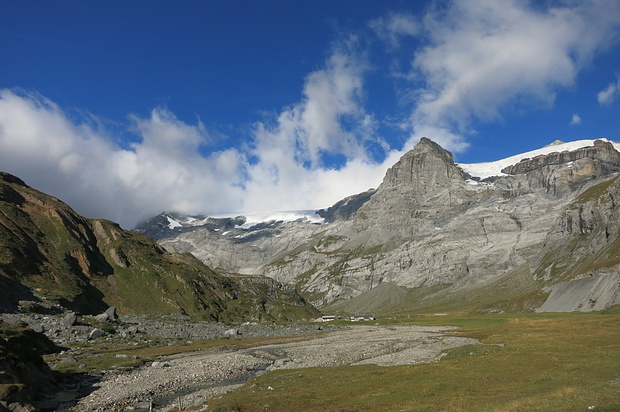 Spätestens auf Ober Sand kann ich's nicht mehr ignorieren: Meine Ziele stecken allesamt in der Föhnwalze. © Bergamotte
---
Reports (12)
---
Glarus

T3+

PD+

II

8 Aug 20

Tödi
Einleitung:   Der Tödi, ein Berg der wohl in vielen Köpfen herum schwirrt. So ist er auch in meinem Kopf seit ein paar Jahren. Nachdem ich nun in 3 Jahren zwei Hochtourenkurse besucht habe und zuletzt den Gr. Spannort nur wegen des Wetters nicht ganz gepackt hatte, war ich bereit den Tödi zu versuchen....
Published by 11 August 2020, 10h16 (Photos:31 | Comments:5)

SC20: (Urnerboden-) Claridenhütte - Planurahütte
Letztes Jahr hatte uns schlechtes Wetter und ein frühes Saisonende auf der Planurahütte den Weiterweg von Stuttgart an den Comer See verbaut. Dieses Jahr wollten wir uns so nicht abspeisen lassen. Entgegen unseres üblichen Formats, die Berge in Tagestouren oder in 3-4-Tägern zu erleben, sollten es dieses Mal 7 Etappen in 9...
Published by 5 August 2019, 18h37 (Photos:73)

Fridolinshütte SAC
Herrliche aber lange Tagestour ab Linthal-Tierfehd zur Fridolinshütte. Ab dem Hotel Tödi im Tierfehd gehts es die ersten 1,5h auf einem sehr gut ausgebauten Alpenkiesweg (Alpentaxi verfügbar) bis nach Hinter Sand wo die Tour eigentlich dann erst richtig startet. Man geht links weg steil in Richtung Fridolinshütte und taucht...
Published by 26 June 2017, 07h28 (Photos:6 | Comments:3)

Gemsfairenstock (2972m) & Ochsenstock (2265m)
Vor zwei Jahren stand ich morgens vor der Fridolinshütte und musste ernüchtert feststellen, dass der eine meiner beiden Tourenschuhe derart in den Knöchel stach, dass ich keinen schmerzfreien Schritt in Richtung Tödi machen konnte. Immerhin konnten meine Begleiterinnen auf den Gipfel, derweil ich mich gesenkten Hauptes und...
Published by 23 March 2016, 09h45 (Photos:16 | Geodata:1)

Piz Cazarauls 3063m
Description and main goals: Piz Cazarauls(el. 3,063 metres) is amountainof theGlarus AlpsinSwitzerland. The summit is thetripointbetween the cantons ofUri,GlarusandGraubünden. Piz Cazarauls lies between the valleys ofMaderanertal,LinthandVal Russein. So for me the main idea was: a) to visit something more than 3000m close to...
Published by 12 January 2014, 18h58 (Photos:21 | Geodata:1)

2-Tages-Tour in Glarus Süd
Planurahütte? Claridenhütte? Fridolinshütte? Jawohl, das sind allesamt Unterkünfte rund ums Tödimassiv in den glarner Alpen. Nur: Welche davon lohnt sich für einen Besuch? Am Besten doch bei allen dreien vorbeischauen! 25./26. Juli war fast ausnahmslos schönes und heisses Sommerwetter angesagt, also ideal für eine...
Published by 29 July 2013, 12h49 (Photos:20)

Haute Route Tödi con il CAS Ticino - 6 giorni fuori dal mondo
Momento clou della stagione sci-alpinistica 2012 - 2013 ? se non l'apice, poco ci manca !!! 6 giorni di sci consecutivi, di capanna in capanna, saltando da un cantone all'altro (Uri - Glarona - Grigioni), con condizioni meteo non al top (almeno durante i primi giorni) che hanno "favorito" i nostri soggiorni in capanna. Grande...
Published by 4 April 2013, 13h34 (Photos:67 | Comments:4 | Geodata:1)

Über den Gemsfairenstock zur Fridolinshütte
Nach einer guten Nacht werde ich um 4.55h wach, der Wecker ist auf 5.00h gestellt die innere Uhr funktioniert, der Tag beginnt perfekt. Ich liege noch im Bett und weiss, alles passt. Nicht der geringste Zweifel, dass an unserem Vorhaben den Tödi zu besteigen etwas schiefgehen könnte. Aufstehen, Morgenessen – sehr fein im...
Published by 29 March 2012, 23h56 (Photos:32)
Glarus

T4

PD

II

13 Sep 11

Steine in den Weg gelegt - Ochsenstock, Bifertengrätli und (fast) Grünhorn (2953 m)
Diese Tour war die Fortsetzung von einerseits der Serie "Unbekannte Glarner Gipfel" und andererseits meiner GeoGuide-Steinsammlerei. Die Flanken rund um Hintersand bilden ein geologisches "Fenster". Einzig hier und auf der Südseite des Bifertengrätlis sind im Kanton "Urgesteine", also Kristallin des Aarmassivs,...
Published by 13 September 2011, 21h09 (Photos:21)

Von Tierfehd zur Planurahütte 2947müM und zurück
Wir hatten bereits einen Tag zuvor schon eine längere Wanderung im Gelmergebiet hinter uns als ich auf der Heimfahrt auf die glorreiche Idee kam am nächsten Tag eine Tour zur Planurahütte zu unternehmen. Bei einem Halt an einer Raststätte, informierten wir uns darüber ob die Hütte offen ist. Um neun Uhr sind wir mit...
Published by 20 January 2016, 10h11 (Photos:35)