Ober Längenegg 1691 m
5546 ft.
---
Other in

13 hike reports

, 5 photo(s). Last visited :

28 May 20


Geo-Tags: CH-GL
Photos (5)
---
By Publication date · Last favs · By Popularity · Last Comment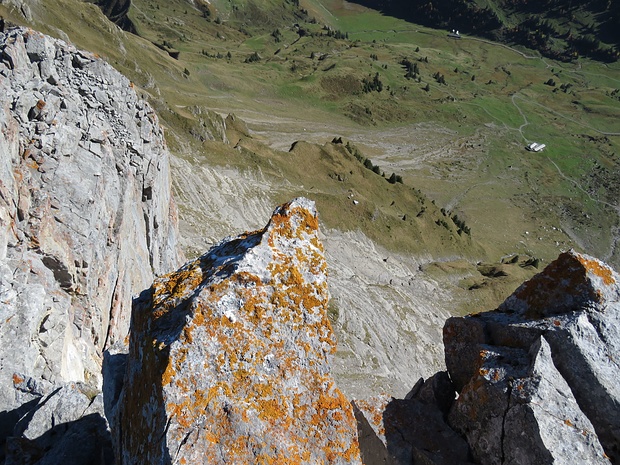 Oberlängenegg und der unterste Teil des Aufstiegs sind zwar sichtbar, der Rest der Route jedoch verdeckt. © carpintero
---
Reports (13)
---

Von Näfels via Obersee und Längeneggpass 1815müM mit dem Bike ins Klöntal.
Vierzehn Jahre zuvor sind Bruno und ich zum ersten Mal mit dem Bike auf den Längeneggenpass (Lachengrat) hochgefahren. Jetzt nach so einer langen Zeit möchte ich wieder einmal dort hinauf. Der Start ist wieder in Näfels und da Primi59 und ich einen regen schriftlichen Kontakt haben, es bisher noch nie zu einem Treffen gekommen...
Published by 30 May 2020, 10h41 (Photos:51 | Comments:3)

Räderten- und Mutteristock
Im Bericht Redertenstock south ascent von pave findet der geneigte Leser einen hervorragenden Beschrieb des Südaufstiegs auf den Rädertenstock. Besonders hilfreich sind die Bilder mit eingezeichneter Route.   Nebst mir steigen nur zwei weitere Personen aus dem Postauto. Ein Herr, dessen Ziel der Ochsenchopf ist, und...
Published by 10 November 2018, 21h22 (Photos:32 | Comments:1 | Geodata:1)

Redertenstock south ascent
Tuesday was shaping to be the last sunny day before a long spell of bad weather, so I decided to take a day off from work and spend it in the mountains. For quite some time I'd been wanting to try and repeat the route described earlier on hikr by PStraub and Delta. The idea to try this variant was born the last time I was on...
Published by 25 August 2018, 12h55 (Photos:21 | Comments:3 | Geodata:1)

Schijen (2259 m) - weit und speziell
Der Wetterbericht verspricht sonniges Wetter oberhalb der Hochnebeldecke. Also wieder einmal auf die Ski. Mit dem Auto bis Schwändeli (P. 1030). Es hat zwar nicht allzuviel Schnee, aber Hänge und Strasse sind fahrbar. Für Ski, natürlich. Kaum losgezogen, sehe ich am Gegenhang eine Hirschkuh gemächlich den Hang hinauf...
Published by 19 February 2018, 16h51 (Photos:20)

Höhenkorrektur am Rädertenstock
überarbeitete karten andere namen und vor allem haben die höhen oft um einige meter geändert. zum teil sind sie aber mit den namensgebung inkonsequent. so ist nun z.b. der Rämpensee aber die ortsbezeichnung ist immer noch Rempen. beim Rädertenstock sind sie mit dem Rädertengrat jedoch konsequent. der Rädertenstock ist...
Published by 1 July 2016, 05h31 (Photos:29)

Längeneggpass Tour mit Bike
Eine tolle Biketour mit etwas Höhenmeter, einem Pass oder Gipfel und zum Schluss super Singletrails. Gute Links unter GPS-Tracks oder bei Linth-Areal. Die Strecke ist gut beschildert mit der Nummer 304. Wenn man die Tour von der Obersee Seite nimmt, hat man die Steilere Abfahrt vor sich, dazu noch den Trail beim Klöntalersee....
Published by 14 July 2015, 19h41 (Photos:13 | Comments:1 | Geodata:1)

Lachengrat (1966m)
Endlich der erwünschte Traumtag! Das dachten sich wohl viele andere Tourengänger auch, weshalb wir uns für ein etwas einsameres Ziel entschieden: den Breitchamm, einen unspektakulären, wenig markanten Gipfel zwischen Klöntal und Oberseetal.   Um ca. 8.30 Uhr liefen wir als Einzige in Hophan los. Von P. 1031 her...
Published by 12 February 2015, 00h17 (Photos:26)

Dejenstock, Gumenstock und Schijen
Meine Karte verzeichnete eine grössere Lücke zwischen Mutteristock und Wiggis. Ich war zwar schon oft im Klöntal, jedoch noch nie auf den Gipfeln nördlich davon. Höchste Zeit, das zu ändern. Die Route ist wie gewohnt in den Fotos eingezeichnet. Dejenstock (2021m) – T4- Ab Rhodannenberg folge ich der Strasse...
Published by 10 August 2014, 13h37 (Photos:29)

Schijen (2259 m) - eine kontemplative Skiwanderung
Wer möglichst effizient unterwegs sein will, sprich: Möglichst schnell möglichst viele Höhenmeter absolvieren möchte, der ist am Schijen am falschen Ort. Hier geht es über weite Strecken immer etwas hinauf und dann wieder hinunter - und auf dem Rückweg dann gleich noch einmal. Und die Luftlinie zwischen Start und Gipfel...
Published by 2 March 2013, 16h32 (Photos:16 | Comments:2)

Rautispitz 2283m
Rautispitz und Vorder Glärnisch thronen über Glarus resp. über Netstal und da muss jeder Glarner (so heisst es) mal oben gestanden haben. Ich bin zwar kein Glarner aber diese Sicht fast 2000m über dem Tal möchte ich mir natürlich nicht entgehen lassen. Von Näfels starte ich heute meine Tour. Und schon in der ersten...
Published by 14 June 2012, 21h22 (Photos:25 | Comments:3)