Ober Empächli 1740 m
5707 ft.
---
Hut in

13 hike reports

, 2 photo(s). Last visited :

20 Jul 19


Geo-Tags: CH-GL
Photos (2)
---
By Publication date · Last favs · By Popularity · Last Comment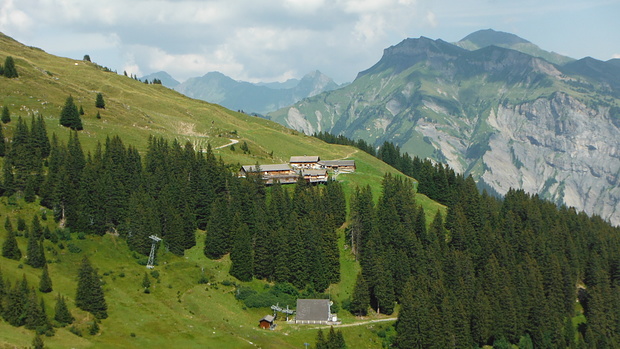 On the way to Ober Ämpächli, which in the winter is better known as part of the ski area in Elm. © Roald
---
Reports (13)
---

Chärpf 2794 m und Chli Chärpf 2700 m
Lange habe ich mit mir gerungen, wie ich an diesem Wochenende eine sinnvolle Kurztour (= 2 Tage) hinbekommen würde. Meine Wahl fiel auf den Chärpf, der von uns aus noch halbwegs schnell erreichbar ist und der eben in der Kategorie, nicht so leicht, aber auch nicht wirklich schwer liegt. Um den Aufstieg etwas aufzupeppen,...
Published by 24 July 2019, 14h29 (Photos:77 | Comments:1)

Chli Chärpf (2700 m) on a warm day in August
It was a warm day on my hike to Chli Chärpf (2700 m). In the morning there were clear skies, but later on clouds appeared around the mountain peaks. It was actually very warm to hike up from Unter Ämpächli to Charpfscharte. Only at the summit of Chli Chärpf, the temperatures were more comfortable. Somewhere before P.2260 I...
Published by 10 January 2016, 15h15 (Photos:27 | Geodata:1)

Chärpf Trek - Teil 3: von der Skihütte Obererbs nach Mettmen
Wissenswertes aus dem Internet: Ober Ämpächli und Tschingelhörner:Entlang der weitherum sichtbaren Linie der Glarner Hauptüberschiebung wurden 250 bis 300 Millionen Jahre alte, grünliche bis rötliche Verrucanogesteine auf 35 bis 50 Millionen Jahre alte bräunlichgraue, meist schieferige Flyschgesteine aus dem Raum Ilanz...
Published by 9 October 2014, 19h15 (Photos:11 | Geodata:1)

Schafgrind 2155m - Gelbchopf 2132m - Schabell 2127m
Letzte Woche entnahm ich der Tagespresse dass die Gemeinde Elm zwecks Förderung des Sommertourismus auf dem Schabell eine Art Funpark plant. Eine Hängebrücke und eine Aussichtsplattform sollen hier gebaut werden. So beschloss ich der Gegend wieder einmal einen Besuch abzustatten bevor hier die Baumaschienen auffahren. Gleich...
Published by 19 August 2014, 19h27 (Photos:17)

Schwarz Tschingel, Chli und Gross Kärpf als Bischofalp-Rundtour
Der Wanderer denkt, doch das Wetter lenkt. Auf der heutigen Tour ist Flexibilität gefragt. Unter diesen Umständen macht selbst der Übergang von der Bischofalp zur "Chli Wildmad" durchaus Sinn. Im Bus nach Elm sind die Gewitter der letzten Nacht *das* Gesprächsthema: Offenbar hat es die ganze Nacht durch und insbesondere...
Published by 29 June 2014, 18h25 (Photos:37 | Comments:3)

Schabell bei Elm 2126m
Meine Skitoureneröffnung diesen Winter bestreite ich heute zusammen mit meinem Nachbarn Malcolm. Mit seinem Auto geht es nach Elm welches im Grünen liegt. Auf meine Anspielung den Aufstieg auf der künstlich eingeschneiten Schlittelpiste zu beginnen reagiert mein Partner nicht. So lassen wir uns mit der Gondelbahn zum Unter...
Published by 26 February 2014, 21h36 (Photos:5)

Von Elm auf den Schabell
Das prächtige Montagswetter wollte ich nutzen und dabei von hoffentlich präparierten Pisten im noch geschlossenen Skigebiet von Elm (1000 m) im Glarnerland profitieren. Von den noch nicht präparierten Pisten abgesehen, ist die Rechnung voll aufgegangen. Immerhin konnte ich zwischen Unter Ämpächli und Schabnell Ratracspuren...
Published by 2 December 2013, 21h21 (Photos:24 | Comments:2)

Leglerhütte (2273 m) - von Ämpächli nach Schwanden
Im schönen Glarnerland gibt es noch viele Ecken, die ich bisher nicht kenne. So auch das Gebiet um den Kärpf. Heute, fand ich, wäre eine gute Gelegenheit, dieses Manko auszugleichen und dabei auch die Leglerhütte zu besuchen, die hier schon vielfach lobend erwähnt worden ist. Da ich gerne Überschreitungen mache, sollte...
Published by 9 August 2013, 03h13 (Photos:44)

Gross Kärpf Flop - Flora Top
Nachdem sich der Winter so ganz plötzlich und unerwartet verabschiedet hat, folgt heute ein erster Test der Sommersaison 2013. Dazu sind Südaufstiege bestens geeignet. Warum also nicht die Tour Gross Kärpf via Bischof vom letzten Jahr wiederholen, diesmal bei bestem Wetter? Mit dem ÖV bis zum Buswendeplatz bei...
Published by 12 June 2013, 22h39 (Photos:40)

Luxus in der Leglerhütte
Von lieben Freunden hatten wir eine Verwöhnpension in der Leglerhütte geschenkt bekommen. Dies war bereits unser dritter Versuch, sie einzulösen. Auch für heute sagte der Wetterbericht erst föhnige Aufhellungen, dann Schauer voraus, für Morgen aber schön. Wir gingen davon aus, dass es über 2500m geschneit hatte, und...
Published by 5 October 2012, 18h03 (Photos:17 | Comments:3)