Ober Bützi 1816 m
5956 ft.
---
Other in

13 hike reports

, 1 photo(s). Last visited :

1 Oct 20
Photos (1)
---
By Publication date · Last favs · By Popularity · Last Comment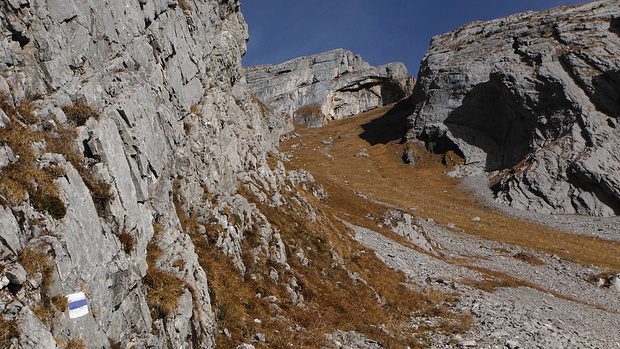 Oberes Bützi. Here the white-blue-white marked trail goes up pretty steep all the way up to the rock wall and then to the right hand side. © Roald
---
Reports (13)
---

Vorder Glärnisch, Wiggis und Schilt(¾)
Diese Tour habe ich mir lange für diesen einen Tag aufgespart an dem die Verhältnisse keine technisch anspruchsvollere Touren zulassen. Das ist meine erste Tour mit "leichtem" Gepäck, ich achte sonst kaum auf das Gewicht, mal eine ganz andere Art von "Wanderung". Ich habe bewusst auf Energie-Gels etc. verzichtet. Für meine...
Published by 2 October 2020, 19h40 (Photos:16 | Comments:2)

Wiggis und Rautispitz
Wiggis und Rautispitz standen schon länger auf der Agenda. An diesem Montag war schönes, aber auch sehr warmes Herbstwetter angesagt. Ideal, um ohne Gewittergefahr diese Tour anzugehen. Dabei wollte ich den Aufstieg von der seltener begangenen Seite über die Auerenalp nehmen. Start in Netstal um kurz vor 07:00 (mit der...
Published by 21 September 2020, 21h52 (Photos:33 | Comments:4)

Viele Wege führen auf den Wiggis - Durch die Altigerrus
Viel schaue ich an die Ostwände des Wiggis, verwinkelt winden sich die Runsen und Rinnen nach oben. Beim letzten mal als ich vom Talboden auf den Wiggis gestiegen bin ist mir die Variante, beim Gipfelbuch des Schnüerliweges links abzubiegen, aufgefallen. Mein freier Tag soll genutzt sein um ein Versuch zu starten....
Published by 10 July 2020, 18h14 (Photos:38 | Comments:6)

Vom Klöntal auf den Wiggis (2282 m)
Auf dem Rautispitz war ich vor mehr als 20 Jahren mal mit meinem Freund Oliver W. Wir sind vom Obersee aufgestiegen. Am Gipfel hatten wir genug und haben so den Wiggis nicht auch noch mitgenommen, der dadurch auf meiner Projektliste blieb. Als Trainingstour wollte ich ihn von Süden besteigen. Während ich Tourenberichte...
Published by 22 June 2020, 00h04 (Photos:7 | Geodata:1)

Durch das hintere Hintertäli auf den Wiggis
Schon lange bin ich hin und her gerissen, komme ich bei dieser Route solo durch, wie steil ist es, ist der Fels fest? Da dieses Projekt eines der wenigen schneefreien ist, entscheiden mein Bruder und ich uns für das hintere Hintertäli. Da ich keinen Nachweis finden konnte von früherigen Begehungen und dieser Einschnitt keinen...
Published by 11 May 2020, 16h55 (Photos:21 | Comments:9)

Wiggis (2281 m) - hike from Klöntal via Pauliberg
Wiggis (2281 m) - hike from Klöntal via Pauliberg and Auerenalp Mittelstafel. Start of the hike at 7:45 AM. The temperature was around freezing. For the first hour I was in the shade, but after that it was sunny. The first half of the hike followed an unmarked but easily visible and very well maintained trail. The difficulty...
Published by 25 November 2018, 21h28 (Photos:29 | Geodata:1)

Wiggis ab Netstal - raus aus dem Nebel!
Nach doch ein paar Wochen Bergabstinenz werde ich gefragt, ob ich mich einer Wanderung ins schöne Glarnerland anschliessen will. Nebel in Zürich und nach Bergen zehrend, sage ich sofort zu. In Netstal angekommen, zeigt uns der Wegweiser 5h15min zum Wiggis an. Eher beeindruckt denken wir trotzdem, dass das Ganze nicht gar so...
Published by 19 November 2018, 22h01 (Photos:25 | Comments:1)
Durchs Hintertäli auf den Wiggis
Schon öfters habe ich diesen Einschnitt südlich der Höchnase mit dem Feldstecher ausgekundschaftet. Heute konnte ich der Versuchung nicht wiederstehen und habe mich auf den abenteuerlichen Weg Richtung Wiggis gemacht. Zufahrt - Auerenalp (T2) Mit dem Fahrrad zum Auli ob Riedern, dort fängt der Wanderweg zum Wasserschloss...
Published by 15 July 2018, 19h31 (Photos:15 | Comments:12)

Wiggis (2282 m) via Schlattberg - Vorder Planggen
Während der Wiggis-Aufstieg aus dem Rhodannenberg via Pauliberg - Steinplangge(n) noch recht häufig begangen wird, wissen nur noch wenige Eingeborene, dass es eine Variante von der Büttenenebene aus via Schlattberg(e) - Vorder Planggen gibt. Ich wollte heute überprüfen, ob man den Weg noch findet und in welchem Zustand er...
Published by 4 October 2017, 16h46 (Photos:12 | Comments:1 | Geodata:1)

Wiggis-Rautispitz
  Start: Rhodannenberg (Klöntal) 848m - bus from Glarus. End: Obsersee 992m - no bus. Hitchike or walk. Climb: 1622m/1486m Distance: 12km Time: 7:13. GPS Map Photographic Album   The Wiggis is a prominent grassy peak in the Glarus alps. There are many ways to reach it, but I took the path...
Published by 14 August 2016, 22h53 (Photos:19 | Comments:1 | Geodata:1)