Ober Bützi 1816 m
5956 ft.
---
Other in

8 hike reports

, 1 photo(s). Last visited :

25 Nov 18
Photos (1)
---
By Publication date · Last favs · By Popularity · Last Comment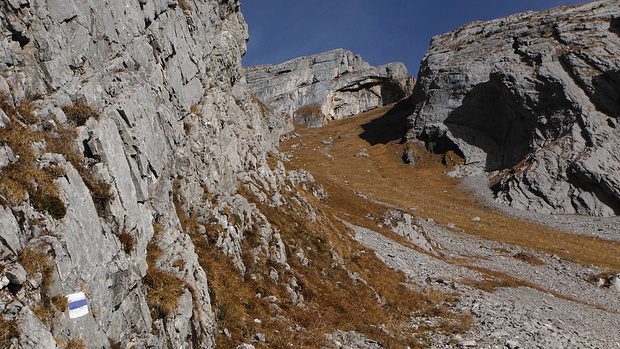 Oberes Bützi. Here the white-blue-white marked trail goes up pretty steep all the way up to the rock wall and then to the right hand side. © Roald
---
Reports (8)
---

Wiggis (2281 m) - hike from Klöntal via Pauliberg
Wiggis (2281 m) - hike from Klöntal via Pauliberg and Auerenalp Mittelstafel. Start of the hike at 7:45 AM. The temperature was around freezing. For the first hour I was in the shade, but after that it was sunny. The first half of the hike followed an unmarked but easily visible and very well maintained trail. The difficulty...
Published by 25 November 2018, 21h28 (Photos:29 | Geodata:1)

Wiggis ab Netstal - raus aus dem Nebel!
Nach doch ein paar Wochen Bergabstinenz werde ich gefragt, ob ich mich einer Wanderung ins schöne Glarnerland anschliessen will. Nebel in Zürich und nach Bergen zehrend, sage ich sofort zu. In Netstal angekommen, zeigt uns der Wegweiser 5h15min zum Wiggis an. Eher beeindruckt denken wir trotzdem, dass das Ganze nicht gar so...
Published by 19 November 2018, 22h01 (Photos:25 | Comments:1)
Durchs Hindertäli auf den Wiggis
Schon öfters habe ich diesen Einschnitt südlich der Höchnase mit dem Feldstecher ausgekundschaftet. Heute konnte ich der Versuchung nicht wiederstehen und habe mich auf den abenteuerlichen Weg Richtung Wiggis gemacht. Zufahrt-Auerenalp-Trosegg Mit dem Fahrrad zum Auli ob Riedern, dort fängt der Wanderweg zum Wasserschloss...
Published by 15 July 2018, 19h31 (Photos:15 | Comments:11)

Wiggis (2282 m) via Schlattberg - Vorder Planggen
Während der Wiggis-Aufstieg aus dem Rhodannenberg via Pauliberg - Steinplangge(n) noch recht häufig begangen wird, wissen nur noch wenige Eingeborene, dass es eine Variante von der Büttenenebene aus via Schlattberg(e) - Vorder Planggen gibt. Ich wollte heute überprüfen, ob man den Weg noch findet und in welchem Zustand er...
Published by 4 October 2017, 16h46 (Photos:12 | Comments:1 | Geodata:1)

Wiggis-Rautispitz
  Start: Rhodannenberg (Klöntal) 848m - bus from Glarus. End: Obsersee 992m - no bus. Hitchike or walk. Climb: 1622m/1486m Distance: 12km Time: 7:13. GPS Map Photographic Album   The Wiggis is a prominent grassy peak in the Glarus alps. There are many ways to reach it, but I took the path...
Published by 14 August 2016, 22h53 (Photos:19 | Comments:1 | Geodata:1)

Trailrun auf den Wiggis
Start bei der Talstation Luftseilbahn des Kraftwerks am Löntsch. Dann alles dem Wanderweg entlang hoch zu Chäsgaden, Unter und Mittler Stafel. Danach ins Ober Bützi. Der Weg ist dort fast nicht als solcher zu erkennen und teilweise so steil und nass, dass mit einem beherzten Griff in ein Grasbüschel nachgeholfen werden muss....
Published by 18 August 2014, 21h48 (Photos:5)

Wiggis - Rautispitz
Der 22. Juli verspricht sehr heiss zu werden. Weil in der Kühle des frühen Morgens noch kein Bus ins Klöntal fährt, parken wir den Pw bei der Haltestelle des Altersheimes Netstal. Hier, auf 475 m, starten wir um halb sechs unsere Wanderung, vorbei am Schiessstand und auf dem sehr gut unterhaltenen Weg steil durch den Wald...
Published by 25 July 2013, 21h51 (Photos:33 | Geodata:1)

Einsam bis Wiggis, in der Masse vom Rautispitz runter
Ich starte um 07:15 in Netstal und steige auf einem schönen breiten Saumpfad bis Unterstafel, danach auf normalem Bergwanderweg bis Mittler Stafel. Danach wirds sportlich: Das "Ober Bützi" verlang volles Engangement, ziemlich steil geht es den feuchten Grashang hoch, oben winkt noch eine Querung des Ganzen. Dieser Abschnitt...
Published by 8 July 2013, 20h25 (Photos:4)