Nepalbrücke Gimmelwald 1251 m
4103 ft.
---
Bridge in

3 hike reports

, 6 photo(s). Last visited :

22 Oct 16
Photos (6)
---
By Publication date · Last favs · By Popularity · Last Comment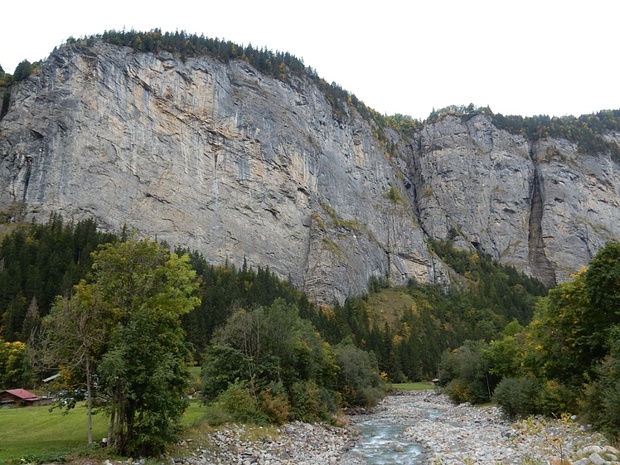 Überquerung der Weisse Lütschine - in der Originalgrösse ist knapp die Nepalbrücke des Mürrener KS zu erkennen © Felix
---
Reports (3)
---
Jungfraugebiet

T2

AD

22 Oct 16

Klettersteig Mürren ("by fair means" from Lauterbrunnen)
From Lauterbrunnen, we follow the hiking path that climbs the cliffs on the west side of the valley in the direction of Mürren. The path stays in the forrest (where we get to observe some chamois) and away from the cliffs, so the views are limited to the occasional glimpse of Eiger and Mönch through the trees. Those glimpses are...
Published by 24 October 2016, 21h26 (Photos:37 | Geodata:1)
Meine Sammlung von Hängebrücken Begehungen (12)
Wenn wir auf der Wanderung Hängebrücken überschreiten dürfen, schlägt unser Herz jeweils höher und die Motivation steigt - vor allem beimeinen Kindern. Ich bin mir überaus im klaren, dass vermutlichdie eine oder andereHängebrücke diesen Beitrag nicht überleben wird. Berge bleiben zumindest länger an Ort und...
Published by 28 April 2016, 19h12 (Photos:12)
Berner Voralpen

T2

PD+

3 Oct 15

Mürren Klettersteig
Eigentlich wäre heute der Tällistock an der Reihe. Als wir dann aber in Meiringen in eine Regenwand fuhren, musste ein Plan B her. Ich las schon öfter vom Mürren Klettersteig. Da das Wetter Richtung Interlakenbesser aussah, konnte ich allebeteiligten umstimmen. In Lengwald parkierten wir unser Auto und nahmen die Seilbahn...
Published by 4 October 2015, 10h08 (Photos:27)