Nüschenstock 2893 m
9489 ft.
---
Peak in

3 hike reports

, 86 photo(s). Last visited :

27 Sep 14


Geo-Tags: CH-GL, Hausstockgruppe
Photos (86)
---
By Publication date · Last favs · By Popularity · Last Comment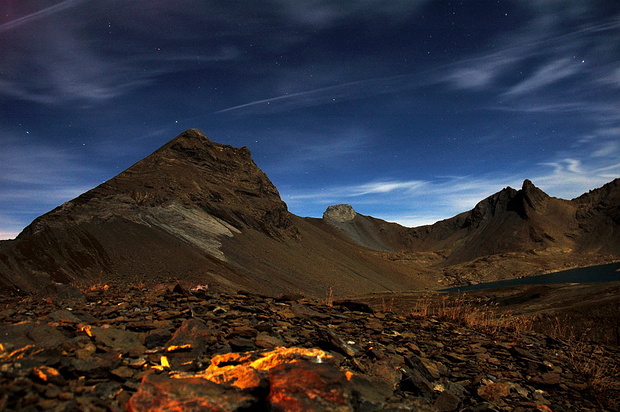 à côté du Muttsee - la photo n'a pas été traffiquée en elle-même mais les niveaux de brillance/contraste/couleurs "adaptés" © gurgeh
---
Reports (3)
---

Nice hike to the summit of Nüschenstock (2893 m)
Starting point: By car to the visitor's parking lot in Tierfehd, close to the cable car station. The cable car is mostly used by the workers at the hydro-power dam, but it is also open for "tourists" during normal hours. The fare was 10 Fr. one way and 15 Fr. for a return ticket. The cable car takes you 1000 m higher...
Published by 6 November 2014, 17h25 (Photos:18 | Comments:1)
Glarus

T6-

PD

II

14 Sep 14

Prächtige Bergfahrt rund um den Muttsee
Was habe ich lamentiert über die Wetterkapriolen diesen Sommer. Doch nach diesem Sonntag ist der ganze Ärger beinahe verflogen: ideales Bergwetter, ungetrübte Fernsicht, Rundtour über spannende und kaum begangene Routen. Schlicht und einfach der perfekte Bergtag! In der Hausstockgruppe geniesst bloss der Hausstock selber...
Published by 16 September 2014, 07h56 (Photos:52 | Comments:6 | Geodata:1)

Nüschenstock (2893 m) und Rüchi (2850 m): Abstecher auf der Muttseehütten-Route
Der Grat vom Nüschenstock über den Rüchi zum Scheidstöckli bildet den westlichen Abschluss des Muttsee-Beckens.Nüschenstock und Rüchisind vom Hüttenweg einfach und schnell erreichbar. Der Muttsee-Kessel, ja die ganze Region ist geprägt vom Flysch. Flysch ist ein weiches, leicht...
Published by 22 July 2010, 16h52 (Photos:13)