Nägeliberg / Nägler 2161 m
7088 ft.
---
Peak in

35 hike reports

, 206 photo(s). Last visited :

4 Sep 19


Geo-Tags: CH-SG, Churfirsten
Photos (206)
---
By Publication date · Last favs · By Popularity · Last Comment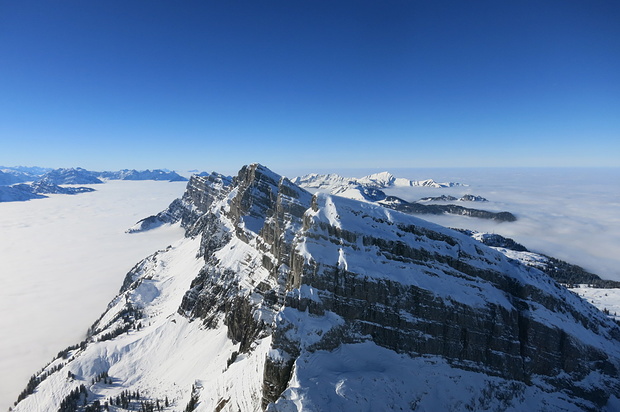 Ich bin kein grosser Freund von Tourenwiederholungen. Aber für dieses Panorama vom Hinterrugg mache ich regelmässig eine Ausnahme. © Bergamotte
---
Reports (35)
---
St.Gallen

T6

III

PD

4 Sep 19
Nägeliberg Westgrat und ein bisschen weiter
Eine Cordon Bleu - Tour. Rundherum ein saftiges Stück Fleisch, knusprig paniert und gewürzt, dazwischen eine leckere Füllung: Voilà, das Cordon Bleu. Dieses Konzept auf sportliche Outdoor- Betätigung angewendet heisst: Rundherum eine hübsche, aussichtsreiche Biketour, dazwischen als leckere Füllung eine Wanderung und...
Published by 6 September 2019, 22h41 (Photos:16)
St.Gallen

T6+

IV

4 Jul 19

Churfirsten und Alviergrat
Die Überschreitung des gesamten Chrufirsten und Alvier Grates ist ja schon sehr lange ein noch offenes Projekt seit es Delta vor mittlerweile 8 Jahren das erste mal probiert hat (http://www.hikr.org/tour/post37167.html). Vor zwei Jahren hatte tricky es dann auch mal probiert (http://www.hikr.org/tour/post122661.html)und kam etwas...
Published by 8 July 2019, 14h42 (Photos:14 | Comments:11)

Mini Hikr-Treffen am Churfirsten-Wurmfortsatz
Wenn die kalifornische Division wieder mal auf Besuch in der Schweiz ist, muss die Gelegenheit beim Schopf gepackt werden. Dank dem Kaiserwetter liegt dafür eine Wanderung (mit Kraxeleinlagen) auf der Hand und der wenige Neuschnee in der Höhe macht die Sache heute besonders reizvoll. Andererseits sorgen Schnee und Eis dafür,...
Published by 25 September 2018, 21h44 (Photos:18 | Geodata:1)
St.Gallen

T5+

II

9 Aug 18

6 Inoffizielle Churfirsten & 5 Offizielle Churfirsten
Um es gleich vorweg zu nehmen. Seit dieser Tour vermisse ich meine kleine Digicam, was mich sehr frustet. Ich hatte mir vorgenommen, diese Tour sehr genau zu dokumentieren. Was ich mit unzähligen Fotos auch tat. Nur leider ging die Kamera irgendwo zwischen Schibestoll Abbruchkante-Chäserrugg-Rüti ZH verloren. Hoffnung habe ich...
Published by 16 August 2018, 22h14 (Photos:13)
St.Gallen

T6-

II

3 Jun 18

Südaufstieg zum Schären 2184m
Der Aufstieg zu den Churfirsten erfolgt typischweise vom Toggenburg, also von Norden. Die Pässe zwischen den Gipfeln lassen sich aber durchaus auch von Süden erreichen. All diesen, meist spektakulären Routen ist gemein, dass sie den schrecklich steilen Flanken auf irgendeine Art und Weise ein Schnippchen schlagen. Abgedeckt...
Published by 5 June 2018, 09h23 (Photos:27 | Comments:2 | Geodata:1)

Leistchamm - Gonzen ... und noch ein paar dazwischen
Genauer gesagt von Amden über die neuen Churfirsten (Leistchamm, Nägeliberg, Schären, Wart) und die alten Churfirsten (Selun, Frümsel, Brisi, Zuestoll, Schibenstoll, Chäserrugg) weiter über den Höchst, Sichelchamm. Nach dem Sichli-Sattel weiter dem Wanderweg via Isisitzgrat und Glanna zum Alvier und Gonzen. 71km,...
Published by 24 July 2017, 06h57 (Photos:59 | Comments:11 | Geodata:1)
St.Gallen

T5

II

17 Oct 16

"Home sweet home"
During my stay in Switzerland, I couldn't resist to pay a visit to my beloved Churfisten - actually the mountains which are not considered Churfirsten: everything west of the 'Selun'. Omega3 was willing to accompany me on this tour which we originally planned as a repeat of this one. Due to uncertain weather conditions we...
Published by 2 November 2016, 15h55 (Photos:15 | Comments:2 | Geodata:1)
St.Gallen

T5

II

14 Aug 16

Wart, Schären, Nägeliberg, Vorder- und Mittler Leistchamm
Von der Bergstation der Selunbahn laufe ich zuerst auf dem Wanderweg Richtung Amden. Kurz vor der Alp Bleien verlasse ich den Wanderweg und steige durch Weiden, über teilweise mühsames Gelände, zur Wart hinauf. Etliche Male umgehe ich die Tiere grossräumig, da mir die Viecher nicht ganz geheuer sind. Auf dem Gipfel der Wart...
Published by 22 August 2016, 20h41 (Photos:35 | Comments:4 | Geodata:1)

Selun Ostgipfel und andere wenig Besuchte 'Churfirsten'
Diese Ausweichtour in bekannten Gefielden, wurde zu einem wahren Leckerbissen mit viel Neuland. Auch das Wetter konnte ich dabei optimal nutzen. Mi, 12.2.2014 -Tag 1 Starkenbach - Vorder Leistchamm Süd-/Nordgipfel (ZS- / Fussaufstieg WS) Start um 0730 in Starkenabch. Gemäss Wetterprognose werden sich die Wolken erst im...
Published by 13 February 2014, 23h36 (Photos:30 | Comments:4)

Eröffnungsskitour 13/14 (Nägeliberg, Wart und Selun)
Lange habe ich gezögert ob ich jetzt mit Schneeschuhen oder Tourenskis gehen soll, und kurzfristig gestern Abend habe ich mich dann doch noch für die Skier entschieden.Heute ging es mir in erster Linie drum, den Winter und die Sonne zu geniessen und das ist geglückt. Kurzbeschrieb: Ein zusätzliches Ziel war der Nägeliberg...
Published by 27 November 2013, 21h33 (Photos:33 | Comments:2)