Muttsee 2446 m
8023 ft.
---
Lake in

10 hike reports

, 31 photo(s). Last visited :

2 Aug 15


Geo-Tags: CH-GL
Photos (31)
---
By Publication date · Last favs · By Popularity · Last Comment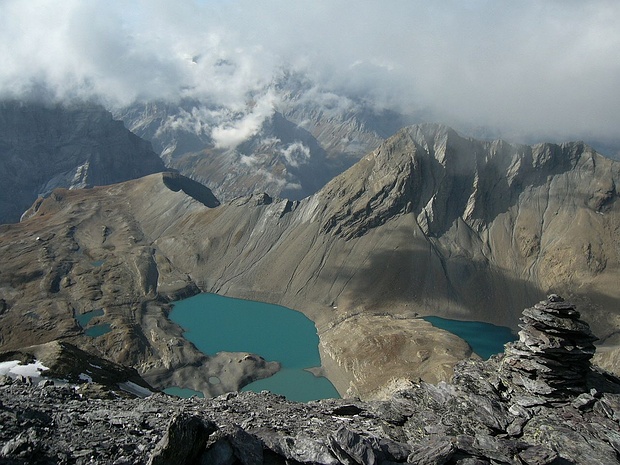 Tiefblick vom Ruchi auf den Muttsee (2446m) und den Ober See (2475m). Darüber sind der Nüschenstock (2893m) und der Rüchi (2849,8m). Links ist ganz klein die Muttseehütte zu erkennen. © Sputnik
---
Reports (10)
---

Von der Muttseehütte via Ruchi 3103 müM zum Hausstock 3158 müM
Da die Grossbaustelle beim Muttsee langsam zu Ende ging, wollten wir via Ruchiauf denHausstock, mit einer Übernachtung auf der Muttseehütte.Bruno, ichund Fly fuhren zumeinem Schwager JP nachGlarus. Mit dem Auto gings dann weiter in Begleitung vonRegen und Nebel nach Tierfehd. Wirpackten unsere Sachen und fuhren mit der Axpo...
Published by 21 October 2015, 15h30 (Photos:76 | Comments:4)

Nice hike to the summit of Nüschenstock (2893 m)
Starting point: By car to the visitor's parking lot in Tierfehd, close to the cable car station. The cable car is mostly used by the workers at the hydro-power dam, but it is also open for "tourists" during normal hours. The fare was 10 Fr. one way and 15 Fr. for a return ticket. The cable car takes you 1000 m higher...
Published by 6 November 2014, 17h25 (Photos:18 | Comments:1)

Natur und Technik am Ruchi
Bekanntlich sind ja warme Tage angesagt. Darum also ein wenig in die Höhe, das war der Plan. Ausserdem wollte ich meinen operierten Fuss (und meine ramponierte Fitness) einem ersten Formtest unterziehen. Durch das studieren der Berichte auf Hikr wurde ich auf den Ruchi aufmerksam. Da mich das Megaprojekt der Axpo sowieso...
Published by 18 August 2012, 12h38 (Photos:27 | Comments:2 | Geodata:1)
Glarus

T4

AD

II

27 Nov 11

Hausstock via Schlössligrat
Ersten Zug nach Linthal (645 m), um 7:50 ins Durnachtal gestartet bis nach Hintersulz (9 km, 1400 hm). Der Hintersulzfirn ist momentan mehr Schutthalde als Firn oder gar Gletscher, aber es ist noch einiges Eis unter dem Schutt. Schlössliturm von rechts via sehr steile gefrohrene Grasschrofen/brüchigen Schiefer per Steigeisen...
Published by 29 November 2011, 12h29 (Photos:12 | Comments:1)

Hausstock 3158m, via Ruchi und Drahtseilfurggeli
Schon bei der Einfahrt ins Linthtal erblickt man den Hausstock als einer der ersten hochalpinen Gipfel am hinteren Ende des Tales. Auf dem Gipfel ist die Sicht grandios in alle Richtungen. Der Hausstock ist nicht gerade ein Schutthaufen und trotzdem findet man viel lockeres Gestein. Mit Ausnahme der Route von der Muttseehütte...
Published by 4 September 2011, 20h15 (Photos:23)

Ruchi (3107m)
Die Route wurde schon mehrmals gut beschrieben, daher beschränke ich mich auf wenige Details: - Sehr steil, geröllig, der Berg ist eine Diva und will erkämpft werden! - Der beste Weg von der Hütte zum Einstieg in die Wand ist quer zwischen den beiden Muttsee-Teilendurch. Wunderschöne Mondlandschaft in der man auch das...
Published by 24 August 2010, 20h51 (Photos:20 | Geodata:1)

Muttseehütte
Randonnée "imposée", groupe assez hétérogène et transports pas forcément nécessaires (taxi, téléphérique), il fallait tirer le meilleur de ce parcours que j'avais, exactement 2 ans auparavant, réalisé en une seule journée. Et comme la lumière d'automne était magnifique, ça se porterait assurément sur les clichés,...
Published by 12 October 2009, 21h40 (Photos:46 | Comments:3)

Ruchi - mein erster 3000 -er am 27.9.2009
Tour: Ober Baumgarten (1860) - Muttseehütte (2501) -- Ruchi (3107) - Muttseehütte (2501) -- Ober Baumgarten (1860). Text: Das heutige Ziel war der Ruchi mit 3107m. Mein Vater, mein Bruder und ich Fuhren um 6:30 Uhr ab damit wir um 7:30 dort waren Weil die Bahn um 8:10 Uhr ihre erste Fahrt machte. Die Bergstation...
Published by 8 October 2009, 11h34 (Photos:43 | Comments:2 | Geodata:1)

Ruchi (3107 m)
Eine wunderschöne Bergtour, deren Route aufgrund mehrerer grösseren Schneefeldern (welche die teilweise vorhandenen Wegspuren überdeckten) nicht immer auf Anhieb ersichtlich war. Nach einigen kleinen Umwegen - besonders beim Firnfeld auf ca. 2750 m - habe ich den Gipfel doch noch erreicht und bin zu meiner und...
Published by 19 July 2009, 17h29 (Photos:16)

Überschreitung Hausstock E-W
Weitere Angaben: Distanz: 9.67 Km. / Maximale Höhe: 3152 m. / Minimale Höhe: 2383 m. / Leistungskilometer: 23.39. Charakterisierung: Schöne Hochtour, viel Schutt, grandiose Aussicht. ------------------------------------------------------------------------------------------------------------------------...
Published by 12 September 2010, 20h15 (Photos:2 | Geodata:1)