Munt Sura 2439 m
8000 ft.
---
Locality in

12 hike reports

, 1 photo(s). Last visited :

22 Jul 19


Geo-Tags: CH-GR
Photos (1)
---
By Publication date · Last favs · By Popularity · Last Comment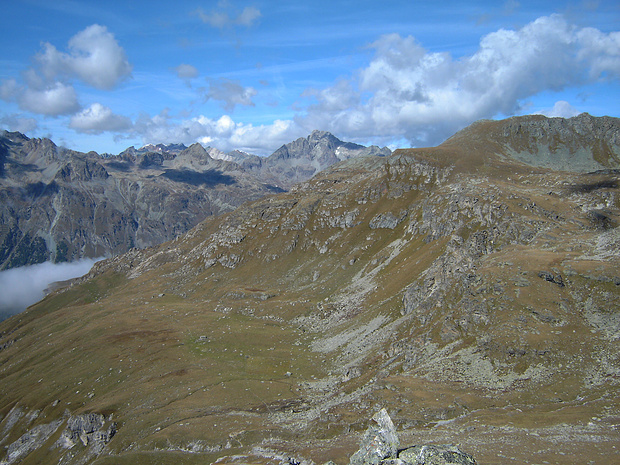 Blick zur Alp Munt - Munt Sura rechts über die braune Kuppe unterhalb vom Grat führte der Aufstiegsweg © passiun_ch
---
Reports (12)
---

Piz Chuern mt 2701-2689 da Sils Maria
Pinuccia ha finito gli antibiotici da solo 3 giorni e desidera camminare sui monti….Dato il suo stato le propongo di andare in Engadina per godere il fresco e fare la salitella del Muott'Ota in val Fex..Ma lei vuole salire un po' di più ed allora propongo il Piz Chuern sempre in val Fex. E' alto 2700 metri ma la salita non è...
Published by 26 July 2019, 21h20 (Photos:54 | Comments:3)

Piz Chuern mt 2689+Klein Furtschellas mt 2840 da Sils
Con mio fratello Alberto ed Alessandro…...in Engadina dopo alcuni mesi di loro assenza e questo ha la sua importanza successivamente. Loro non vogliono andare troppo lontano ed io pensavo invece al Igl Compass oppure alla traversata del Morteratsch…..ma indubbiamente per quello che è successo è stato meglio così. Decidiamo...
Published by 3 August 2018, 20h38 (Photos:50 | Comments:3)
Oberengadin

T4

F

20 Jun 18

Il Chaputscin
allego commento di Lino Oggi sono con Sergio e Marco, solita partenza alle 3.15 ho ancora sonno! Partiamo da Surley (Svizzera vicino a Silvaplana) m.1818 dopo le 6.00. Presto capiamo che era meglio partire da Sils-Maria (era più umano) arriviamo all'arrivo della funivia Furtscellas m.2791. Tra gande si scende al lago Sgrischus...
Published by 21 June 2018, 14h16 (Photos:23 | Comments:2 | Geodata:1)

Piz Chuern mt 2689 anello da Furtshellas Talstation
Oggi siamo in Engadina....anche se Pinuccia ha dormito pochissimo e non è proprio in forma...quindi gita leggera. Decido per il bel anello al Piz Chuern dalla stazione della funivia di Sils. Da qui ci portiamo nel paese ed al primo segnavia a sinistra saliamo lungo l'ombreggiata stradina che poi si immette nell'altra stradina...
Published by 13 September 2016, 14h21 (Photos:37)
Oberengadin

T6

PD+

3 Sep 16

Il Chapütschin und La Muongia
Eine Bergtourin den einsamen Weiten des Val Roseg und Val Fex Klerikal geht es zu und her auf den Gipfeln im hintersten Val Roseg. Il Chapütschin, der "Kapuziner", steht neben la Muongia, der "Nonne". Die beiden formschönen Gipfel gehören also zueinander, werden wohl aber kaum je gemeinsam bestiegen. Während der...
Published by 9 September 2016, 09h15 (Photos:23)

Piz Chuern, anello da Sils
Dopo alcune giornate di caldo è tanta la voglia di salire un po' di quota e dove meglio si andare persoddisfare l'esigenza di attenuare il senso di calura? Non c'è posto migliore, a mio parere, dell'Engadina dove è un po' di tempo che manchiamo. Con Danilo si decide quindi di tornare in queste zone per un...
Published by 9 August 2016, 21h54 (Photos:32)

Anello del Piz Chuern (2689 m) da Sils
Per la mia prima uscita in montagna da quando sono papà, cerco di smuovere mio fratello Ricc. Venerdì sera sembra ormai che non si faccia niente, lui ha troppo da studiare e io non ho voglia di andar da solo, allora tiro fuori l'asso nella manica, la proposta a cui non si può dire di no: l'Engadina. Ric cambia subito idea,...
Published by 22 June 2014, 16h27 (Photos:29 | Comments:4)

Piz Chuern in Val di Fex
Quando si dice che la svizzera è + verde !!!! Prendiamo una giornata di ferie a metà settimana e stacchiamo dalla quotidianità e arriviamo a Sils al parcheggio della funivia (gratuito in questa stagione) alle ore 10. Prendiamo a salire sulla destra del parcheggio in una rigogliosa vegetazione seguendo una strada forestale fino...
Published by 20 June 2014, 09h39 (Photos:6 | Geodata:1)
Oberengadin

T6-

PD-

II

7 Sep 13

Crasta dal Laj Sgrischus.
  Fine settimana impegnativo per gli orari di risveglio, ma non per la voglia di cavalcar creste. Dopo l'uscita del giorno precedente con Giorgio59 e il Barba, ritorno in Engadina. Con me ci sono Massimo 61 e il mio amico Michele mm1969 - Dopo due orette di macchina arriviamo al passo del Maloja da dove vediamo...
Published by 9 September 2013, 16h54 (Photos:45 | Comments:16 | Geodata:1)

Furtschellas 2840m
We (Natalie and me) took the cable car in Sils Maria to gain some height, I had already done that part by foot a couple of years ago, so saving my knees by taking the cable car seemed a logical move. It was very cold (air temperature around P01 °C with a lot of wind, giving a windchill temperature of around M09/M08 °C on the...
Published by 2 September 2013, 14h43 (Photos:11)