Monte Vago 3059 m
10034 ft.
---
Peak in

10 hike reports

, 26 photo(s). Last visited :

19 Sep 18


Geo-Tags: I
Photos (26)
---
By Publication date · Last favs · By Popularity · Last Comment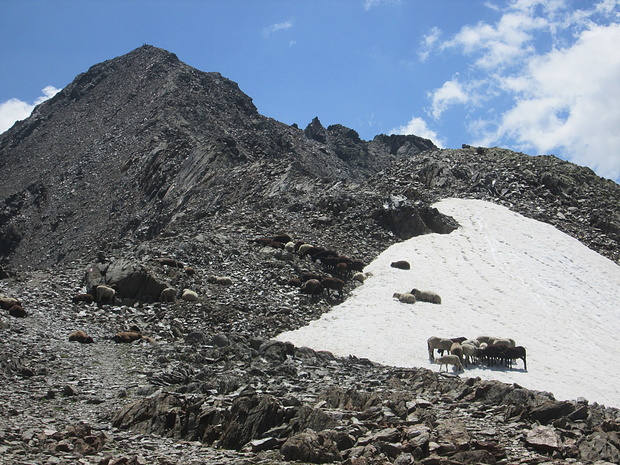 Finisce il sentiero e inizia la cresta rocciosa. Gregge di pecore che prende il fresco a quasi tremila metri...... © danicomo
---
Reports (10)
---

Monte Vago 3058 m
Der Monte Vago, im italienischen als Al Vach bezeichnet, ist eine der kürzesten 3000er Wandertouren, die ich kenne. Bei guten Verhältnissen ist der Aufstieg in unter 2 Stunden zu schaffen. Der überwältigende Ausblick auf das Bernina-Massiv schien sogar Reinhold Messner fasziniert zu haben, wie ein Eintrag auf der ersten Seite...
Published by 3 November 2019, 13h00 (Photos:6 | Geodata:1)

Al Vach m3059 - Alta Valtellina
Assolutamente da scegliere una giornata serena se si vuole salire questa vetta a cavallo tra Livigno e la val Poschiavina. Il valore della cima è essenzialmente panoramico e l'esiguo dislivello la rende adatta a chiunque, anche con non tanto tempo a disposizione. Sentiero ben segnalato a partenza dalla Forcola e difficoltà...
Published by 18 July 2018, 17h47 (Photos:9 | Comments:19)

Al Vach (Monte Vago)
Escursione attraverso i tipici e amplissimi panorami del livignasco: dalle estensioni di magri pascoli d'alta quota si passa alle distese di pietraie (che spesso econ qualche presumibile ragionevengono definite "lunari") per poi raggiungere una facile cima, la cui posizione isolata permette allo sguardo di allargarsi ad angolo...
Published by 9 October 2016, 13h22 (Photos:38 | Comments:4 | Geodata:1)

Monte Vago / Al Vach (3059 m)
Mit dem Monte Vago / Al Vach habe ich einen coolen Berg gefunden, der hier in Hikr noch nicht gross beschrieben wurde, er ist hauptsächlich das Ziel der Italienischen Szene, denke ich mal. Aber auch aus der Ecke ist er nur einmal beschrieben worden. Da die ganze Route auf Gebiet unseres Nachbarlands verläuft - wenn auch...
Published by 22 August 2015, 08h53 (Photos:27 | Geodata:1)
| | | |
| --- | --- | --- |
| Val Poschiavo | T3+ | 24 Aug 13 |

Wetterkapriolen am Monte Vago (3059 m)
Valle Livigno..., bis dato terra incognita für uns. Aufgrund des kurzen An- und Abstiegsvielleicht die ideale Tour für unsicheres Wetter? Jedenfalls sind wir von Anfang an etwas skeptisch, lauern doch einige fiese Wolken im Westen. Deswegensteigen wirzügig bergan, entlang der Grenze Richtung Süden auf deutlich markiertem und...
Published by 9 September 2013, 22h15 (Photos:32)

Failed try to climb Monte Vago 3059m
After a long pause of 6 years (knee and back issues) we made again a trip to the Alps, our first walk was a try to climb Monte Vago from the Forcola di Livigno 2315m. The route to Monte Vago isn't indicated, you have to start by following the direction to Piz Ursera, around 2400m there's a short steep part which might demand a...
Published by 2 September 2013, 14h10 (Photos:8)

Monte Vago (Al Vach) - 3059m
A una certa età, dopo aver girato in tutte le zone più alpinisticamente famose delle Alpi, bisogna anche incominciare ad andare a vedere posti "nuovi". Il caldo e l'afa costringono a privilegiare quei posti dove si può arrivare, in auto, abbastanza in alto da potersi gustare una gita senza doversi mettere a torso nudo ......
Published by 13 August 2012, 17h31 (Photos:18 | Comments:8)
| | | |
| --- | --- | --- |
| Berninagebiet | T3 | 25 Jul 12 |
Monte Vago / Al Vach 3059m
Bevor das schlechte Wetter kam, machten wir noch einen schnellen Ausflug auf den Monte Vago ab Fuorcla di Livigno. Der Gipfel ist ab der Fuorcla als Al Vach ausgeschildert. Der Weg ist hervorragend markiert. Gipfelgrat ein wenig Kraxelei, aber nicht schwierig. Aufstieg in 2.30, Abstieg 1.45, ca. 750 hm. Die letzten 200m im...
Published by 26 July 2012, 21h49

Monte Vago (3059 m)
Monte Vago: Kurze Tour auf einen lohnenden aber im deutschsprachigen Raum eher unbekannten Gipfel. Der Wanderweg auf den Monte Vago oder Al Vach beginnt gleich bei der Forcola di Livigno. Er führt zuerst entlang der italienisch-schweizerischen Grenze in südsüdöstlicher Richtung zu Pt. 2461 und gelangt dann in einer grossen...
Published by 16 September 2011, 19h57 (Photos:9)

M. Vago
Oggi sono con mio figlio Daniele e visto che sono dovuto andare a Livigno per altri motivi ne approfitto per fare una gita in zona. Iniziamo a camminare alle 12.40 e nonostante la neve che a volte arriva alle ginocchia alle 15 siamo in vetta la cresta finale in queste condizioni è da percorrere con cautela. In vetta il panorama...
Published by 21 September 2016, 21h05 (Photos:21 | Geodata:1)