Malor 2037 m
6681 ft.
---
Pass in

8 hike reports

, 5 photo(s). Last visited :

27 Jul 19


Geo-Tags: CH-UR, CH-GL, Claridengruppe
Photos (5)
---
By Publication date · Last favs · By Popularity · Last Comment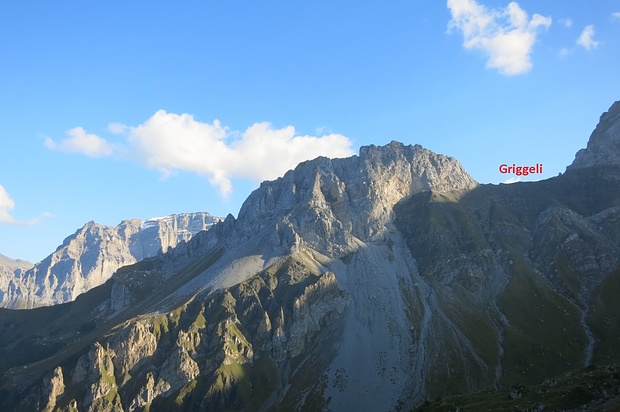 Der Abstieg vom Griggeli durch die steile und feuchte Nordflanke ist ein zweifelhaftes Vergnügen. Jeder suche sich hier selber seine "ideale" Linie. © Bergamotte
---
Reports (8)
---

SC20: (Urnerboden-) Claridenhütte - Planurahütte
Letztes Jahr hatte uns schlechtes Wetter und ein frühes Saisonende auf der Planurahütte den Weiterweg von Stuttgart an den Comer See verbaut. Dieses Jahr wollten wir uns so nicht abspeisen lassen. Entgegen unseres üblichen Formats, die Berge in Tagestouren oder in 3-4-Tägern zu erleben, sollten es dieses Mal 7 Etappen in 9...
Published by 5 August 2019, 18h37 (Photos:73)

Gipfelperlen rund um die Claridenhütte
Nebst dem bekannten Gemsfairenstock findet man rund um die Claridenhütte eine ganze Reihe weiterer Gipfelziele. Dabei lassen sich Zuetribistock, Beggistock und Geissbützistock ohne grosse Schwierigkeiten erreichen und bieten dem interessierten Passwanderer oder Hüttenbesucher lohnende Abstecher. Ganz anderer Art präsentieren...
Published by 27 September 2016, 22h33 (Photos:36 | Comments:2 | Geodata:1)

Clariden (3267m)
Meine erste Hochtour mit der SAC Sektion Uto nach absolviertem Einführungskurs im Juni. Ursprünglich geplant waren Clariden und Gross Schärhorn. Aufgrund der Wettersituation wurde entschieden nur den Clariden zu besuchen. Am Gipfeltag kamen wir in den Genuss von wunderbarem Wetter, guter Fernsicht und besten Bedingungen. Die...
Published by 11 August 2016, 13h23 (Photos:58)

Clariden from the Claridenhütte
"A Dutchman, a Chilean, two Irishmen and a Belgian went to climb a mountain." It sounds like the beginning of a bad joke, but this was actually the composition of our team for a two-day hike with the objective of Clariden (3267m) in the Glarner Alpen.   On Saturday we took the Klausenpass Postbus up to the Klus/Chlus bus...
Published by 30 July 2013, 20h46 (Photos:58)

Gemsfairenstock (2.972 m) - vom Urnerboden nach Linthal
Der Gemsfairenstock – ein wahrer Logenplatz mit Blick auf Tödi und Clariden! Doch ein Logenplatz hat auch seinen Preis. In diesem Fall entweder in Form eines Bergbahntickets, oder für den, der darauf aus welchen Gründen auch immer verzichten möchte, in Form eines Aufstiegs von mehr als 1.500 Höhenmetern. Letztlich...
Published by 20 August 2012, 17h51 (Photos:57 | Comments:5)

Rotstock und Gemsistock reloaded ..
Schon am 10. August wollte ich den Rotstock und den Gemsistock besteigen (Tourenberichthier), doch Neuschnee verunmöglichte die Besteigungen. Darum habe ich es am 30. September noch einmal versucht.   Vom Fisetenpass oberhalb der Bergstation der Luftseilbahn auf dem Hüttenweg Richtung Claridenhütte. Sobald man auf...
Published by 1 October 2011, 15h33 (Photos:20)

Gemsfairenstock - Gemsfairenjoch - Claridenhütte
Die Tour startete ich mit der Seilbahnfahrt auf den Fisetengrat. Dort traf ich auf 2 Kollegen, die das gleiche Ziel hatten - Gemsfairenstock. Auf meist grünen Gelände mit wenigen Schneefeldern stiegen wir zum Rundloch auf. Je weiter wir aufstiegen desto mehr nahm der Schnee zu und nach der Schlüsselstelle war die Schneedecke...
Published by 25 September 2011, 11h08 (Photos:8)

Clariden-Gipfelrunde im "milden Winter"
Einmal mehr haben die Wetterfrösche reihum versagt. Statt eines trockenen Tages brachte der 09. August im Tal Gewitter und jede Menge Regen. Und in den Bergen Schnee bis auf 2000 m hinunter. Das hat meiner Routenplanung übel mitgespielt.   Geplant hatte ich eine Zweitages-Tour entlang dem Claridenfirn, mit Start auf...
Published by 11 August 2011, 17h59 (Photos:25 | Comments:1)