Lugano Stazione 327 m
1073 ft.
---
Other in

46 hike reports

, 61 photo(s). Last visited :

25 Mar 19


Geo-Tags: CH-TI
Photos (61)
---
By Publication date · Last favs · By Popularity · Last Comment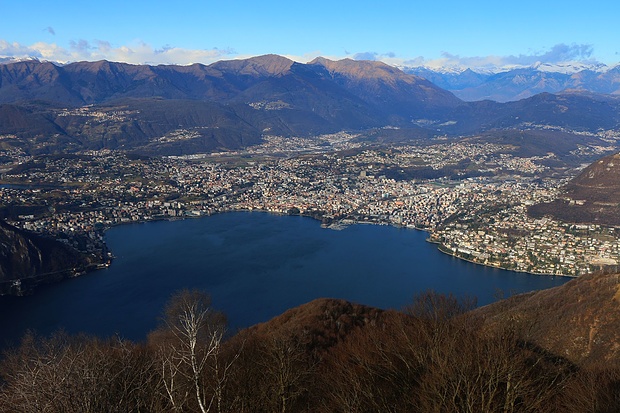 Aussicht von der Aussichtsplattforn der Sighignola auf den Lago di Lugano (271m). Am Horizont hoch über Lugano (334m) sind die Gipfel des Monte Gradiccioli (1936m) und des Monte Tamaro (1961,5m). © Sputnik
---
Reports (46)
---

Ticino Totale
Immer auf der Suche nach Sonne und warmen Temperaturen, verschlägt es uns im Frühling oft in den Süden. Heute stand ein totaler Tessiner Tag auf dem Programm. Früh aus den Federn und ab durch die Röhre nach Lugano. Gleich noch bei unserem Lieblingsrestaurant im Tessin ein Platz für am Abend reserviert, und los gehts mit...
Published by 13 April 2019, 13h40 (Photos:18)

Collina d'Oro e Laghetto di Muzzano
Pur con ancora tanta tristezza nel cuore per quanto di tristemente accaduto solo due domeniche fa oggi dopo una ventina di giorni di stop riprendo a camminare, del resto questo è forse il modo migliore per ricordareAndrea! continuando a fare quello che anche lui tanto amava ! A gennaio mentre tornavo dal Monte San Salvatore...
Published by 19 February 2019, 07h09 (Photos:40 | Comments:11 | Geodata:1)

Monte Brè, Monte Boglia, Gandria
Already in January, I had planned a hike onto Monte Boglia via the southwest ridge (or "Igor's secret ridge", as the Italian Hikrs call it). My backpack was already packed, but I fell ill overnight and had to cancel the trip. One month later, there is another chance to escape the bad weather in the north and enjoy some sunshine in...
Published by 13 February 2018, 21h40 (Photos:42 | Comments:4 | Geodata:1)
Published by 24 December 2017, 17h59 (Photos:1 | Comments:6)

Monte Boglia 1516m segret way
E' da un po' di tempo che sono fossilizzato,un po' di impegni mi hanno fatto fare un pit stop,allora oggi decido che ho bisogno di una bella camminata,vado al voglia dalla cresta segreta come la chiamo io.... Bellissimo ci voleva ! Ho fatto delle belle pause e in cima mi sono fermato un bel po' bellissima giornata !
Published by 19 November 2017, 20h18 (Photos:66 | Comments:8 | Geodata:1)

Monte San Salvatore 912m
Ich weiss nicht mehr wie oft ich schon auf dem San Salvatore war. Letzmals hier. Heute wollte ich das warme Herbstwetter im Tessin für einen weiteren Ausflug auf diesen einfachen Gipfel nutzen. War ich bis anhin nur in den Wintermonaten wenn der Bahnbetrieb eingestellt ist dort oben, herrschte heute ein reges Kommen und Gehen....
Published by 15 October 2017, 08h44 (Photos:15)

Monte Boglia 1516m
Marcia é in Brasile,Moreno lavora,di stare a casa a rompermi le pannocchie non ne ho voglia,di andare fuori dal sopraceneri lo escludo,a Lugano continua a piovere e fa anche freddo chissà in alto ticino,meglio non rischiare. Quindi scelgo il mio amato Boglia da casa mia,la pioggia non ha dato tregua tutto il giorno,in cima al...
Published by 11 September 2017, 18h24 (Photos:55 | Comments:6 | Geodata:1)
Sottoceneri

T3

D

22 Jul 17

San Salvatore da casa e ferrata
Mi son sempre chiesto da un po' di mesi,se al San ci fosse un sentiero torent ? Perché già l'altra volta scendendo ho notato un sentiero che si stacca dal sentiero normale marcato in blu....forse il grande gbal ne sa qualcosa ? Mi piacerebbe provare a vedere dove porta questo sentiero....
Published by 24 July 2017, 18h19 (Photos:30 | Comments:6)
Sottoceneri

T2

WT2

4 Mar 17

Boglia Round
Pubblico qui 4 salite al Boglia 3 da casa mia e una da brè con le ciaspole. Boglia Round One: 21 Gennaio 2017 da casa mia 1350m dislivello 22.4km Partito da casa sino a brè e poi alla fontana preso direzione Alpe Bolla,dove prima del traverso che conduce all'alpe bolla ho preso il sentiero che sale verso la cresta Est...
Published by 4 March 2017, 19h48 (Photos:68 | Comments:12)
Sottoceneri

T3

D

26 Feb 17

San Salvatore
Tornato da oltre gottardo mi resta solo il pomeriggio di domenica libero,vado dal mio maestro a trovarlo direttamente da casa.....era un po' che non salivo dalla ferrata sempre bello,ciao a tücc... Km totali :8
Published by 27 February 2017, 18h47 (Photos:46 | Comments:8)