Le Chiesso 2200 m
7216 ft.
---
Hut in

18 hike reports

, 2 photo(s). Last visited :

7 Jul 19


Geo-Tags: CH-VS
Photos (2)
---
By Publication date · Last favs · By Popularity · Last Comment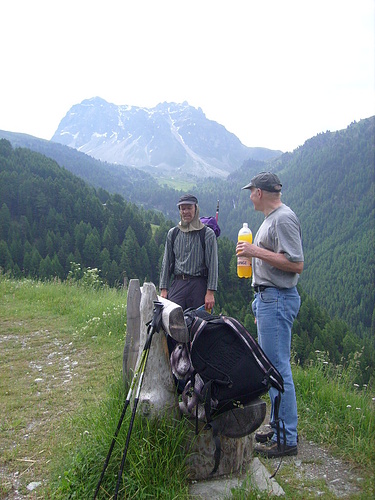 Zwei meiner Bergfreunde Kalle und Peter und das Massiv des Le Toûno, links der Gipfel. Dir Route führt rechts unter dem großen Geröllfeld zum Lac du Toûno hinter dem Massiv © alpensucht
---
Reports (18)
---

Von Tignousa (2186 m) zum Hotel Weisshorn (2337 m)
Nach zwei schönen Wanderungen in der Umgebung von Luzern zog es mich wieder einmal ins Wallis. Schon vor einiger Zeit hatte ich eine Wanderung vom Val d´Annivers ins Mattertal geplant. Nach der Anreise nach St. Luc fuhr ich am späten Nachmittag mit der Standseilbahn nach Tignousa (2186 m) hinauf von wo ich meine kurze...
Published by 25 July 2019, 15h40 (Photos:12)
Mittelwallis

T1

WT3

5 Apr 19

Tsa du Touno - Ziel L'Omen Roso - zuviel Neuschnee
Tignousa – Tsa du Touno – Bella Vouarda – Col de la Forcletta – Furggilti – Tsahelett – Chalet Blanc – St-Luc   Ich beginne an der Bergstation Tignousa. Der Winterwanderweg zum Hotel Weisshorn ist spurlos und unpräpariert. Kurz nach dem Chalet Blanc biege ich zur Tsa du Touno ab. Viel Neuschnee, sehr...
Published by 6 April 2019, 13h04 (Photos:3 | Geodata:1)
| | | |
| --- | --- | --- |
| Mittelwallis | PD+ | 7 Apr 18 |

Rundtour im Turtmanngebiet: Omen Roso (3030m), Wyssgrat (2956m) und Turtmannspitze (3081)
Die Wettervorhersage und der Lawinenbericht sind gute Omen - daher laufen wir um halb Sieben schnurstracks in Richtung L'Omen Roso. Bei der Bella Vouarda fellen wir kurz ab und steigen dann zum Gipfel auf. Obwohl wir sie nirgends beschrieben finden, scheint uns die Nordabfahrt zu attraktiv um es nicht zu versuchen. Und...
Published by 13 January 2019, 14h21 (Photos:6 | Comments:2 | Geodata:1)
| | | |
| --- | --- | --- |
| Mittelwallis | PD+ | 23 Feb 18 |

Turtmannspitze (3080m) - das Mysterium der Geduld...
"Dort ist ein Mann" steht in großen Lettern auf dem stillgelegten Flugfeld bei Turtmann. Schon einige Male habe ich diesen Schriftzug bei Fahrten ins Turtmanntal oder ins Gebiet von Unterbäch gesehen, verstanden habe ich ihn auch unter Berücksichtigung der möglichen französischen Übersetzung noch nicht...ein Mysterium,...
Published by 10 March 2018, 18h00 (Photos:15 | Comments:2)

Le Toûno
"Wintereinbruch" and the definite end of the alpine hiking season? I wasn't having any of that. With less snow in the Valais, I even set my sights on an easy three-thousander: Le Toûno (3018m). With a heavy rucksack prepared for all eventualities (ice axe, crampons, emergency shelter...) I arrived in Saint-Luc early on...
Published by 28 October 2014, 19h36 (Photos:28)

Südföhn am Le Toûno - 3018 m.
... oder vom Winde (Sturm)verweht. Die Wetterprognosen sagten auch für den heutigen Tag Südföhn voraus, nur waren die Wolken heute weiter östlich im Oberwallis als an den Tagen zuvor, weiter nach Westen sollte es schöner sein. Also fuhr ich aus dem Mattertal zwei Täler weiter westlich ins Val d`Annivers. Zum Ende meines...
Published by 10 December 2014, 22h10 (Photos:66 | Comments:7 | Geodata:1)
| | | |
| --- | --- | --- |
| Mittelwallis | T2 | 20 Aug 14 |

Sierre-Zinal [skyrunning]
La Sierre-Zinal è una skyrace di 31 km e 2200 m di dislivello positivo, a cui partecipano atleti di fama mondiale. Quest'anno l'ha vinta, per la terza volta, un certo Kilian Jornet..! Non sono ancora pronto per farla, in gara.. non so se il tracciato fa per me.. ma mi piacerebbe provarla, da "privato". Così, oggi,...
Published by 22 December 2014, 18h08 (Photos:4 | Comments:7 | Geodata:1)

Le Boudri und Pointe de Tourtemagne
Die Tourenidee für heute von Kollege poudrieres ist überzeugend: Auf der Pointe de Tourtemagne war ich noch nie und nachdem der Skibetrieb quasi überall eingestellt ist, ist auch im Val d'Anniviers die herrliche Ruhe eingekehrt, für die wir die Zwischensaison so schätzen. Also wird mehr als einen Monat nach der letzten...
Published by 4 May 2014, 18h05 (Photos:16 | Comments:3)
Mittelwallis

WT5

PD+

4 May 14

Pointe de Tourtemagne oder rund um den Toûno
Pointe de Tourtemagne (3080m). Nachdem Eveline von erfreulichen Tourenbedingungen am 1.Mai berichtet hatte, schienen uns die Bedingungen am Sonntag wie geschaffen für eine Tour im Val d'Anniviers. Klare Nacht und leichte Bise sorgten für einen fast mühelosen Aufstieg auf einen Aussichtsgipfel zwischen Val d'Annivers und...
Published by 6 May 2014, 20h51 (Photos:36)
| | | |
| --- | --- | --- |
| Mittelwallis | T3 | 21 Aug 13 |

4. Etappe vom Hotel Weisshorn zur Capanna Bella Tola
Auf einen ruhigen Schlaf kann man im Hotel Weisshorn nicht hoffen. Die alte Bausubstanz sorgt dafür, dass man jeden Schritt hört und leider auch die Gespräche im Nebenzimmer. Die sanitären Einrichtungen könnten besser sein. Dass nicht benötigte Gepäck haben wir im Hotel gelassen, denn nach der Besteigung des Toûno sind...
Published by 24 August 2013, 23h14 (Photos:65)