Horen 1496 m
4907 ft.
---
Hut in

4 hike reports

, 1 photo(s). Last visited :

3 Aug 19
Photos (1)
---
By Publication date · Last favs · By Popularity · Last Comment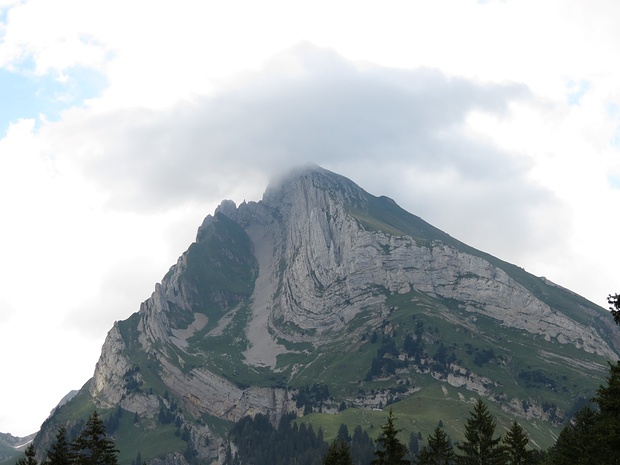 Dieses Bild habe ich auf der Tour Jöchli und Moor via Schilt, Altmann aufgenommen und nachträglich eingefügt. Gut zu erkennen sind die Hütte bei Horen (im unteren Bereich des Bildes) und die Passage unter der Baumgruppe, die in die Vrenenchelen führt. © carpintero
---
Reports (4)
---

Vrenenchelen "Znüniplättli" - Ostwandrinne - Wildhuser Schafberg
Uups, da war doch was? In dieser Saison darf ich feststellen, dass vor jedem Tourstart etwas fehlt...Ach, diesmal sind es die Bergschuhe. Macht nichts, das braucht es auch nicht für eine T6-Tour... Wildhaus - Oberstofel - Oberhore, irgendwann verschwindet die Wegspur. Nun hält man weglos nach Heuberg und quert auf Trittspuren...
Published by 23 May 2020, 10h48 (Photos:16)
St.Gallen

T6-

II

15 Aug 13

Wildhauser Schafberg 2373m
Durch die Vrenenchelen und die Ostwandrinne auf den Schafberg Nachdem nun meine neuen Lernenden gut in die berufliche Grundbildung gestartet sind konnte ich mir heute wieder mal eine Tour gönnen. Heute habe ich eine alte Pendenz erledigt. Denn der Wildhauser Schafberg war bereits eines meiner Gipfelziele als ich vor 7 Jahren...
Published by 17 August 2013, 12h26 (Photos:67 | Comments:2)
St.Gallen

T6-

II

2 Aug 13

Wildhuser Schafberg via Vrenenchelen und Ostwandrinne
Ich spare mir den Aufstieg von 270 m und nehme die solarbetriebene Seilbahn nach Gamplüt. Ich verlasse die Fahrstrasse kurz nach Unter Stofel, vorbei an Ober Stofel und steige wenig später durch die Kuhweide Richtung Horen. Der auf der Karte eingezeichnete Weg nach Horen kann ich im Gelände nicht ausmachen. Für den Aufstieg...
Published by 4 August 2013, 22h59 (Photos:32 | Comments:1 | Geodata:1)
St.Gallen

T5

II

12 Sep 07

Wildhuser Schafberg via Vrenenchelen and East Groove
If you've been up on the Wildhuser Schafberg on a clear sunny day you probably know how nice the view is up there. Here is a report and some pictures of such a clear sunny "fall day" (I guess it's still supposed to be summer…). I chose the not very common way up the Vrenenchelen and then the east grove up to the...
Published by 14 September 2007, 08h28 (Photos:23)