Hinter Saggberg / Sackberg 1051 m
3447 ft.
---
Other in

57 hike reports

, 10 photo(s). Last visited :

14 Nov 20


Geo-Tags: CH-GL
Photos (10)
---
By Publication date · Last favs · By Popularity · Last Comment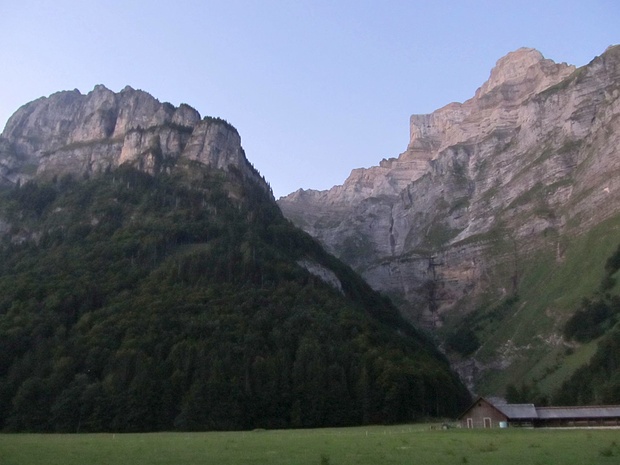 Der Tag erwacht auf Hinter Saggberg. Links über dem First des Alpgebäudes ist der Einstieg in die wbw Route. © alpstein
---
Reports (57)
---

Hike + Bike: Überschreitung des Vorder Glärnischs (2328 m)
Zum Jubiläum des 100. Tourenberichts sollte es etwas Besonderes sein. Den Aufstieg auf den Vorder Glärnisch von Süden hatte ich schon vor zwei Wochen ins Auge gefasst. Dann hatte es am Wochenende aber entgegen der Vorhersage geregnet und die Webcams der Umgebung zeigten ziemlich viel Schnee an. Umso erfreuter war ich dann...
Published by 15 November 2020, 13h12 (Photos:14 | Geodata:2)

Vorder Glärnisch, Wiggis und Schilt(¾)
Diese Tour habe ich mir lange für diesen einen Tag aufgespart an dem die Verhältnisse keine technisch anspruchsvollere Touren zulassen. Das ist meine erste Tour mit "leichtem" Gepäck, ich achte sonst kaum auf das Gewicht, mal eine ganz andere Art von "Wanderung". Ich habe bewusst auf Energie-Gels etc. verzichtet. Für meine...
Published by 2 October 2020, 19h40 (Photos:16 | Comments:2)
Glarus

T6

D

III

AD

18 Mar 20

Vrenelisgärtli via Chalttäli
"Wegen COVID-19 keine Wanderungen", da bleibt einem nichts anderes übrig, als richtig steil zu gehen, so dass es nicht mehr als Wanderung gilt. Seit letztem Jahr liebäugle ich mit dem Chalttäli, jedoch haben die Verhältnisse und Wetter für eine Winterbesteigung nie richtig stimmen wollen. Mein Tourenpartner hat sich dann...
Published by 19 March 2020, 17h07 (Photos:25 | Comments:16)

Vorder Glärnisch (2328 m) - hike from Hinter Sackberg
Nice hike to Vorder Glärnisch (2328 m) in perfect weather. Start of the hike in Hinter Saggberg at 8:45 AM, following the white-blue-white trail. It becomes pretty steep quickly, and basically it remains steep until you get to the summit. Exposed sections are safe guarded with chains. After 2 h 15 min with a good pace I reached...
Published by 14 September 2019, 21h25 (Photos:36 | Geodata:1)

Durch die Vorder Glärnisch Nordostwand
Wie schon öfters liegt dieses Abenteuer direkt vor meiner Haustüre, schon oft habe ich dort hinauf geschaut und einen Durchschlupf gesucht. Mit dieser Tour habe ich erneut eine unbeschriebene Route gefunden. Wuestruss - Alpeli (T5): Mein Auto stelle ich beim Brunnenstübli ab, kurz vor dem Fahrverbot. Als ich vor 2 Wochen...
Published by 19 August 2019, 19h57 (Photos:39 | Comments:20)

Über den Nordostgrat zum Vrenelisgärtli
"Kein Nachweis von Begehungen in den letzten Jahren" bedeutet oftmals Abenteuer pur und so war es diesesmal auch. Schon seit einiger Zeit liebäugle ich mit dieser Route, bei der letztjährigen Begehung des Fryfads sind mir die Felsverfaltungen aufgefallen und im Kopf geblieben. Saggberg - Schlattalp (T3) Das Auto auf dem...
Published by 23 July 2019, 13h13 (Photos:34 | Comments:9)

Vorderglärnisch Westflanke direkt und Fryfad
Nach meinen letzten Touren fühle ich mich bereit für den Fryfad, nicht wegen der Ausdauer oder Können sondern wegen der Psyche. Dabei hänge ich noch ein anderes Projekt vorn an, das ich in keinem Führer und auch nicht im Internet gefunden habe. Justus hat hier eine grosse Vorleistung erbracht, ohne diese hätte ich mich wohl...
Published by 10 September 2018, 12h38 (Photos:65 | Comments:5)
Glarus

T6

AD

III

4 Sep 18

Auf Umwegen zum Bächistock
Eigentlich sollte es eine Roundtour werden, jedoch spielt mir das Wetter einen Streich. Gestartet beim Hintersaggberg, Auto beim Bach abgestellt wo der Weg Richtung Vorderschlattalpli beginnt. Hintersaggberg-Vorderschlattalpli (T3) Ein normaler T3 Weg führt nicht immer eindeutig bis zur Alp, auf dem Weg trifft man immer...
Published by 6 September 2018, 09h39 (Photos:34 | Comments:5)

Vorder Glärnisch (2328m), Abstieg via Mittelstafel
Howdy! Einfach herrlich, der Vorder Glärnisch! Und alle, die schon oben waren, wissen um die abwechslungsreiche Bergwanderung und die absolut beeindruckende Aussicht.Umso schöner, dass ich mir dafür einen perfekten Tag aussuchen konnte. Als T4-Referenztour dazu eine gute Gelegenheit, die eigene T-Skala zu eichen. Klar ist,...
Published by 15 August 2018, 21h06 (Photos:40 | Comments:9)

On the edge - Sporenegg (2116 m)
In der gewaltigen Glärnisch-Nordwand hat es drei kleinere quer-verlaufende Grate: Wiggisegg, Darliegg und Sporenegg. Alle drei sind, um das zurückhaltend auszudrücken, nicht ausgesprochen besucherfreundlich. Gestartet bin ich auf Hinter Sagg (Sackberg). Normalerweise gehe ich ausreichend vorbereitet auf Wanderungen. Doch...
Published by 9 August 2018, 16h28 (Photos:21 | Comments:5)