Heidmanegg 1862 m
6107 ft.
---
Other in

10 hike reports

, 7 photo(s). Last visited :

2 Aug 19


Geo-Tags: CH-UR
Photos (7)
---
By Publication date · Last favs · By Popularity · Last Comment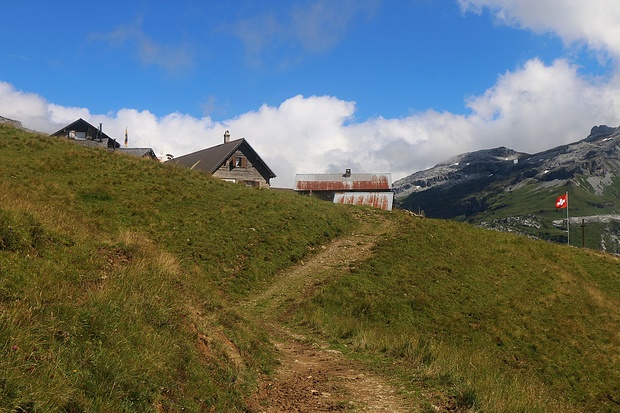 Auf dem Rückweg kaufte ich auf der Alp Heidmanegg (1862m) herrlichen Schafskäse. Auch der Hartkäse aus Kuhmilch ist zu empfehlen. © Sputnik
---
Reports (10)
---

Schächentaler Höhenweg
Eine organisierte Reise führte uns durch die folgenden Täler bzw. Höhenwege: Schächentaler Höhenweg Maderaner Höhenweg Etzlital Pörtlilücke Fellital Ich beschreibe hier unseren Wegverlauf. Natürlich können die Höhenwege auch als Tagestour unternommen werden. Wir wollten jedoch 6 Wandertage ohne grossen...
Published by 18 August 2019, 17h23 (Photos:6 | Geodata:2)

Bike: Vom Klausen via Wildheuerpfad zur Tellskapelle
Wild geheut mit dem Bike! Glaub man der Singetrail Map "Uri", so gäbe es für Biker tatsächlich eine Möglichkeit, vom Hüttenboden 1565m via Wildheuerpfad nach Franzen 1454m bzw. nach Ober Axen 981m zu gelangen. Spricht man mit anderen Bikern über seine Wildheuer-Pläne, so winken gleich alle ab - nicht etwa, weil diese...
Published by 17 October 2016, 19h56 (Photos:6 | Comments:3 | Geodata:1)

Schächentaler Windgällen
With a sprained ankle, the wise decision would be to let it rest and recover all weekend. But with an opportunity to climb the spectacular Schächentaler Windgällen in perfect autumn conditions, I was never going to stay down in the fog in Zürich. So I told my ankle: "you better get well by Saturday, because I'm going up whether...
Published by 12 October 2015, 21h43 (Photos:58 | Geodata:1)

Über den Glatten ins Schächental
Karstlandschaften sind immer etwas besonderes und ich bin auch immer wieder fasziniert, wie schnell man hier die Orientierung verlieren kann. Aber von der Glattalp bis zum Firner Loch sind die blau-weissen Markierungen so üppig vorhanden, dass zumindest bei schönem Wetter die Wegfindung kein Problem darstellt. Sobald man...
Published by 24 August 2015, 21h49 (Photos:17)

Schächental-Bike (& Hike)
Die Schächental-Bike-Route gehört zu den schönsten, weil aussichtsreichsten Parcours. Beim heutigen Prachtswetter war dieses Erlebnis natürlich kaum zu toppen. Viele Leute hatte es unterwegs, sowohl Wanderer wie auch Biker. Man könnte die ganze Schächental-Runde machen. Hinauffahren auf der Klausenpass-Strasse bis Balm...
Published by 18 October 2014, 21h12 (Photos:14)

Läged Windgällen (fast) mit Schnee
Nach unseren Kraxeltouren im Sommerurlaub sollte es nun mal wieder eine tolle Tour mit Felskontakt in den näher gelegenen Bergen werden. Leider hatte es in den Tagen zuvor bis in tiefere Regionen geschneit, also musste ein Aufstieg mit südseitiger Ausrichtung her. Da mir den ganzen Sommer über schon die Tour auf die...
Published by 2 December 2013, 13h06 (Photos:24)

Glatten - Von der Glattalphütte zum Berghaus Ratzi
Optimales Wetter für die geplante Glatten-Überschreitung! Die Tour beginnt mit einem kurzen Abstieg von der Glattalphütte zum Talboden, wo der weiß-blau-weiß markierte Weg zum Firner Loch anfängt. Irgendwie bin ich noch unkonzentriert, jedenfalls schaffe ich es, im Bereich des Schafbodens trotz zahlreicher Markierungskleckse...
Published by 14 December 2019, 09h41 (Photos:16)

Schächentaler Höhenweg
Meine Frau organisiert die diesjährige Turnfahrt ihrer Frauenriege. Mit unseren Freunden machten wir uns zur Rekognoszierung dieser Wanderung auf. Mit dem Postauto sind wir auf den Klausenpass gefahren bis zur Haltestelle Balm beim Hotel Klausenpasshöhe. Nach einer Einkehr im Gasthaus machten wir uns bei schönstem Wetter...
Published by 3 July 2012, 22h08 (Photos:37)

Noch immer kein Winter in Sicht: Schächentaler Windgällen bei fast sommerlichen Temperaturen
Die Initialzündung für meine heutige Tour habe ich bei der "Konkurrenz" abgeguckt. Nicht dass die Schächentaler Windgällen hier auf hikr nicht genug Beachtung kriegen würden, aber die aktuelle Beschreibung einer Besteigung zeigte mir, dass die Bedingungen am Berg momentan erstklassig sind. Die detaillierten...
Published by 20 November 2011, 14h40 (Photos:20 | Comments:2 | Geodata:1)
Schächentaler Höhenweg; von Biel zur Balm
Nach einem Höhenweg im Lauterbrunner Tal folgt - diesmal in meiner ehemaligen "Heimat" - ein weiterer Schonungstag; auch wenn er sich dann längen- und höhenmässig doch von etwas grösserem Kaliber präsentiert ... Heute steht erst einmal die rechte Talseite des Schächentals auf dem Programm; im Verlauf der Wanderung...
Published by 23 September 2010, 21h17 (Photos:33 | Comments:2)