Haute Combe 2039 m
6688 ft.
---
Peak in

6 hike reports

, 28 photo(s). Last visited :

16 Nov 19


Geo-Tags: CH-VD, Gastlosenkette
Photos (28)
---
By Publication date · Last favs · By Popularity · Last Comment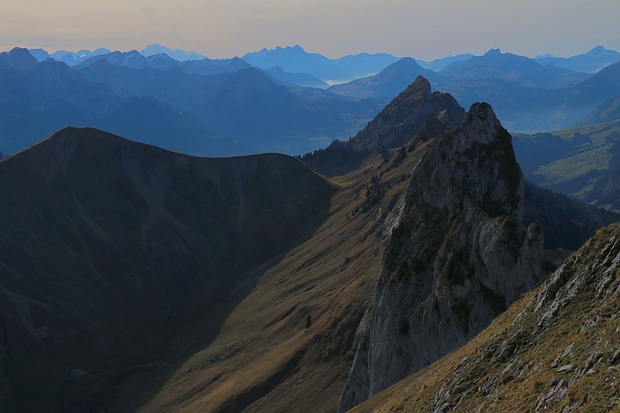 Rückblick nach den Quergang durch die Südflanke des Dent de Savigny zum Vanil de la Gobette, dem Hauptgipfel der Les Pucelles (2109m). Rechts darunter befindet sich die hier nicht sichtbare Porte de Savigny wo die Südflanke betreten wird. Hinter dem Vanil de la Gobette steht der Dent de Combette (2082m), links im Vordergrund ist die Haute Combe (2082m). © Sputnik
---
Reports (6)
---

Aus dem Vallée du Gros Mont auf die Haute Combe
Haute Combe (2038m). Die Haute Combe gehört zu den, den Gastlosen vorgelagerten Skitourenbergen, lässt sich aber auch von Pra Jean aus über Gros Mont und den Pass Pertet à Bovet erreichen. Die Hochebene Gros Mont wird von den Zinnen der Gastlosen und der Vanil Noir - Kette gerahmt. Jenseits des Passes Pertet à Bovet...
Published by 16 November 2019, 17h45 (Photos:38 | Comments:1)
| | | |
| --- | --- | --- |
| Waadtländer Alpen | T4+ | 16 Sep 18 |

Von La Manche auf die Corne Aubert.
Haute Combe (2039m) - Corne Aubert (2038m) - Dent de Combette (2082m) - Rochers des Rayes (2026m). Die Gastlosenkette ist etwas für Gipfelsammler : Auf einer Linie von 12km zwischen den Rochers des Rayes und der Gratflue zählt Maurice Brandt 36 Hauptgipfel, mit den Nebengipfeln zusammen kommt er auf 61. Aussicht von...
Published by 17 September 2018, 21h04 (Photos:52)

Gastlosen Süd
Nach meinem letztjährigen Besuch des Vanil Noir war ich geradezu begeistert von der Region. So stand sogleich fest, dass ich die Freiburger Voralpen bei Gelegenheit ausgiebiger erkunden würde. Und nachdem uns mein lieber Bergfreund Zolliker seine Ferienwohnung im Saanenland grosszügig für eine Woche überlassen hat, gibt es...
Published by 22 September 2017, 18h15 (Photos:30 | Geodata:1)
| | | |
| --- | --- | --- |
| Waadtländer Alpen | WT4 | 6 Feb 16 |

Auf die Haute Combe und über die Rodomonts
Haute Combe (2039m) - Les Rodomonts (1878m). Die Haute Combe ist eigentlich ein recht beliebter Wintergipfel im Vorfeld der Gastlosen - durch den SW-Hang ist die Tour allerdings nur bedingt schneesicher. So verwundert es dann schon, dass man bei guten Verhältnissen (Wetter - Schnee - Lawinen) fast allein unterwegs ist....
Published by 6 February 2016, 22h59 (Photos:40 | Geodata:2)
Waadtländer Alpen

T4+

I

7 Nov 15

Dent de Combette
I've been meaning to discover more of the Freiburg Alps for quite a while. The exhaustive SAC Alpinwandern/Gipfelziele Freiburg guide book offers many great and often challenging ideas. Ironically, the choice fell on a route that's pretty much entire just across the border in canton Vaud. As seems to be the case with many...
Published by 9 November 2015, 22h25 (Photos:74 | Comments:8 | Geodata:1)
| | | |
| --- | --- | --- |
| Waadtländer Alpen | T5- | 4 May 11 |

Schon wieder bei Fenek und Omega3 abgekupfert - Dent de Combette & Co
Für die heutige Tour habe ich mich schon wieder bei Fenek und Omega3 "bedient" (Klick und Klack). Sie haben letzte Woche zusammen eine Tour auf die Dent de Combette (inklusive Zugemüse und Auslaufen nach Saanen) gemacht, welche mich sehr angesprochen hat. Geplant hatte ich die Kombination von Zaza's Südaufstieg zum Rochers...
Published by 5 May 2011, 18h15 (Photos:15 | Geodata:1)