Hanegghüttli 2022 m
6632 ft.
---
Hut in

37 hike reports

, 3 photo(s). Last visited :

4 Mar 20


Geo-Tags: CH-GL, Chärpfgruppe
Photos (3)
---
By Publication date · Last favs · By Popularity · Last Comment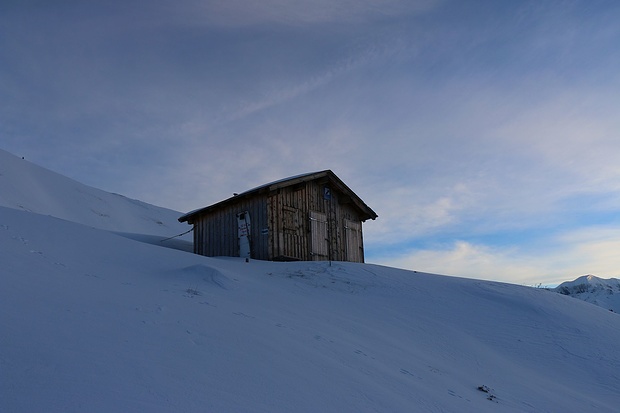 Nach knapp einer Stund seit meinem Aufbruch auf der Skihütte Obererbs (1700m) errreichte ich nach tiefem Spuren das Hanegghüttli (2022m) wo ich kurz rastete. © Sputnik
---
Reports (37)
---

Chli Chärpf - Januar im März
Im Januar gab es gefühlt 3 Wochen keinen Niederschlag und nur strahlenden Sonnenschein, im Februar stürmte es irgendwie durchgehend und jetzt im März entdeckt selbiger seinen inneren Januar und präsentiert sich mit Großschneefällen. Ein ideales Ziel für solche Fälle - der Chli Chärpf. Von Unter Erbs folgten wir kurz...
Published by 21 March 2020, 18h23 (Photos:15)

Kleiner Kärpf (ÖV)
Anreise mit Bus nach Elm Steinibach Aufstieg Auf der Strasse ein paar Minuten Ski tragen bis ca. 1230 müM Danach auf der normalen Skitourenroute via Obererbs zum Gipfel Abfahrt via Bischofalp - Bischofbach Genügend Schnee vorhanden, Aufstiegsspur teilweise eisig, alle möglichen Schneearten angetroffen
Published by 24 January 2020, 08h33 (Photos:12)

Gr. Kärpf (ÖV)
Anreise / Rückreise Mit ÖV nach Skihütte Obererbs (an: 9.46 Uhr, ab 16.15 Uhr) Route Skihütte Obererbs - Pt. 2022 - Am Rotstock vorbei - dann NW via Rampe - retour Alles trocken, kein Schneekontakt
Published by 12 August 2019, 09h21 (Photos:27)

Chli Chärpf
Aufstieg und Abfahrt auf Normalroute via Obererbs - Rotstock - Chärpfscharte Die Skis können gleich beim Parkplatz angezogen werden. Generell ist noch viel Schnee vorhanden. Beste Frühlings-Skitourenbedingungen. Tolle Abfahrt in schönstem Sulz.
Published by 29 March 2019, 09h09 (Photos:11)

Viel Schnee, viel Volk - Chli Chärpf (2699 m)
Nachdem ich in diesem Winter schon einige Male auf dem Schilt oder dem Schwarzstöckli war, sollte es heute einmal etwas anderes sein. Mein intellektueller Höhenflug führte mich zum Kärpf - und geschätzte Tausend andere Tourengänger hatten die gleiche Idee. Etwa um neun Uhr bin ich in Untererbs gestartet....
Published by 14 February 2019, 10h36 (Photos:5 | Comments:4)

Chli Chärpf 2700m
Chli Chärpf 2700m - auch heute wieder top! Zugegeben, meine Erwartungen für die heutige Tour waren tief, zumal der Chli Chärpf vergangene Woche wohl von Hunderten von Skienthusiasisten besucht wurde. Die gemessenen Neuschneemengen der letzten beiden Tage liessen ebenfalls nicht gerade grosse Hoffnung auf unverspurte Hänge...
Published by 18 December 2018, 18h07 (Photos:15 | Geodata:1)

Statt Kärpf Nebel und Gewitter
Gemäss Prognose soll das Wetter trotz labiler Luftmassen bis in den späten Nachmittag halten. So mache ich mich auf, wieder einmal den Kärpf (P. 2792) zu besteigen. Wie schon öfter fahre ich mit dem Bike ab P. 1261 / Unter Erbs bis zur Skihütte Ober Erbs. Ab hier folge ich heute für einmal konsequent dem blau-weiss...
Published by 5 July 2018, 09h08 (Photos:7)

Chli Chärpf, descent via Bischofalp
After last week's rain and mild temperatures, it was clear that we would need to go fairly high to find decent snow. Our choice fell on Chli Chärpf. Since we were thinking of taking on of the alternative decent routes (Filetsch or Bisschofalp) we park the car at the layby slightly below P. 1261 (Büelhütte), rather than on the...
Published by 28 January 2018, 16h28 (Photos:54 | Comments:2)

Chli Chärpf (ÖV)
Anreise Mit ÖV nach Elm Steinibach (an 8.07 Uhr) Rückreise Ab Elm Sportbahnen (ab 14.55 Uhr) Aufstieg (8.10 - 11.05 Uhr) und Abfahrt über Normalroute, Ski tragen von Elm Steinibach bis Pt 1261, ab Alp Obererbs erstaunlich viel Schnee vorhanden, Bedingungen wie im Frühling
Published by 23 November 2017, 08h26 (Photos:15)

Chli Chärpf, von Obererbs nach Ämpächli
Beim Wegweiser neben der Skihütte Obererbs steht eine Tafel, die vor Steinschlag im Kärpfgebiet warnt. Die Nordseite des Grossen Kärpf ist rot als Sperrgebiet eingezeichnet, das Gebiet direkt an der NO-Seite und bis zur Kärpfscharte gelb, wo erhöhte Vorsicht nötig ist. Die blauweisse Route auf den Chli Chärpf streift die...
Published by 27 August 2017, 14h00 (Photos:10 | Comments:2)