Hönigspitz 2695 m
8840 ft.
---
Peak in

5 hike reports

, 18 photo(s). Last visited :

12 Oct 18


Geo-Tags: I
Photos (18)
---
By Publication date · Last favs · By Popularity · Last Comment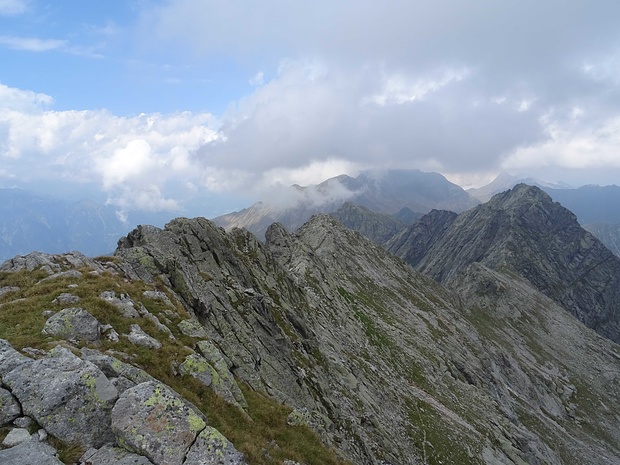 Der Plattenkamm verläuft nach Norden über Hinteren Plattinger, Kanzel, Videgger Plattenspitze und Schafkamm zum Hirzer. © DiAmanditi
---
Reports (5)
---
| | | |
| --- | --- | --- |
| Trentino-South Tirol | T4- | 12 Oct 18 |

Hirzer (2781 m) & Hönigspitz (2695 m)
Hirzer and Hönigspitz are two mountain peaks northeast of Meran. Marked trails go to both peaks, but the trail on the west ridge of Hönigspitz was not indicated on any signposts (or I did not see it). The hike to Hirzer has already been described a number of times here on hikr.org, but at least this is the first report in...
Published by 13 October 2018, 22h36 (Photos:29 | Geodata:1)
Trentino-South Tirol

T4

F

I

7 Oct 15

Gratrunde am Hirzer (2781 m)
Der Hirzer ist ein weiterer der 1000 Gipfel der Alpen des gleichnamigen Buchs von Ernst Höhne. Aufgrund des grossen Andrangs fährt die Seilbahn schon vor der halben Stunde. Oben angekommen spuckt uns die Gondel aus und ich nehme den Weg abwärts zur Hirzerhütte. Hier verlaufen sich die Leute. Ich nehme den Weg E5 Richtung...
Published by 10 October 2015, 22h12 (Photos:6)
| | | |
| --- | --- | --- |
| Trentino-South Tirol | T4 | 15 Sep 14 |

Hirzer und Hönigspitz im Dunst
Der Auftakt zu durchzogenen Südtirolferien machte eine nette Tour über die höchste Erhebung der durch Meran, Bozen und Brixen begrenzten Sarntaler Alpen. Ausgangspunkt war die Talstation der Verdins-Tall-Bahn in Verdins, oberhalb von Meran. Kurzfristig hatte ich mich entschlossen, von der Bergstation Tall noch 10min zur...
Published by 28 September 2014, 21h50 (Photos:10)
Trentino-South Tirol

T4

I

31 Oct 11

Hirzer / Punta Cervina (2781m) und Hönigspitze (2698m) - Im Spätherbst mit unerwartetem Biss
Der Hirzer ist ein weithin bekannter Gipfel, daher beschränke ich mich hier auf das, was bei meiner heutigen Tour "etwas anders als sonst" war - für den Fall, dass jemand in den nächsten TagenLust auf eine anregende Spätherbst-Tour in der Gegend von Meran/ imTrentino hat. Zügige Auffahrt mit der Hizerbahn nach Klammleben...
Published by 31 October 2011, 18h47 (Photos:6)
Trentino-South Tirol

T4-

I

2 Oct 10

Hirzer (2781 m) - Spätherbst und Frühwinter
Dieses Jahr kommt der Schnee früh und somit wird aus einermässig anspruchsvollenWanderung doch eine recht zünftige Bergtour. An der Bergstation Klammeben wandern wir zur Hirzerhütte und dort weiter auf dem Europäischen Fernwanderweg E5 zur Tallner Alm. Kalt und neblig präsentiert sich das Gebirg', aber es wird oben ja...
Published by 13 October 2010, 21h52 (Photos:34)