Höchnase 2194 m
7196 ft.
---
Peak in

23 hike reports

, 51 photo(s). Last visited :

25 Nov 18


Geo-Tags: CH-GL, Oberseegruppe
Photos (51)
---
By Publication date · Last favs · By Popularity · Last Comment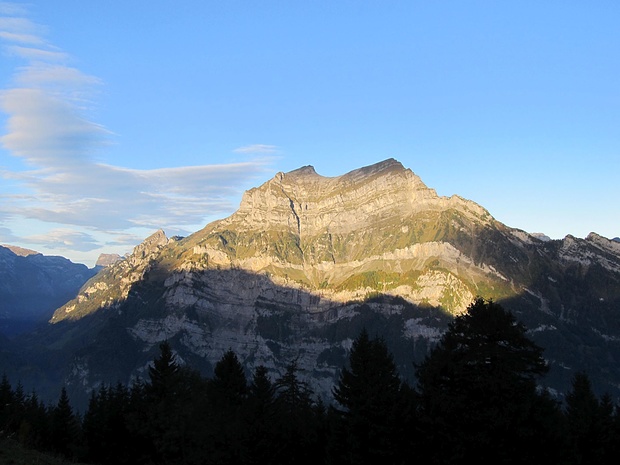 Auch Rautispitz und Wiggis in der Morgensonne. Immer wieder beeindruckend, wie sie 1800 m aus dem Talboden wachsen © alpstein
---
Reports (23)
---

Wiggis (2281 m) - hike from Klöntal via Pauliberg
Wiggis (2281 m) - hike from Klöntal via Pauliberg and Auerenalp Mittelstafel. Start of the hike at 7:45 AM. The temperature was around freezing. For the first hour I was in the shade, but after that it was sunny. The first half of the hike followed an unmarked but easily visible and very well maintained trail. The difficulty...
Published by 25 November 2018, 21h28 (Photos:29 | Geodata:1)

Rautispitz - Wiggis
Trailrun an einem grauen Herbstmorgen auf die Paradegipfel des Obersee-Tals, mit ein paar Abstechern Es ist mehr als 15 Jahre her, dass ich das letzte Mal über den Geisschappel-Weg zum Rautispitz gewandert bin - für die dominierende Position des Berges und die gute Erreichbarkeit eigentlich viel zu lange her. Diesmal machte...
Published by 7 October 2018, 12h49 (Photos:11)

Rautispitz NordOst Grat
Die Alpine Route zum Rautispitz via Nord/Ost-Grat habe ich schon mal unternommen. Nun wollte ich die Tour alleine also Freesolo unternehmen. Die Kletterstelle im 5a Bereich machte mir zwar etwas sorgen, aber mit guter Konzentration ging das gut. Start mit dem Bike von Näfels hoch zum Obersee. Ich ging zu Fuss von der Niedersee...
Published by 24 September 2018, 11h58 (Photos:16 | Comments:2 | Geodata:1)
Durchs Hindertäli auf den Wiggis
Schon öfters habe ich diesen Einschnitt südlich der Höchnase mit dem Feldstecher ausgekundschaftet. Heute konnte ich der Versuchung nicht wiederstehen und habe mich auf den abenteuerlichen Weg Richtung Wiggis gemacht. Zufahrt-Auerenalp-Trosegg Mit dem Fahrrad zum Auli ob Riedern, dort fängt der Wanderweg zum Wasserschloss...
Published by 15 July 2018, 19h31 (Photos:15 | Comments:7)

Rautispitz Trosweg + Wiggis Nordgrat
The Trosweg onto the Rautispitz saw a couple of Hikr ascents in 2015 after PStraub first wrote about it. Since then, things have gotten quiet again about this route. The Trosweg had stayed on my ToDo-list, though. When looking for a route not too far from Zürich and preferably shadowy for a hot summer day, this north-sided...
Published by 2 August 2017, 22h27 (Photos:58 | Comments:5 | Geodata:1)
Glarus

T6

III

F

19 Nov 15

Das Schnürli am Wiggis
Schon einmal ging ich diese Strecke. Aber der letzte Teil, das eigentliche Schnürli lies ich aus. Auch dieses mal wollte es nicht. Ich stieg schon wieder zu hoch. Aber der Reihe nach... Geplant ist mit dem Bike die Tour zu starten. Ein Platten am Reifen verzögerte meine Abfahrt. Das Bike mit Anhänger stellte ich in den Wald....
Published by 22 November 2015, 19h16 (Photos:18 | Geodata:2)

Rautspitz via Trosweg und Wiggis
Der Bericht Geniale Route - "Tros-Weg" am Rautispitz (2283 m) von PStraub inspirierte mich für diese Tour auf den Rautispitz. Der Ausdruck vom Bericht Rautispitz Nordwest (Tros) und Wiggis Nord von justus und vor allem der GPS-Track waren beim vorherrschenden Nebel hilfreich. Es ist anzumerken, dass die Route auf den...
Published by 18 October 2015, 17h51 (Photos:37 | Comments:4 | Geodata:1)

Rautispitz Nordwest (Tros) und Wiggis Nord
Die schönen Aussichtsberge Rautispitz und Wiggis sind auf hikr schon auf fast allen Routen beschrieben worden. Hier ein paar zusätzliche Eindrücke zur kürzlich von PStraub erstmals beschriebenen Nordwest (Trosweg) Route auf den Rautispitz. Ausserdem der logische Nordaufstieg auf den Wiggis. Details in den Photos. Etwas...
Published by 30 July 2015, 21h52 (Photos:55 | Comments:1 | Geodata:1)

Rauti - Wiggis und (so) weiter: Grosse Rautialp-Runde
Nachdem die Wärme dem Schnee doch recht schnell den Garaus gemacht hat, wollte ich einmal eine komplette Rautialp-Runde in Angriff nehmen.   Start war beim Obersee-Parkplatz, dann den Wald hinauf Richtung Grappli. Die Niederschläge der letzten Tage müssen recht ausgiebig gewesen sein: Der Weg rund um den Obersee...
Published by 21 September 2013, 19h24 (Photos:28 | Comments:1 | Geodata:1)

Zwischen Flugzeugen auf den Wiggis 2282m
An dem Wochenende an dem der Zigermeet im Glarnerland stattfindet ist es zumindest in Glarus Nord nicht weit her mit stiller Bergeinsamkeit. Doch hat man von Wiggis und Rautispitz einen Logenplatz für die Flugschau. Von Netstal dem Wanderweg nach bis Aueren. Dort auf dem im Spätsommer gut sichtbaren Pfad Richtung Täli. Durch...
Published by 16 December 2013, 21h27 (Photos:51 | Geodata:1)