Gross Sienen 1341 m
4398 ft.
---
Other in

7 hike reports

, 11 photo(s). Last visited :

27 Jun 19


Geo-Tags: CH-SZ
Photos (11)
---
By Publication date · Last favs · By Popularity · Last Comment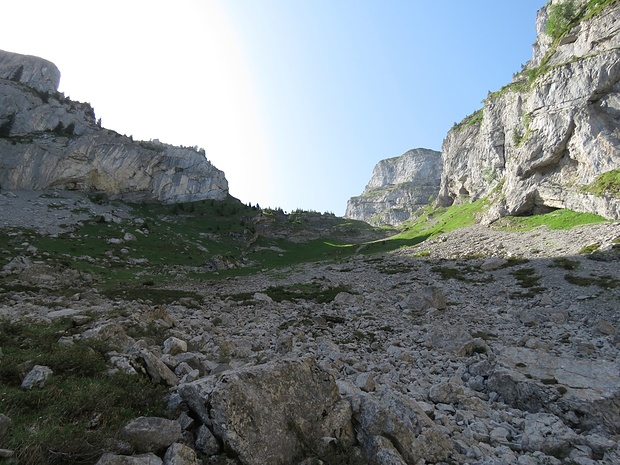 Zwischen den beiden natürlichen Barrieren befindet sich eine eindrückliche Geländekammer, in der wohl mehr Tiere als Menschen anzutreffen sind. © carpintero
---
Reports (7)
---

Diethelm via Gross Sienen
Den Bergwanderweg Richtung Fläschlipass verlasse ich, wie in anderen Berichten beschrieben, auf ca. 1100 m ü. M. (Bild). Auf der anderen Seite des Wisstannenbachs geht es nun steil durch den Wald hinauf (Bild). Sobald man den Wald hinter sich gelassen hat, geniesst man die eindrückliche Szenerie der Gross Sienen. Die untere,...
Published by 12 July 2019, 21h30 (Photos:16 | Geodata:1)

Wändlispitz & Diethelm - via Gross Sienen
Wändlispitz (1970 m) is a mountain peak which looks quite impressive, and it is not that easy to get up there. The routes across Gartenbeetli, Schäferweg, and SE ridge are all rated T6. Then there is the route via Gross Sienen (which is a T5) and that is the one I did today. Many thanks to Nobis for the report which gave me most...
Published by 14 June 2019, 22h05 (Photos:36 | Comments:2 | Geodata:1)

Versteckte Wege beim Fluebrig
Hoch via Chli Sienen über den direkten Nordgrat zum Vorgipfel vom Wyss Rössli mit Andi und Pädi. Abstieg via Gross Sienen auf der Suche nach neuen Abstiegen :-) Am Morgen um 09:00 Uhr starteten wir beim Ochsenboden Richtung Chalchboden hoch via Chli Sienen. Der Einstieg in die Rinne ist steil. Abseilstelle wäre vorhanden...
Published by 4 July 2018, 20h59 (Photos:40 | Geodata:1)
Schwyz

T4+

TD-

WI1

10 Mar 15

Wändlispitz via Gross Sienen und Gross Aubrig Nordwand
Hammer Tour. Ein schon länger Traum endlich erfüllt. Die Bedingungen hätten nicht besser sein können. Als kleiner Junge träumte ich davon die Westflanke vom Wändlispitz zu fahrende, die man sehr gut sehen kann wenn man nach Hoch-Ybrig fährt. Einen Versuch hatten wir schon mal unternommen. Aber leider nicht geklappt.Heute...
Published by 12 March 2015, 09h23 (Photos:32 | Comments:2 | Geodata:1)

Fluebrig - runter via Gross Sienen
Das Ziel an diesem herrlichem Frühlingswetter, wäre die Übersteigung vom Wändlispitz mit Abfahrt durch das Gartenbeetli gewesen. Wir haben uns anders und auch richtig um-entschieden. Der Fluebrig ist für mich ein schöner Berg. Schon als kleiner Junge bewunderte ich sehr viele mal den markanten Spitz vom Wändlispitz. Auch...
Published by 13 March 2014, 10h29 (Photos:28 | Geodata:1)

Fluebrig - Auf neuen Wegen
Wieder mal einen Besuch abstatten bei meinem Lieblingsberg. Sozusagen als mein vor-Geburtstagsgeschenk. Mit dem ersten Bus nach Ochsenboden und den Normalweg im Sumpfgebiet hoch zur Fläschlipass über mehr als sieben Brücken. Auf der Fluebrigalp zweigte ich nach links zum Fluebrig mit dem neuen Gipfelkreuz. Ab da immer dem...
Published by 1 September 2013, 09h17 (Photos:36 | Comments:3 | Geodata:1)

Fluebrig durch die Gross Sienen
Der Fluebrig ist ein Massiv zwischen Wägitaler See und dem Sihlsee und reicht bis fast auf 2100müM. Es besteht aus einer Reihe von Gipfeln, die mit schmalen Fels- und Grasgraten verbunden sind. Auf meiner Route bestiegen wir den Wändlispitz von Norden über die Gross Sienen. Nach der Besteigung des Diethelm führte der Abstieg...
Published by 2 July 2012, 14h39 (Photos:36 | Geodata:1)