Glatschiu dil Segnas - Lag P.2558m 2558 m
8390 ft.
---
Lake in

10 hike reports

, 3 photo(s). Last visited :

17 Oct 17


Geo-Tags: CH-GR
Photos (3)
---
By Publication date · Last favs · By Popularity · Last Comment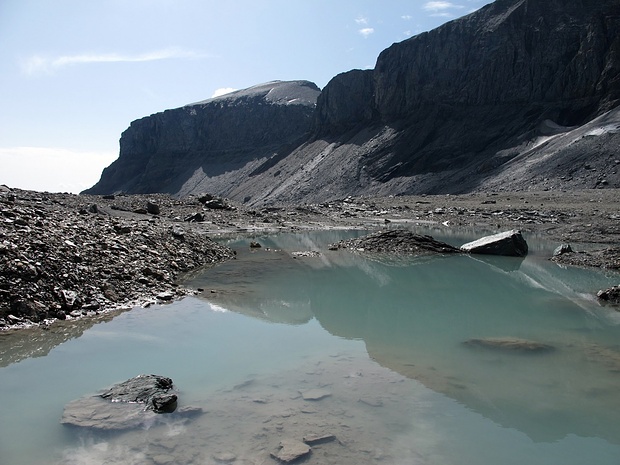 Seelein am Segnesgletscher - für mich die Tankstelle für die Trinkvorräte und der Umkehrpunkt © Schneemann
---
Reports (10)
---
Glarus

T5+

PD-

II

17 Oct 17

Segnas, Sardona und durchs Martinsloch zurück
Nachdem ich meinen Kameraden, den Siebenschläfer nur zur zweiten Bahn um 8:20 überreden konnte, geht es in Sonnenaufgangsstimmung zum Segnaspass. Während dem Aufstieg wirft das Martinsloch einen kreisrunden Antischatten auf die gegenüberliegenden Hänge. (Hier kann man berechnen, wann die Sonne durch das Loch auf die Kirche...
Published by 19 October 2017, 13h09 (Photos:80 | Comments:1 | Geodata:1)

Trinserhorn/Piz Dolf 3028, Überschreitung
Lange Rundtour im UNESCO Welterbe Sardonagebiet... Die diversen Berggipfel im Sardonagebiet sind bei uns seit Jahren auf der "to do" Liste. Endlich ist's soweit: heute "erkämpfen" wir und das Trinserhorn in einem Tag. Seit die LSB Cassons den Betrieb eingestellt hat müssen wir mit einem längeren Anmarsch-, bwz. Aufstiegsweg...
Published by 25 June 2017, 20h42 (Photos:56 | Comments:1)

Durch die Tektonik-Arena - von Elm nach Weisstannen
Die Luftseilbahn Elm - Tschinglen-Alp bringt uns schnell hoch zur Bergstation. Es ist angenehm frisch, als wir im 7 Uhr im Schatten losmarschieren. Wir gehen es locker an, wir haben jede Menge Zeit und wollen den Aufstieg geniessen. Nicht verwunderlich also, dass wir von ein paar jungen Berggängern und schnellen Bergläufern...
Published by 29 August 2016, 22h32 (Photos:69 | Comments:5 | Geodata:2)

Piz Segnas & Piz Sardona
Skitour Piz Segnas 3099m und Piz Sardona 3056m Eigentlich wäre eine andere Tour geplant gewesen, doch aufgrund der unsicheren Wetterverhältnisse im Süden entschieden wir uns den Tourenführer durch zu blättern. Dabei stiessen wir auf den Piz Segnas. Gemäss Tourenführer kann bei dieser Tour gleich noch der PizSardona...
Published by 14 March 2015, 16h12 (Photos:34 | Geodata:1)

Trinserhorn - Überschreitung
Kurzweiliges Bergvergnügen Zweckmäßiger Ausgangspunkt für die Besteigung des Trinserhorns ist der Cassonsgrat (2678 m). Die zu leistenden Höhenmeter halten sich dann in Grenzen (ca. 750 mit allen Gegenanstiegen). Die ÖV-Anreise nach Flims war nicht sehr angenehm (zumindest für einen ICE-verwöhnten Eisenbahnfreund...)...
Published by 25 July 2014, 00h30 (Photos:21)

Segnas pass and Piz Dolf (3028 m) in perfect weather!
August 1st, 2013 was an absolutely wonderful day for hiking, and it was my first hike to the Segnas pass with a really close view to the Martinsloch.   First I took the chair lift from Flims to Foppa, and then the next chair lift to Naraus, where my hike started at about 09:15 in the morning. I followed the trail past...
Published by 17 November 2014, 23h37 (Photos:33 | Geodata:1)

Piz Dolf 3028...beinahe, wenn nicht...
...wieder die Schlechtwetterfrontgekommen wäre! Das Osterwochenende warwettertechnischein *Schön-Wetter-Eier-Suchen*...nun denn, auf der Projektliste stand schon lange die Trilogie Piz Dolf / Piz Segnas und Piz Sardona. Laut Homepage der Flimser Bergbahnen sollten diese um 08:30 Uhr fahren. An Ort und Stelle war es dann ohne...
Published by 22 April 2012, 19h42 (Photos:7)

Piz Dolf (3028 m) mit Abfahrt nach Bargis
Kurze Tour mit spannender Abfahrt [Tour AlpinosM mit Bombo] Auf eine lange Beschreibung der Tour verzichte ich, Bombo hat bereits einen ausführlichen und detailierten Bericht erstellt. Hier nur eine Kurzfassung. Nach gemächlicher Fahrt mit Sessellift und Gondel zur Bergstation auf Fil de Cassons (2637 m) stiegen wir die...
Published by 30 March 2012, 12h50 (Photos:21 | Geodata:1)

Hist. Klettersteig Pinut & Flimsterstein / Il Fil (2694m)
Alternativ hätte ich die Tour auch "Versuch Piz Dolf von Flims" nennen können. Allerdings war mir schon bei der Tourenplanung klar dass dieses Vorhaben sowohl konditionell als auch zeitlich für mich kaum machbar ist. Aber auch ohne den Piz Dolf wars eine Panoramatour vom Feinsten in grandioser Landschaft und mit Highlights die...
Published by 4 September 2011, 09h51 (Photos:30 | Geodata:1)

Zum Gast am Segnesgletscher
Jetzt hab ich hier diverse Tourenberichte zum Piz Dolf gelesen. Mein Wunsch ist es in diesem Jahr noch meinen ersten Bündner 3000er zu besuchen. Warum das unbedingt der Piz Dolf sein muss weis ich auch nicht, aber er ist halt sehr nah vor der Hausstür. Also hab ich mich an den heimischen PC gesetzt und anhand der...
Published by 22 August 2011, 20h33 (Photos:19)