Gimmelwald 1363 m
4471 ft.
---
Locality in

27 hike reports

, 7 photo(s). Last visited :

23 Jul 20


Geo-Tags: CH-BE
Photos (7)
---
By Publication date · Last favs · By Popularity · Last Comment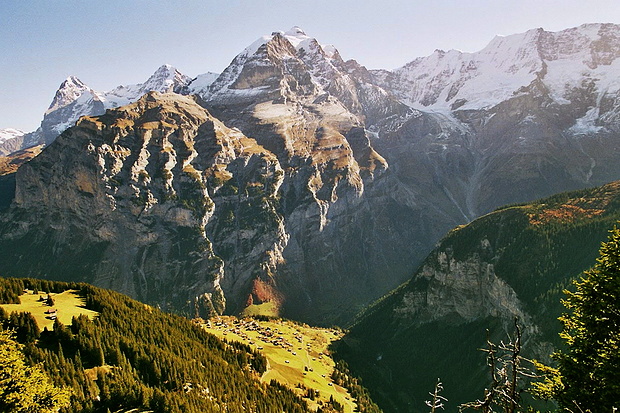 Am Eingang des Sefinentals liegt das Bergdorf Gimmelwald in -gelinde gesagt- malerischer Umgebung. © morphine
---
Reports (27)
---
| | | |
| --- | --- | --- |
| Jungfraugebiet | T3 | 23 Jul 20 |

Schilthorn (2969 m)
Heute ist Wandertag, ich fahre mit Roller, Zug und Bus bis nach Kiental-Abzweigung Spiggengrund. Kurz vor acht Uhr kann ich hier losmarschieren. Zuerst eine halbe Stunde dem Strässchen folgend bis Spiggengrund. Hier folge ich dem Wegweiser Schilthorn (mein Zwischenziel) und erwische gleich beim Start den falschen Weg. Das...
Published by 24 July 2020, 14h08 (Photos:45 | Comments:1)
| | | |
| --- | --- | --- |
| Berner Voralpen | T2 | 3 Oct 19 |

Schilthorn & Sprutz
Mein Sohn wünschte sich zum Geburtstag einen Ausflug auf's Schilthorn. Dieser Wunsch erfüllte ich ihm noch so gerne :-) Zu zweit fuhren wir früh morgens ins Lauterbrunnental, wo wir im Stechelberg in die Seilbahn einstiegen. In vier Etappen erreichten wie das frisch verschneite Schilthorn. Bei -5°C waren wir froh, zuerst das...
Published by 5 October 2019, 20h03 (Photos:23 | Geodata:1)
Berner Voralpen

T5

II

15 Sep 18

Hochalpenschnüffeln: Sozusagen auf den Hund gekommen
"Voralpenschnüffler" waren für meinen Grossvater konditionsschwache, sehr gefahrensensitive WandererInnen (der geschlechtsneutralen Nomen bediente er sich noch nicht). Als solchen würde ich mich dann doch nicht bezeichnen, aber es schleckt auch kein Hund weg, dass ich mich vorwiegend in den Voralpen bewege. Heute war das...
Published by 15 September 2018, 21h37 (Photos:16 | Comments:2)
| | | |
| --- | --- | --- |
| Jungfraugebiet | T5 | 9 Sep 18 |

Entdeckungsreise im Jungfraugebiet
Beim Aufstieg zum Gspaltenhorn kommen quasi alle Bergsteiger im Bütlassesattel vorbei, also ein rege besuchter Ort. Auf der anderen Seite ist dieser Sattel deutlich schlechter gangbar, denn die gewaltigen Ostwände von Gspaltenhorn und Bütlasse versperren den direkten Zugang. Doch die älteren SAC-Führer erwähnen eine wilde...
Published by 10 September 2018, 09h04 (Photos:17 | Comments:6)
Jungfraugebiet

T2

AD

22 Oct 16

Klettersteig Mürren ("by fair means" from Lauterbrunnen)
From Lauterbrunnen, we follow the hiking path that climbs the cliffs on the west side of the valley in the direction of Mürren. The path stays in the forrest (where we get to observe some chamois) and away from the cliffs, so the views are limited to the occasional glimpse of Eiger and Mönch through the trees. Those glimpses are...
Published by 24 October 2016, 21h26 (Photos:37 | Geodata:1)
| | | |
| --- | --- | --- |
| Jungfraugebiet | T2 | 3 Aug 16 |

Nach vielen Jahren
besuchte ich wider einmal das Sefinental. Am Morgen mit ÖV durch das Turi gewusel nach Mürren wo der abstieg gegen Gimmelwald erfolgt. Im Dorf in einer Spitzkehre führt der Weg ins Sefinental,es geht gemächlich abwärts bis im Tal,dort befindet sich eine Brätelstelle. Von hier gehts in mässiger Steigung das Tal...
Published by 4 August 2016, 12h32 (Photos:18)
| | | |
| --- | --- | --- |
| Jungfraugebiet | T2 | 29 Jul 16 |

Höhenweg Mürren
Für Freitag ist endlich schönes Wetter angesagt. Meine Arbeitskollegin sagte sofort ja zu einer gemeinsamen Wanderung und eine entsprechende Tour war recht schnell gefunden. Es sollte der Höhenweg Mürren sein, den Isabelle noch nicht kannte. Nach einem Startkaffee in Lauterbrunnen ging es mit der Gondelbahn hoch zur...
Published by 1 August 2016, 00h35 (Photos:8 | Geodata:1)
Berner Voralpen

T2

PD+

3 Oct 15

Mürren Klettersteig
Eigentlich wäre heute der Tällistock an der Reihe. Als wir dann aber in Meiringen in eine Regenwand fuhren, musste ein Plan B her. Ich las schon öfter vom Mürren Klettersteig. Da das Wetter Richtung Interlakenbesser aussah, konnte ich allebeteiligten umstimmen. In Lengwald parkierten wir unser Auto und nahmen die Seilbahn...
Published by 4 October 2015, 10h08 (Photos:27)

Hohtürli - Bundalp - Sefinenfurgge
Die Schönheit der Berner Alpen sucht ihresgleichen. Da kann, zugegebenermassen, mein übliches Einzugsgebiet nicht mithalten. Trotzdem bin ich nur selten in dieser Region unterwegs. Das liegt einerseits am weiten Anfahrtsweg, andererseits an den Touristenströmen. Wer sich Glarner Verhältnisse gewohnt ist, könnte hier glatt...
Published by 10 September 2015, 16h25 (Photos:31)
| | | |
| --- | --- | --- |
| Jungfraugebiet | T2 | 26 Aug 15 |

1. Tag: Via Tanzbödeli zum Kerzenhotel Obersteinberg
Zum Geburtstag hat Ursula einen Gutschein für eine Übernachtung mit Halbpension für zwei Personen im Kerzenhotel Obersteinberg erhalten. Das Wetter ist ideal, um diesen einzulösen. Ab Stechelberg gondeln wir bis Gimmelwald. Ab hier führt unsere Wanderung zuerst ca. 30 Minuten ins Sefinental abwärts, bevor es auf der...
Published by 29 August 2015, 15h14 (Photos:28)