Garde de Bordon / Garda Bordon 3310 m
10857 ft.
---
Peak in

14 hike reports

, 162 photo(s). Last visited :

16 Oct 21


Geo-Tags: CH-VS
Photos (162)
---
By Publication date · Last favs · By Popularity · Last Comment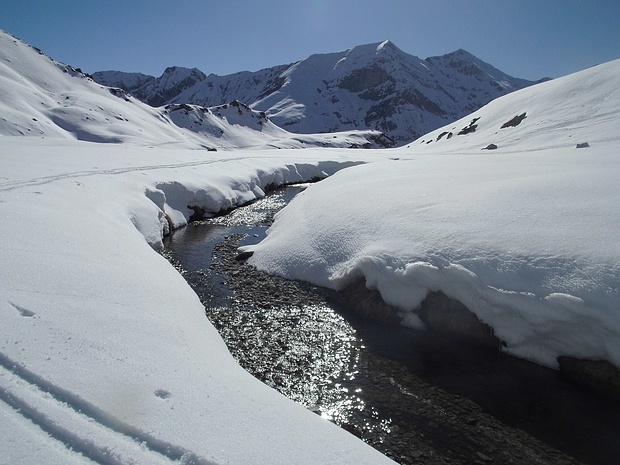 Wir müssen einen Bach überqueren, an dem wir unsere Wasservorräte auffüllen können. © Heidelberger Gipfelsammler Ötzi II
---
Reports (14)
---
Mittelwallis

T5+

PD-

16 Oct 21

Goldener Oktober im Wallis III: Von der Cabane de Moiry zum Garde de Bordon und zur Pointe Prélet
Am frühen Morgen verließ ich die Cabane de Moiry u. begann, Richtung Lac de Moiry abzusteigen. Auf einer ebenen Fläche in ca. 2520m Höhe bog ich nach rechts ab, um über teils steilere Grashänge aufzusteigen. So gelangte ich schließlich in eine Mulde, hinter der ich noch im Schieferschutt eine zeitlang aufstieg. Dann bog ich...
Published by 23 October 2021, 13h11 (Photos:127)

Garde de Bordon / Garda Bordon
Von Zinal-Sorebois über den Pointe de Tsirouc auf den Garda Bordon und wieder zurück. Bemerkung Man findet viele T5-Berichte aufhikr zum Aufstieg auf den Garda Bordon. Die Schlüsselstelle wurde inzwischen aber mit Ketten und einer Leiter gesichert, der Aufstieg kann somit nur noch mit einem T4 bewertet werden (s. auch...
Published by 5 September 2021, 17h12 (Photos:7)
| | | |
| --- | --- | --- |
| Mittelwallis | T4- | 6 Aug 20 |

Traumwetter am Garde de Bordon (3.309 m)
Ein mehrtägiges wolkenfreies Schönwetterfenster im Wallis und der Garde de Bordon war unsere genüssliche Eingehtour! Eine Drei-Sterne-Runde! :-) Vorbemerkung 1 Es gibt genügend Berichte über den Garde de Bordon auf hikr, aber ich schreibe den Bericht, weil sich die Schwierigkeiten geändert haben! Der beschriebene Gratweg...
Published by 12 August 2020, 14h30 (Photos:18)
Mittelwallis

T5

II

14 Jul 18

Val de Moiry Juli 2018, 1|2: Garde de Bordon
Lang gehegte Bergwünsche sollen an den zwei Tagen im Val de Moiry in Erfüllung gehen - so gibt es eine frühe Tagwacht für die doch längere Anreise zum Lac de Moiry; auf dem Parkplatz des Staudamms stellen wir den PW bei schönstem Wetter ab. Und gleich geht's steil - über sattgrüne Alpweiden - knapp 600...
Published by 11 October 2018, 16h09 (Photos:50 | Comments:2)

Garde de Bordon (3310 m): Gegenwärtig eine hochalpine Baustelle
Der Garde de Bordon ist ein mächtiger Berg im Val d'Anniviers, zwischen den Tälern Val de Moiry und Val de Zinal. Der Berg besteht aus kristallinem Schiefergestein, das wenig fest ist und allenthalben bröckelt. Wenn man auf dem Gipfel steht, sieht man 1700 m direkt unter sich das Dorf Zinal. Wenn etwas vom instabilen...
Published by 7 August 2017, 21h55 (Photos:17 | Geodata:1)
Mittelwallis

T5

I

26 Sep 15

"3000m" circuit of the Lac de Moiry
There is a well-marked hiking route around the Lac the Mourycalled the "2500m tour", because most of the walk stays around that altitude. Following that example, I'll have to call my route the "Lac de Moury 3000m tour". ---- Day 1 Sorebois - Pointe de Tsirouc - Corne de Sorebois - Arête de Sorebois - Garde de Bordon -...
Published by 30 September 2015, 20h20 (Photos:72 | Comments:6 | Geodata:2)
| | | |
| --- | --- | --- |
| Mittelwallis | T5- | 19 Sep 15 |

Arete de Sorebois
Der Wetterbericht für fast die ganze Schweiz nur eher mässiges Wetter vorhergesagt - das Wallis wäre noch ein Lichtblick des Wochenendes. Also ab durch den Lötschberg und rauf auf nen Berg! Am Samstag bin ich leider alleine unterwegs und möchte noch einmal einigermassen hoch hinaus. Nach dem Studium von Alpenornis Bericht,...
Published by 22 September 2015, 21h51 (Photos:48)
Mittelwallis

T4

F

20 Aug 15

Garde de Bordon (3310 m)
La neve ha ormai fatto la sua comparsa da qualche giorno in Vallese. Fare cose tecniche è diventato difficile, opto quindi per qualcosa di tranquillo, ma pur sempre in quota. Alla Garde de Bordon ci sono già stato 4 anni fa, ma è una salita veloce e piena di soddisfazione, quindi volentieri la ripeto (cosa che faccio...
Published by 22 October 2015, 21h46 (Photos:31 | Geodata:1)
Mittelwallis

T5

II

26 Sep 14

Über die Arête de Sorébois auf die Garde de Bordon
Corne de Sorébois (2896m) - Garde de Bordon (3310m). Man nehme eine Tourenidee aus dem SAC-Führer und gebe ein wenig Omega3 hinzu und schon entsteht eine schöne Tour auf einem Grat zwischen Val d'Herens und Val de Moiry. Ein Hauch von Winter in der Schlüsselstelle macht die Tour heute etwas anspruchsvoller als...
Published by 29 September 2014, 21h55 (Photos:40 | Comments:1)
Mittelwallis

T4

I

30 Jul 12

Garde de Bordon (3310m)
Erstaunlich wenige Hikr-Berichte gibt es zu diesem doch so auffälligen massigen Berg bei Zinal, im Val d Ànniviers. Seine Besteigung ist allerdings sehr empfehlenswert : Wir starten an der Bergstation Sorebois (2438m). Zunächst geht es hoch zum Col de Sorebois (2835m). Leider viel ödes Pistengelände hier, aber schon am Col...
Published by 20 August 2012, 18h46 (Photos:62 | Comments:5)