Gantspitz 1970 m
6462 ft.
---
Peak in

29 hike reports

, 105 photo(s). Last visited :

30 Jul 19


Geo-Tags: CH-SZ, Östliche Sihltaler Alpen
Photos (105)
---
By Publication date · Last favs · By Popularity · Last Comment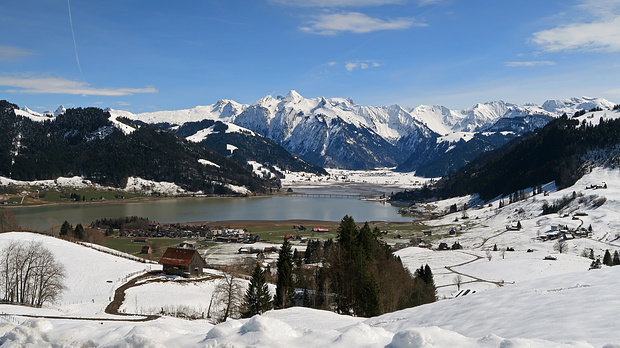 der kurze Marsch hinauf zum Friherrenberg hat sich gelohnt, hier hat man eine tolle Aussicht über den Sihlsee hinweg, hinüber zu den weissen Bergen. © erico
---
Reports (29)
---

Wägital Rundtour 'Trailrun'
deltas Wägital Rundtour vom 15.06.2006 inspirierte mich damals, dies auch zu probieren. Am 01.07.2007 ist mir die Überschreitung gelungen. Am 22.06.2008 doppelte Mr. Wägital mit seiner Speedversion nach. Seither bin ich eigentlich fast nur noch im Winter im Wägital gewesen. Am 30.06.2019 habe ich mich erstmals mit der...
Published by 31 July 2019, 10h57 (Photos:18 | Comments:5)

Sihltal-Rundtour als Trailrun
Ein Morgen in einer der schönsten Ecken der Ostschweizer Voralpen Früher war ich immer wieder im Hinteren Sihltal unterwegs. Ja, das war fast schon meine Muttermilch in Sachen Alpinwandern. Doch die Frequenz meiner Besuch in dieser wunderschönen Region hat nachgelassen, das wurde mir spätestens mit den letzten Berichten auf...
Published by 24 July 2019, 20h39 (Photos:24 | Comments:3)

Gantspitz (1970 m) - hike from Ochsenboden
Gantspitz (1970 m) is a peak south of the Fluebrig massif, and it may for example be accessed via the ridge from Turner (>T5). However, I chose the easy ascent from Ochsenboden on an unmarked trail to Alp Wäni, and then off trail via Ganthöchi to the summit of Gantspitz. The most difficult part was in an area around elevation...
Published by 9 September 2018, 21h28 (Photos:15 | Geodata:1)

Da war doch noch was Ybrig.... Teil 1: Vom Wändlispitz zum Gantspitz
So herrlich hier! Steiles Gras, schmale Grate, die Schweiz - ich war schon mal da, und bin tolle Touren gegangen, Druesberg Südkante/Forstberg-Band etwa, und in der näheren Umgebung den Chratzerengrat oder die Chilchberg-Überschreitung. Aber den ca. 7km langen Grat zwischen Turner und Mieserenstock wollte ich unbedingt noch...
Published by 17 July 2018, 16h06 (Photos:64 | Comments:2)

Gantspitz, Wänifirst und Fläschenspitz
ÖV-Anekdote: Beim Bahnhof Wädenswil stehen um halb sieben schon die Bahnersatzbusse bereit, um die unterbrochene Strecke zwischen Wädenswil und Samstagern zu überbrücken. Auf einer Informationstafel lese ich, dass sich die Reisezeit nach Einsiedeln wegen des Unterbruchs um eine halbe Stunde verlängert. Weil ich dadurch...
Published by 23 July 2017, 09h51 (Photos:34 | Geodata:1)

Sihltaler - die vorderen Gräte: Turner - Gantspitz - Wänifirst - Fulberg - Fläschenspitz
Über den Wanderweg vom Ochsenboden via Obergross zum Grat vor dem Diethelm. Danndem Gratnach bis zum Turner. Bis hierhin ohne Schwierigkeiten. Dann folgt ein steiler Abstieg und viele Auf- und Abstiege auf grünen Gräten; teils sehr schmal und ausgesetzt. Vor dem Gantspitz, dem Wänifirst und dem Fläschenspitz einige sehr...
Published by 8 September 2016, 20h00 (Photos:20 | Comments:1)

Wägital Runde
Da ich in den letzten Jahren recht viele Inspirationen von diesem Portal bekommen habe und da es im Bezug auf die Wägital Runde ja so eine Art Sammelstelle für die verschieden Begehungen etabliert hat möchte ich jetzt auch meinen Teil beitragen und in diesem Bericht meine Interpretation der Runde schildern. Nachdem ich in...
Published by 11 July 2016, 19h08 (Photos:2 | Comments:2)

Wänifirst oder Hindernislauf am Gantspitz
über den W-Grat auf den Gantspitz. leider haben sie den maschendrahtzaun abgelegt und er liegt schön ausgebreitet auf dem grat, den man begehen möchte. beim Wänifirst hab ich keine lust auf extravagantes. also wähle ich die route durch die W-Flanke um den gipfel zum schluss von südwesten zu erreichen. 25 min ab Ganthöchi...
Published by 9 November 2015, 18h56 (Photos:9)

Wägitaler Rundtour +
Was für eine Tour, was für ein Erlebnis. Am längsten Tag im Jahr, den Tag wahrlich ausgenutzt. Die Routenwahl war mehr oder weniger klar. Nach meiner Auffassung gehört der Tierberg zur Rundtour nicht dazu. Aber dafür die Brennerroute, welche die direkte Linie bildet. Auch der Aufstieg zum Gantspitzsattel ist nichts...
Published by 24 June 2014, 12h59 (Photos:59 | Comments:12 | Geodata:1)

WÄGITALER RUNDTOUR
Die Wägitaler Rundtour darf getrost als Mutter aller Voralpentouren bezeichnet werden. In bestechender Linienführung überschreitet man den gesamten Gipfelkranz um den Wägitalersee. Ein Höhepunkt jagt den nächsten: prächtige Gipfel, scharfe Grate, anspruchsvolle Kraxeleien, luftige Tiefblicke. Und das Auge kann sich gar...
Published by 17 July 2013, 14h11 (Photos:48 | Comments:15 | Geodata:1)