Fürenalp 1838 m
6029 ft.
---
Other in

75 hike reports

, 25 photo(s). Last visited :

27 Sep 19


Geo-Tags: CH-OW
Photos (25)
---
By Publication date · Last favs · By Popularity · Last Comment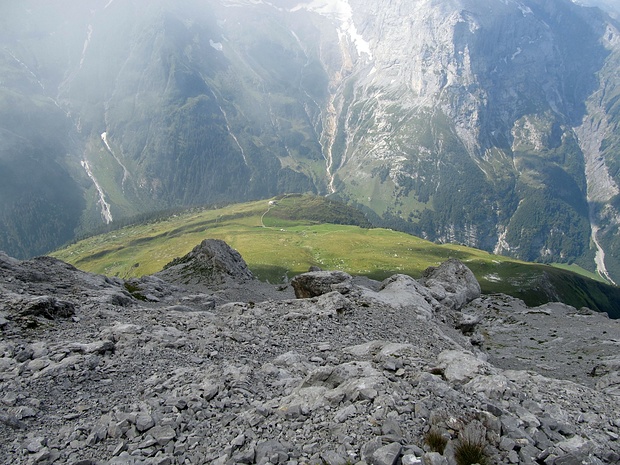 Abgründe sind auf dieser Tour nicht zu bewältigen, aber Trittsicherheit kann im oberen Teil nicht schaden, insbesondere beim Abstieg © alpstein
---
Reports (75)
---

Engelberger Aa I, Fürenalp bis Engelberg, Wasserfall
Was mir am 1. Juli nicht gelungen ist, das konnte ich heute unter besten Verhältnissen nachholen. Nach einem Kaffee im Restaurant Fürenalp geht es um 10 Uhr in Richtung Stäuber. Beeindruckend ist schon hier die gewaltige Aussicht auf die Berge, zum Teil noch mit einzelnen Wolken garniert. Der Weg ist einfach, zuerst...
Published by 29 September 2019, 06h06 (Photos:42)

Stäfeli - Fürenalp
Got dropped off at the parking lot at the end of the toll road (CHF 5) at 11:30. Followed the trail past Alpenrösli and Stäfeli. Stopped for lunch at a viewpoint above the Stäuber waterfall. Continued to Fürenalp for desert, and took the cable car back down. The bus stop at the cable car station was closed, but it was just a...
Published by 2 October 2019, 11h41 (Photos:5 | Geodata:1)

Wissberg 2627 m - Über den Wolken....
Der Wissberg (2627 m) ist ein schöner Aussichtsberg bei Engelberg. Er liegt auf der Grenze der Kantone Obwalden und Uri. Von der Fürenalp kann der Gipfel auf einem weiß-blau-weiß markiertem Steig rasch bestiegen werden. Am ersten Tag meines Aufenthalts in Engelberg entschied ich mich für den Wissberg. Im Tal herrschte...
Published by 25 September 2019, 22h10 (Photos:38)

Klettersteig Fürenwand - an meinen Grenzen angelangt
Vorbemerkung zur KS-Bewertung: Ich orientiere mich an den Beiträgen von Peter K. (Skala nach Kurt Schall für Österreich, und Paul Werner für Deutschland: ein K4-5 entspricht einem D: schwierig bis sehr schwierig) und georgb > das ergibt für mich (wie es auch im letzten Beitrag asus74 bewertet hat) ein S+....
Published by 5 August 2019, 18h17 (Photos:42 | Comments:6 | Geodata:1)

Engelberger Aa II, Talstation Fürenalp bis Engelberg
Mein Plan für heute: Fahrt zur Fürenalp, dann auf dem Weg nach hinten bis zum Stäuber oder eventuell bis zur Blackenalp. Von dort dem Stierenbach entlang bis wieder zur Postautohaltestelle Fürenalpbahn oder eventuell noch ein kleines Stück weiter. Stierenbach deshalb, weil auf dem Gebiet es Kantons Uri die Engelberger Aa...
Published by 2 July 2019, 15h02 (Photos:38)

Wissberg
Sur une idée de Pere , nous décidons de profiter du soleil et d'aller vers Engelberg , ou je n'avais pas beaucoup de courses réalisées, contrairement à Ness et Pere, Henri-Paul nous accompagne et nous emmène en voiture. Départ avec la deuxième benne, à 9h 10 , démarrage de la course vers 9h 20, nous remontons les pentes...
Published by 22 February 2019, 17h10 (Photos:15)

Grotzli Trail
Der Grotzli Trail eignet sich hervorragend für Familien mit Kindern. Auf dem 3,5 Kilometer langen Rundweg bewältigt man Rund 200 Höhenmeter. Auf der gesamten Schneeschuhtour hat man einen phantastischen Blick auf den gigantischen Titlis, die Spannörter, den Schlosseberg und den Wissberg. Im unteren Teil der Schneeschuhtour...
Published by 22 February 2019, 16h28 (Photos:16 | Geodata:1)

Eggenmanndli from Engelberg
It has been a while (25 years) since I was in Engelberg. The Surenenpass was something I wanted to do since a long time but kneeproblems forestall these plans. But then I discovered that spending two nights at Alp Hobiel could make it possible. The hike started at a sunny afternoon in September with exceptional hot weather for...
Published by 28 February 2019, 16h09 (Photos:6)

auf dem Wildererweg zur Fürenalp, Besuch auf Hobiel, im Tal der Engelberger Aa zurück
Waren wir doch vor ~ 4 Wochen bereits auf der sympathisch geführten Hütte anlässlich der Clubtour Wissberg - Surenenpass eingekehrt (und damals übernachtet), so gilt die heutige Senioren-Clubwanderung dem Besuch des Clubkameraden Willi. Um die Seniorengruppe, welche mit PWs anreist und mit der LSB hochgondelt,...
Published by 8 November 2018, 20h24 (Photos:26 | Geodata:1)

Wissberg und Hahnen etwas überhastet angegangen
Für einmal wieder eine Tour mit einem Verhauer drin. Dieser begann bereits am Vorabend, als wir husch-husch eine Tour raussuchten. Da ich aber nach 20 Minuten ins Training los musste, informierte ich mich zu wenig genau über die Tour. Wir entschieden uns den Wiisberg und Hahnen zu machen ob Engelberg. Ziel war 07:00 in Luzern zu...
Published by 24 August 2018, 19h03 (Photos:33)