Embranchement P.1976m 1976 m
6481 ft.
---
Other in

6 hike reports

, 2 photo(s). Last visited :

11 Aug 20


Geo-Tags: CH-VS
Photos (2)
---
By Publication date · Last favs · By Popularity · Last Comment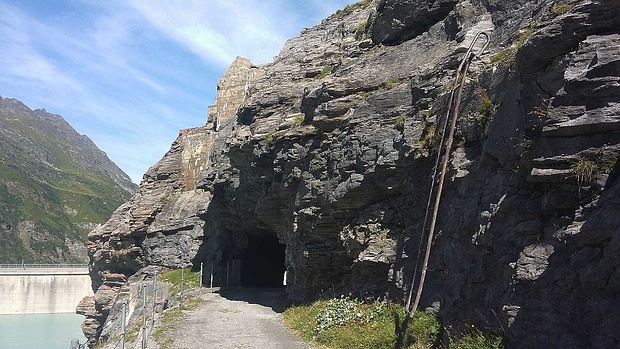 Nach einem kurzen Tunnel von der Staumauer auf der Ostseite vom Stausee beginnt der eigentliche Aufstieg über eine Leiter wo man wieder nach links zur zweiten Leiter traversiert. © Sputnik
---
Reports (6)
---
Oberwallis

PD

II

11 Aug 20

La Ruinette solo from Mauvoisin
Hello everyone! My planning and the accomplishment of this tour I based on morphine's report, which is a very accurate completion of the well-known guide books' descriptions (as up to Silbernagel and SAC e.g.). I am herein only describing deviations and the experiences I made accordingly. Also I am sharing pictures with you....
Published by 16 August 2020, 22h02 (Photos:15)
| | | |
| --- | --- | --- |
| Unterwallis | T5- | 19 Aug 18 |

Le Pleureur
Der Pleureur ist als hoher Alpinwandergipfel noch nicht ganz so bekannt wie die Barrhörner, auch wenn die technischen Anforderungen nicht viel höher sind. Unterdessen hat sich durch die regelmässige Begehung eine Wegspur praktisch bis auf den Gipfel gebildet, wobei es allerdings gut sein kann, dass sie im Winter jeweils wieder...
Published by 20 August 2018, 22h22 (Photos:19 | Comments:1)
Unterwallis

T3

PD+

II

17 Aug 14

Von Mauvoisin auf die La Ruinette (3875 m): Viel laufen, viel kraxeln und ganz viel schauen!
Ansporn zu dieser Tour waren die Berichte vom Juli diesen Jahres von Sputnik undxaendi Ich passte ein Zwischenhoch ab und fuhr kurzfristig ins Wallis. Da eigentlich nur für den Sonntag komplett gutes Bergwetter gemeldet war, plante ich die Tour von Mauvoisin zum Gipfel und zurück an einem Tag. Abends, bei meiner Ankunft,...
Published by 30 September 2014, 19h43 (Photos:115 | Comments:5)
| | | |
| --- | --- | --- |
| Unterwallis | T5+ | 16 Sep 11 |

La Luette 3548 m
Als ich die Karte genau anschaute, dachte ich, es müsste von Osten her, etwa von der Cabane des Dix, sehr einfache Routen geben. Ich war aber nun mal westlich (Gebiet Mauvoisin) "orientiert", da ich in Fionnay in den Ferien war. Auch von da lässt sich der Berg erwandern, und wohl auch in mehreren Varianten. Der untere Teil...
Published by 5 November 2011, 12h07 (Photos:20 | Comments:1)
| | | |
| --- | --- | --- |
| Unterwallis | T5+ | 13 Sep 11 |

Le Pleureur 3703 m
Offenbar bin ich einer der wenigen, der Le Pleureur als Wanderung (T-Skala) klassifiziert. Aber erstens ist es wirklich nur etwas für sehr geübte Wanderer (siehe meine Bewertung, T5+), und zweitens gilt das auch nur solange kein Schnee liegt, sonst wird das wohl sehr bald deutlich schwieriger. Ich begann die Tour mit...
Published by 26 September 2011, 21h21 (Photos:19 | Comments:2)

Cab. de Chanrion - 2462m. --- Eine Rundtour im hintersten Val de Bagnes
Die Wanderung beginnt im hinteren Val de Bagnes am Fusse der imposanten Staumauer des Lac de Mauvoisin am gleichnamigen Hotel. Der Lac de Mauvoisin ist mit einem Volumen von über 200 Mio.m3 einer der grössten Schweizer Stauseen. Die Staumauer ist die zweithöchste der Schweiz und mit 250 m. die höchste Bogenmauer Europas. Vom...
Published by 1 November 2012, 17h53 (Photos:47)