Eko katun Štavna 1710 m
5609 ft.
---
Hut in

5 hike reports

, 3 photo(s). Last visited :

28 Sep 19


Geo-Tags: MNE
Photos (3)
---
By Publication date · Last favs · By Popularity · Last Comment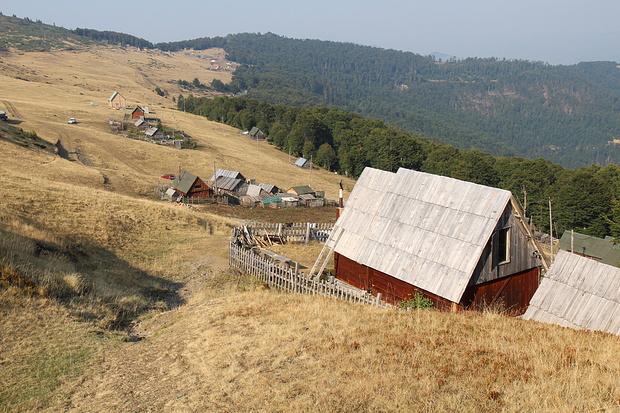 Unterwegs von den Komovi nach Štavna - Weit ist es nun nicht mehr. Über die Dächer der Almsiedlung (gemäß Karte: Katun Vulića) blicken wir zum Ausgangs- und Endpunkt unserer Tour, der noch etwas versteckt ist. © pika8x14
---
Reports (5)
---

Kom Vasojevicki
Im Osten Montenegros erheben sich die Komovi, eine entlegene Bergwelt. Um dorthin zu gelangen, braucht`s viel Weg; die Verkehrsanbindung ist spartanisch; am einfachsten ist noch das KatunŠtavnazu erreichen, in dessen Nähe sich die drei höchsten Gipfel dieser Gruppe befinden. Dem dritthöchsten und einfachsten wollten wir einen...
Published by 16 October 2019, 19h27 (Photos:8)
| | | |
| --- | --- | --- |
| Montenegro (Crna Gora) | T3+ | 31 Aug 17 |

Kom Vasojevićki (2.461 m)
Da heute die Wetterprognosen für den Durmitor nicht besonders sind, machen wir nochmals einen Abstecher in ein anderes Bergmassiv: Es geht in die Komovi (kyrillisch: Комови). Diese erheben sich - als relativ freistehender Bergstock - nahe der Grenze zu Albanien. Ein guter Ausgangspunkt für Touren in den Komovi ist...
Published by 2 February 2018, 01h02 (Photos:56 | Geodata:1)

Kom Kucki (2487m)
Einige zählen das Komovi zum Prokletije, da es jedoch geologisch ganz anders aufgebaut ist und zudem etwas abseits steht kann man es durchaus, wenn es auch sehr klein ist, als eigenständiges Gebirge bezeichnen. Wegen des recht hohen Ausgangspunktes bei der Eko-Katun Štavna (mit Übernachtungsmöglichkeit...
Published by 9 September 2010, 22h50 (Photos:48)

Komovi Circular
Most visitors to the Komovis are intent to climb one or more of its three peaks. On a nice summer day, they are likely to meet many likeminded climbers. An alternative is the roundtrip around all three peaks, which offers good views to all of them. But don't be fooled: this is not an easy stroll - in fact you are likely to climb...
Published by 25 June 2012, 21h25 (Photos:6 | Geodata:1)

Kom Vasejovicki
Seen from the distance, all the Komovi peaks seem to be reserved for expert climbers only. They are an extraordinary group of mountains, for their isolation and excellent views into all directions. Kom Vasojevicki is the easiest of the three, and qiote frequently climbed. Route-finding is easy in good weather. Shortly before...
Published by 25 June 2012, 21h47 (Photos:8 | Geodata:1)