Dents du Midi - Haute Cime 3257 m
10683 ft.
---
Peak in

24 hike reports

, 244 photo(s). Last visited :

8 Aug 19


Geo-Tags: CH-VS
Photos (244)
---
By Publication date · Last favs · By Popularity · Last Comment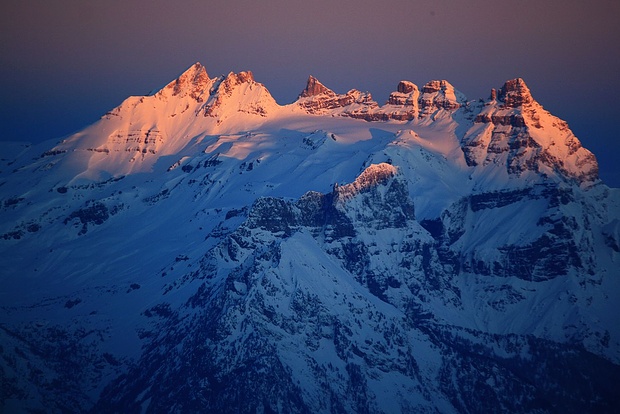 Sonnenaufgang auf dem Mont Fort (3329m): Die Dents du Midi strahlen im ersten Tageslicht. Von links nach rechts: Haute Cime (3257,4m), Doigts de Salanfe (3205m) und dahinter Les Doigts (3210m), Dent Jaune (3186m), L'Eperon (3114m), La Cathédrale (3160m), La Forteresse (3164m) und Cime de l'Est (3178m). © Sputnik
---
Reports (24)
---

Dents du Midi - Haute Cime (3257 m)
I Dents du Midi sono visibili da praticamente tutto il Vallese Romando, e dalla forma inconfondibile! Sono un po' fuori dal mio "terreno di caccia", ma l'anno scorso passai da quelle parte con lo SwissPeaks. La rifugista della cabane de Susanfe, mentre ci dava da mangiare al ristoro fuori dalla sua capanna, ci raccontò...
Published by 31 August 2019, 14h10 (Photos:87 | Comments:4 | Geodata:1)

Haute Cime - vom Lac Léman zum Mont Blanc 4/5
Wie sich das Blatt wenden kann! Klagten wir gestern noch über langweilige Kilometer, faszinieren uns heute dunkle Schluchten, herausfordernde Kletterstellen, frustriert umgekehrte Wanderer und bombastische Aussichten. Kurzum - die Landschaft spielt auf ihrer gesamten Klaviatur! Aber zuerst ist es kalt, bitter kalt, als wir im...
Published by 30 September 2018, 20h01 (Photos:24 | Geodata:1)

Dents du Midi - Haute Cime (3257 m)
Vortag siehe:Von Salvan (934 m) über die Gorges de Dailley zum Lac de Salanfe (1925 m) Die Haute Cime (3257 m) ist der höchste und zugleich auch der am einfachsten zu erreichende Gipfel der Dents du Midi - Gruppe. Der Gipfel kann entweder von Lac de Salanfe/Auberge de Salanfeoder aus dem Val d`Illiez über die Cabane de...
Published by 13 September 2015, 17h35 (Photos:63)
| | | |
| --- | --- | --- |
| Unterwallis | T3+ | 18 Aug 14 |

Touren um Martigny 3 | 3 : Haute Cime
Nach dem für uns und drei Basler, die dasselbe Ziel wie wir auserkoren hatten, vorbereiteten, etwas mageren, Frühstückes in der Auberge de Salanfe, wandern wir im Licht der Stirnlampen entlang des Lac de Salanfe los. Auch heute ist dieses Wandern in die Morgendämmerung ein stimmungsvolles: kurz nach P. 1932, wo wir...
Published by 6 September 2014, 00h19 (Photos:58 | Comments:7)

Dents du Midi - Haute Cime (3257 m): Midsummertour mit Biss
Orientierung Den "Brückentag" an diesem Wochenende wollte ich für einen Kurztrip in die Schweiz nutzen. Ziel war das Wallis. Es sollte nach Möglichkeit schon ein recht hoher Gipfel sein. Ich erreichte abends den Genfer See bei Montreux und es kamen noch ein paar letzte Regengüsse über dem See hinunter. Tags darauf fuhr...
Published by 13 July 2014, 15h57 (Photos:74 | Comments:7)
| | | |
| --- | --- | --- |
| Unterwallis | T4- | 29 Aug 13 |

Dents du Midi – der Weg zeigt Zähne
rojosuiza darf länger im Bett bleiben; was er dadurch an Zeit verspielt, wird er nachher wieder einholen. Er wird nämlich den Bus nehmen können, der ihn von Les Marécottes nach Van en Haut bringt – das sind glatte zwei Stunden Wanderzeit und 300 Höhenmeter weniger. Dumm nur, dass der Bus nicht kommt. Dafür bekommt...
Published by 13 September 2013, 21h56 (Photos:14 | Comments:6)
Unterwallis

T4

F

21 Jul 13
Haute Cime via Van d'en Haut
We started from Van d'en Haut, a camping site. After 500m (1h) of moderate climbing, we reached the lake and the restaurant for a refreshment. Half an hour later, we started to the top. The path around the lake is pleasant and easy, with many friendly cows. The next hour and a half to col de Susanfe requires traversing a deep...
Published by 25 July 2013, 22h02 (Photos:3)

Auf und zwischen den Zähnen - Dents du Midi
Wenn sich die Zahnteufel an den Dents du Midi zu schaffen machen, dann wirbelt Staub auf und das Stoke-Level übersteigt bei weitem den Mont Blanc im Süden! Es war wieder einmal eines dieser Wochenenden, die wettermässig nicht ganz so einfach zu deuten waren. Der gemeinsame Nenner zwischen Schneehöhenkarte und Wettersymbolik...
Published by 9 April 2013, 22h01 (Photos:51 | Comments:5)
| | | |
| --- | --- | --- |
| Unterwallis | T4- | 22 Jul 12 |

Dents du Midi, Haute Cime (3257m)
Während die Dents du Midi gegen Norden furchteinflössend abfallen, lässt sich die höchste Erhebung, die Haute Cime von Süden relativ einfach ersteigen und gilt als "Wander 3000er". Der Ausblick vom Gipfel auf die Walliser Gipfel und das Montblanc Massiv entschädigt für den Aufstieg. Route Tag 1: Camping Van d'en Haut...
Published by 23 July 2012, 20h39 (Photos:29)
Unterwallis

T3

F

WT4

22 Mar 12

Dents du Midi - Haute Cime 3257,4m
EINE ALPINE SCHNEESCHUHTOUR IM UNTERWALLIS AUF DAS DACH DER DENTS DU MIDI. Die Dents du Midi sind die auffälligsten Gipfel wenn man vom Fribourg her über Lausanne ins Wallis fährt. Wie ein uneinnehmbarer Bergkamm mit zahlreichen Felstürmen erscheinen sie von Norden wobei der westlichste Turm, die 3257,4m hohe Haute Cime,...
Published by 23 March 2012, 16h25 (Photos:59 | Comments:11)